[Updated] On an "emotive issue such as same sex marriage there are bound to be differences of opinion" however it is "reprehensible that the Premier of the country would abstain from voting on this amendment," Acting Opposition Leader David Burt said.
Bill To Block Same Sex Marriage Passes In House
Mr Burt's comments follow after the Human Rights Amendment 2016 — which seeks to maintain marriage as being defined as between a man and a woman — passed in the House of Assembly on Friday.
The Bill was originally brought to the House by Opposition MP Wayne Furbert back in February, and then voted on during Friday's session after an Amendment by Attorney-General Trevor Moniz.
The audio of the vote on both the Amendment and the amended Bill is below:
The first vote was held on the Amendment to the Bill, which passed with 21 votes for, 9 against, and 1 abstention, which was from Premier Michael Dunkley, who said he had arranged a meeting with the Human Rights Commission.
The second vote was then held on the amended Bill, with those speaking against the Bill prior to the vote including Mark Pettingill [OBA], Dr Grant Gibbons [OBA], Walton Brown [PLP], Glen Smith [OBA] and Shawn Crockwell [Independent], while those speaking in favour of the Bill included Wayne Furbert [PLP], Craig Cannonier [OBA], Wayne Scott [OBA] and Sylvan Richards [OBA].
Premier's Comments In House
Speaking in the House of Assembly on Friday, the Premier said, "I asked the honourable member to hold the Bill over to next week. As my colleague, the honourable Pat Gordon-Pamplin had said, because we had arranged meetings with various people about it and one of those was with the Human Rights Commission.
"The honourable member said he would consider it, but at the end of the day, after he considered it, he didn't carry it forward.
Audio extract of Premier's comments in the House
"I was disappointed with that because I think as a Human Rights Commission was appointed and approved by this legislature and they have very important work to do, it's important that we listen to what they feel about this situation at this period of time.
"And so my concern is, having arranged the meeting with the Human Rights Commission next week to bring this Bill forward this time and to resume a committee on it was inappropriate, because it makes a mockery of any meetings that are arranged.
"And so I cannot support this amendment at this period of time, because I believe fully in the work that the Human Rights Commission has to do and I think as politicians, we need to give them the opportunity to listen and hear what they have to say and respect the important responsibilities we give them."
David Burt's Comments
Mr Burt said, "On an emotive issue such as same sex marriage, there are bound to be differences of opinion, hence the reason to have a conscience vote in the House of Assembly.
"It is, however, reprehensible that the Premier of the country would abstain from voting on this amendment. For what legitimate reason would Premier Dunkley abstain?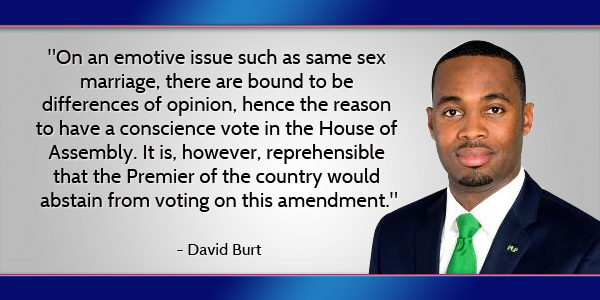 "The job of a leader is to lead from the front. For the Leader of the country to abstain on an issue such as this shows weak leadership. Premier Dunkley has continued to show himself to be a weak and ineffective leader.
"Instead of stepping up to the plate when a leader should, he has cowered in the shadows afraid of making a tough decision, while hiding behind poor excuses. While the public may take issue with the stances taken by some MPs, the real dereliction of duty has come from the Premier.
"Leadership is about courage. The people need leaders who have the courage to stand by their convictions. A failure to vote on such an amendment violates the trust between the electorate and the Member of Parliament and shows no courage whatsoever."
Update 1.09pm: Premier's Response
In response, Premier Michael Dunkley said, "As I mentioned in the House of Assembly on Friday, I will be meeting shortly with the Human Rights Commission – a meeting that was scheduled two weeks ago.
"The Human Rights Commission has important responsibilities to protect the rights and freedoms enshrined in Bermuda'a Constitution, and the Government should hear from it before amending the Act that gives rise to those responsibilities.
"At the start of Friday's sitting of the House of Assembly, MP Wayne Furbert was asked to hold off on moving his Bill forward pending the meeting with the Commission, but he refused. I therefore told MP Furbert and the House of Assembly that it would be inappropriate to consider a Bill impacting the Human Rights Act without hearing from the Commission.
"Bermudians have been discussing and debating this emotive and divisive issues of same sex marriage and civil unions for more than a year, and it is important to hear from the Commission in light of legislative plans and recent developments in the courts for same sex rights.
"My personal position is that I do not support same sex marriage but do support civil unions, but as Premier, it is my responsibility to always work for solutions that result in consensus.
"On some issues, that may not be possible, but it is something that as Premier I am duty-bound to work for, even when it does not seem popular thing to do."
Update 6.35pm: Walter Roban's Comments
Acting Deputy Leader Walter Roban said, "It is unfortunate that Premier Dunkley chose to abstain on the issue of Same Sex Marriage in the House of Assembly. As he has stated his opposition to Same Sex Marriage, then why would he not record his vote as such?
"Why did Premier Dunkley feel the need to confer with the HRC prior to voting? Was he expecting to be guided by their wishes in executing his constitutional responsibility? If so, then why was he the only member of the Cabinet or the OBA that felt the need to consult with the HRC? If he felt this was so vital, did he not share this with his members? All of the remaining eligible OBA voters proceeded to cast their vote.
Premier Dunkley's actions and excuses surrounding this issue confirm what has been thought in many quarters for months now; Premier Dunkley has not the metal nor fortitude to lead Bermuda. If he cannot make up his own mind and stand by his decision, then he is showing a complete lack of leadership.
"First, he lacked the political will to make a decision and took the country to a divisive referendum. Now he chooses to abstain to absolve himself of any blame by any particular side. What he has done however, is confirm to Bermuda that they have a weak leader who is unable or unwilling to make the tough decisions. Premier Dunkley wanted the job, but for some reason, does not want to make the tough decisions."

Read More About