The Bermuda Cricket Board [BCB] said they "reduced the training squad to 21 names on August 3rd in preparation for the ICC World Cricket League event in USA from October 27th to November 5th."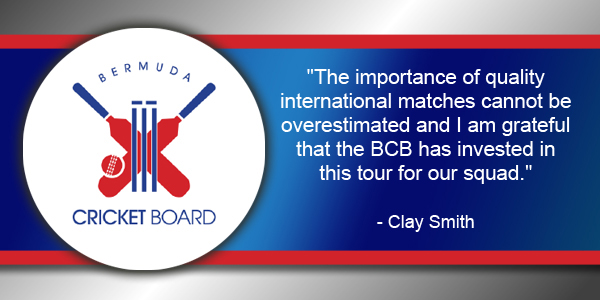 The players selected earlier this month are:
Oliver Pitcher Jr – St. David's – Captain
Terryn Fray – Bailey's Bay – Vice-Captain
Tre Manders – Bailey's Bay
Zeko Burgess – Bailey's Bay
Jordan Smith – Bailey's Bay
Dennico Hollis – Bailey's Bay
Delray Rawlins – Overseas
Kamau Leverock – Overseas
Christian Burgess – Overseas
Greg Maybury – Somerset CC
Jordan DeSilva – Somerset CC
Joshua Gilbert – Somerset CC
Stefan Kelly – St. David's
Cejay Outerbridge – St. David's
Dion Stovell – St. David's
Okera Bascome – St. George's
Chare Smith – Warwick
Cameron Jeffers – Warwick
Temiko Wilson – Western Stars
Brian Hall – Western Stars
Micah Simons – Willow Cuts
"In preparation for the important ICC event in October the BCB has arranged a bi-lateral tour with Cricket Canada," the BCB said.
"The tour will feature 4 50 over matches over 6 days with the regulations mirroring the structure of the World Cricket League 4 in Los Angeles commencing October 27th. The squad leaves Bermuda on Thursday September 1st and will play games on September 2nd, 3rd, 6th and 7th."
Terryn Fray – Captain
Dion Stovell – Vice-Captain
Greg Maybury
Delray Rawlins
Kamau Leverock
Okera Bascome
Joshua Gilbert
Jordan DeSilva
Dennico Hollis
Jordan Smith
Micah Simons
Brian Hall
Zeko Burgess
Cejay Outerbridge
National Coach Clay Smith said: "The importance of quality international matches cannot be underestimated and I am grateful that the BCB has invested in this tour for our squad. Canada is a proven entity and currently the top ranked Associate in our region.
"The squad has many young players that we are looking to provide experience and exposure to as we get ready to select the final 14 players and 4 stand-by players for WCL 4."
The BCB has also sponsored the inclusion of a representative of the BCUA to officiate on this tour. The BCUA have selected Mr. Melvin Best to accompany the Bermuda team and gain valuable international experience.
The squad management on tour will be:
Clay Smith – National Coach
Gershon Gibbons – Chairman of High Performance Committee
Danielle Richold – Physiotherapist
Lorenzo Tucker – Assistant Coach and Match Analyst
Reginald Tucker – Assistant Coach
Melvin Best – Umpire
BCB President Lloyd Fray said, "I am very pleased with the consistent level of commitment and dedication of the players selected for this tour.
"National Coach Clay Smith has had the preparation program running since January and these young men have earned their place to represent Bermuda. I wish them all the best against what we expect will be tough opposition providing a good benchmark for them."
The schedule for the matches is:
| | | | | |
| --- | --- | --- | --- | --- |
| Date | Team 1 | | Team 2 | Venue |
| 1-Sep-16 | Team Arrive | | | |
| 2-Sep-16 | Cricket Canada HP | vs. | Bermuda | MLCC |
| 3-Sep-16 | Cricket Canada HP | | Bermuda | MLCC |
| 4-Sep-16 | Rest/Practice | | | |
| 5-Sep-16 | Rest/Practice | | | |
| 6-Sep-16 | Mississauga Ramblers | vs. | Bermuda | Iceland |
| 7-Sep-16 | TDCA Select | vs. | Bermuda | MLCC |
| 8-Sep-16 | Team Depart | | | |

Read More About