[Written by Don Burgess]
Tokia Enrique Russell Jr is one step closer to achieving his dream of becoming a professional footballer.
Ilkeston Football Club signed the talented player to its academy after attending a scouting combine in Orebro, Sweden in July.
Russell's family has a rich football tradition, which includes his father Tokia, who unfortunately died in a car accident this past June.
Russell Jr., 16, told Bernews "I felt like I did very well and impressed a lot."
When he heard he had won a full scholarship, Russell added: "I was so excited; I felt like all my hard work has paid off. My dream is slowly coming true. Thanks to everyone who has helped me."
Russell will be mainly playing for Ilkeston's U-18 team but will also have the opportunity to kit up for the U-21s.
His mom Tanya Darrell said she had a spirit of gratitude when they found out the good news.
"We were in shock — Over the top happy, blessed, and grateful in just knowing all the hard work has paid off. This is what we've been working towards to get him to this point move forward to try to live his dream. This is the call that we've been hoping and praying for."
Rosa's restaurant raised more than $1,000 through the sale of menu item Bloomin' Onions to send Russell to the football combine in Sweden. This week they presented him with another $500 to help cover immediate expenses as he travels to Nottingham, England on Wednesday.
Rosa's donating to the young footballer back in July of this year: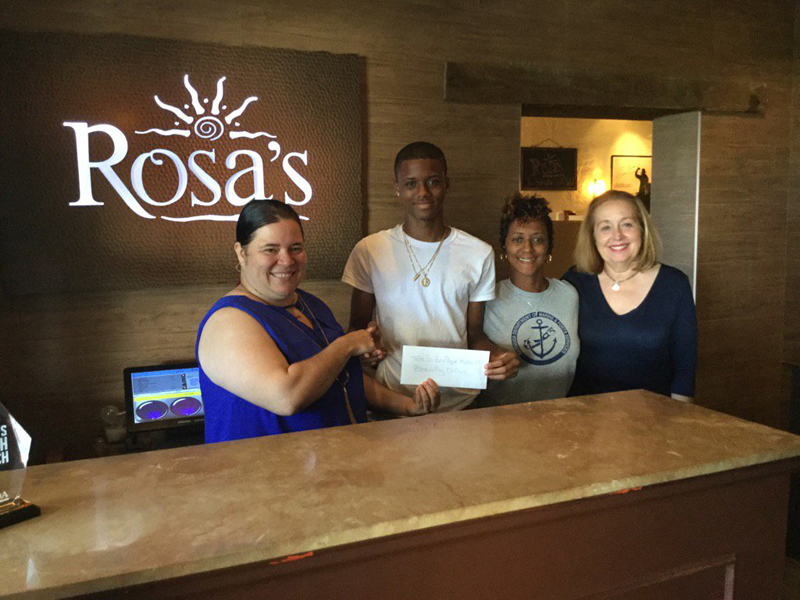 Pamela Quarterly, owner of Bermuda restaurants group, cried when the Russell showed up at Rosa's to tell her his good fortune.
The teary-eyed philanthropist said: "We're so thrilled, so happy. This enriches our lives to help somebody else. I am feeling touched, loved and grateful. Every single person can make a difference in our world if they try. We love helping."
Lindsay Durham, Rosa's manager, added: "This is just amazing. They [Enrique and Tanya] came in and asked for me and told me about it. I was smiling like he was my old child. This is amazing and we're proud of him. We're glad that would could help him in a small way."

Read More About