The 2016 Atlantic Hurricane Season continues to see activity, with Hurricane Gaston, Tropical Storm Hermine and Tropical Depression Eight all swirling around in the Atlantic, with the Bermuda Weather Service saying that Hurricane Gaston and Tropical Storm Hermine are not threats to Bermuda, while Tropical Depression Eight is a "potential threat to Bermuda."
As far as Tropical Depression Eight, the U.S. National Hurricane Center said, "At 5.00pm, the center of Tropical Depression Eight was located near latitude 36.3 North, longitude 71.9 West. The depression is moving toward the northeast near 16 mph [26 km/h]. This general motion with an increase in forward speed is forecast during the next day or so.
"Maximum sustained winds have decreased to near 30 mph [45 km/h] with higher gusts. Some strengthening is still possible, and the depression could become a tropical storm tomorrow before losing tropical characteristics on Friday."
Graphic of Tropical Depression Eight courtesy of the BWS: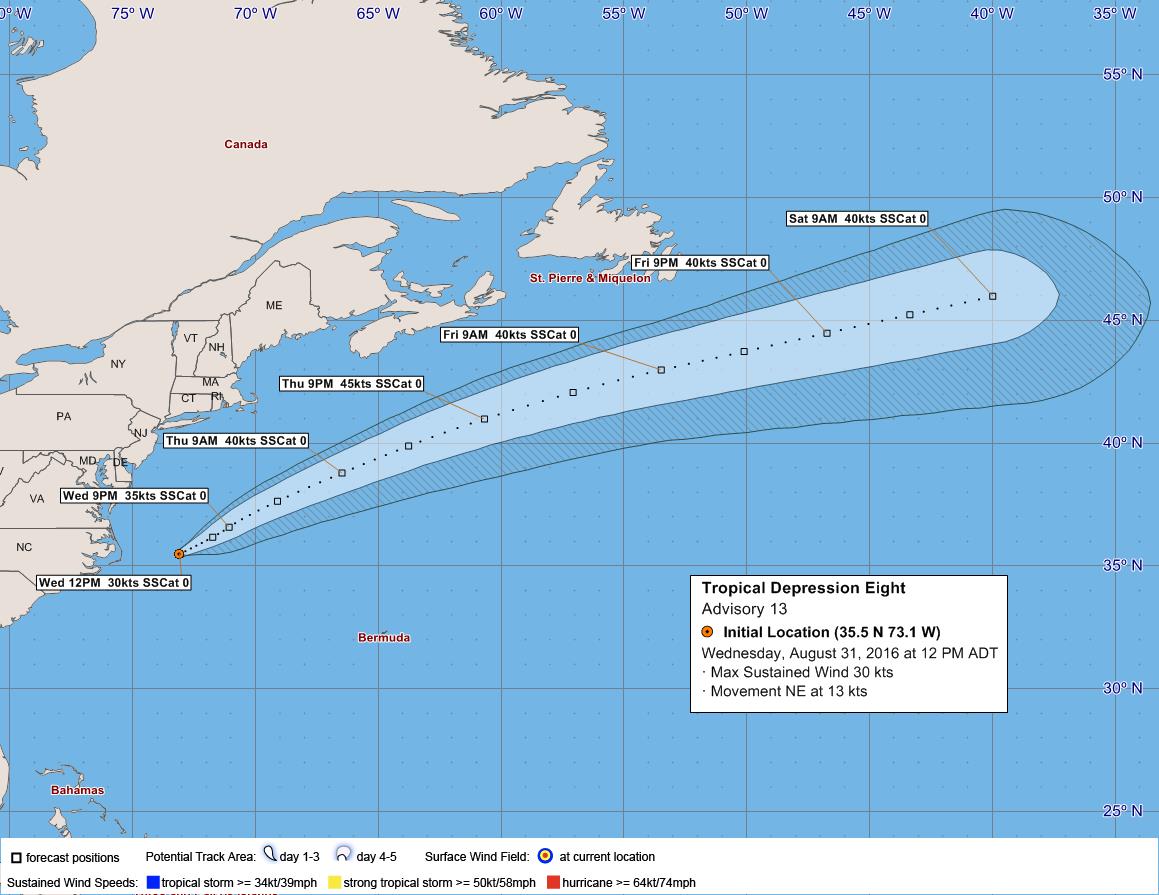 While Bermuda looks like it will be spared from Tropical Storm Hermine, CNN is reporting that a "state of emergency has been declared for most of Florida as Tropical Storm Hermine moved through the Gulf of Mexico toward the Florida panhandle Wednesday.
"Previously dubbed Tropical Depression Nine, it strengthened into a tropical storm with 40-mph winds Wednesday afternoon. As of 5 p.m. ET, the storm was about 325 miles south-southwest of Apalachicola, the National Hurricane Center said.
"Hermine could become a hurricane, the center said. A hurricane watch was in effect for the area between Anclote River, near Tampa, and Destin.
Graphic showing the location of all three weather systems courtesy of the NHC: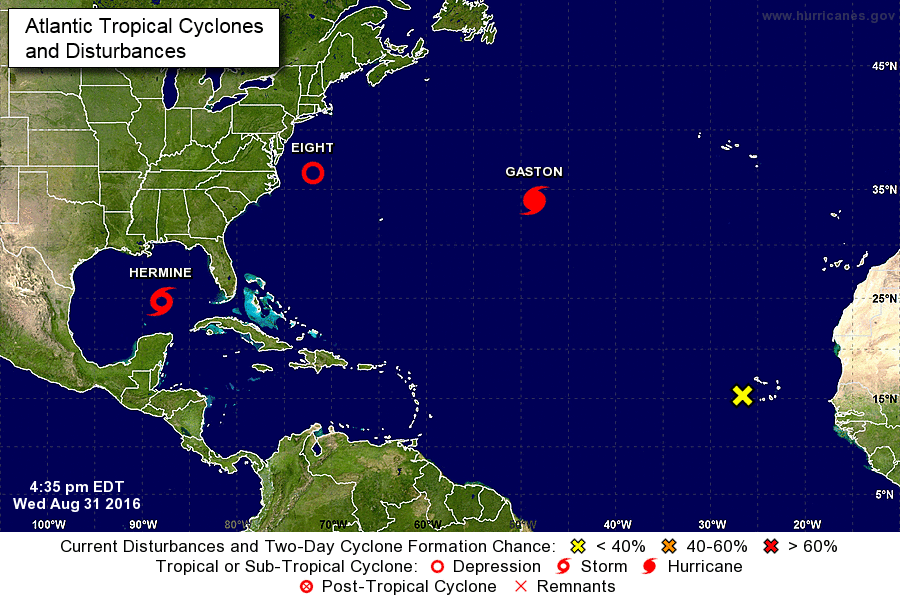 Two Florida counties are taking no chances with its oceanside locales. Franklin County, located just southeast of Panama City, issued a mandatory evacuation order for the coastal towns of St. George Island, Dog Island, Bald Point and Alligator Point, the county's emergency management office said.

Read More About
Category: All