More than 250 visitors are set to come to Bermuda when Saltus Grammar School hosts a girls' football tournament, the school said today,
Saltus is a member of the Canadian Accredited Independent Schools [CAIS] – an organization that develops and promotes educational excellence in independent schools through a rigorous accreditation process.
Deputy Head Jon Beard said: "For the last decade or more Saltus has had a strong sports relationship with independent schools in the Toronto area, regularly visiting schools for football and basketball games.
"After being accredited as a CAIS school it became a logical move to enter their annual football tournament. Having competed in two tournaments, Saltus was selected as the host for the 2016 senior girls' tournament."
The tournament involves 14 teams and will be held from October 15 to October 17, attracting more than 250 visitors to the Island to play and spectate. Games will be played at the National Sports Centre [NSC] fields, the Bermuda Football Association field and Saltus field.
Saltus Girls' Team at last year's tournament in Canada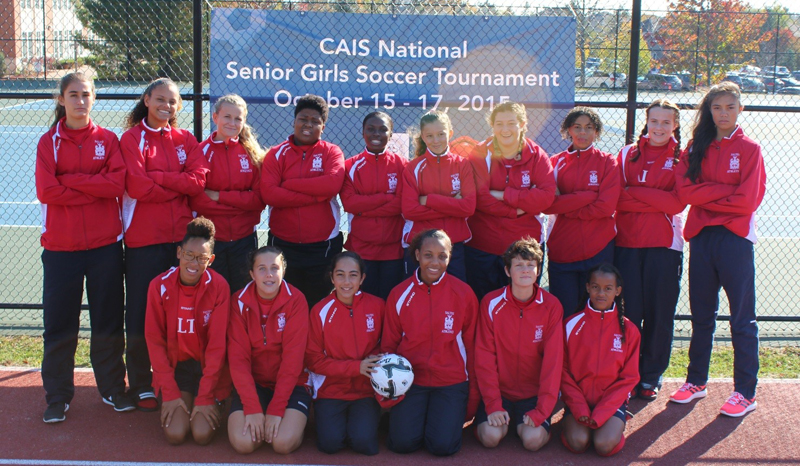 The NSC will host the opening ceremony at 5pm on the South Field on Friday, October 14, which will bring all of the competing teams together for an official opening by the Deputy Governor of Bermuda, Ginny Ferson, and a welcome from the Head of Saltus, Ted Staunton. The Saltus School Concert Band will play the National Anthems at the ceremony.
The games will start at 8.30am the next day [Saturday October 15].
Saltus ranks alongside the top independent schools in Canada, Bermuda, the Caribbean and Switzerland as a CAIS accredited school.
Along with giving Saltus international accreditation it also provides international benchmarking, networking, professional development, best practice guides, leadership opportunities for students, and international sports tournaments.
The organizer is the Director of Athletics at Saltus, Darrin Lewis, and the Chairman of the Organizing Committee is Mr Beard.
The organizing committee also involves: Lesley White, Teacher of PE at Saltus, Manny Faria, BSSF Administrator, Chrystal Gatare, Saltus Director of Finance; Richard Todd, Saltus Primary Department PE Teacher and Kelly Fisher, a former Saltus parent, who is responsible for volunteers.
Mr Beard added: "The committee would like to thank those people who have so kindly volunteered their time to assist, and to the Bermuda Tourism Authority and the many local companies who have helped in so many ways."

The teams taking part are:
| | |
| --- | --- |
| Ashbury College | ASH |
| Greenwood College | GCS |
| Havergal College | HC |
| Holy trinity School | HTS |
| Lower Canada College | LCC |
| Miss Edgars & Cramp's | ECS |
| Rothesay Netherwood | RNS |
| St. Clement's School | SCS |
| St. Mildred's | SMLS |
| Standstead | SC |
| The Bishop Strachan | BSS |
| Sacred Heart | SHSM |
| The Study | TS |
| Saltus Grammar School | SGS |

Read More About