[Written by Don Burgess]
When you're the gold medal champion from the Parapan Games, the bar is raised and so are expectations. It's raised even higher when you've made the podium at the World Championships.
Along with those lofty expectations comes added pressure to do well, but athlete Jessica Lewis can handle it.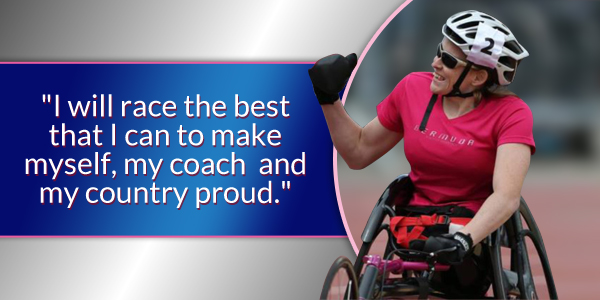 Lewis — along with boccia player Yushae DeSilva-Andrade – will represent Bermuda at the Rio Paralympics, which start on Wednesday, September 8 and run through September 18.
Lewis, who competed in London, will race in the T53 100m, 400m, and 800m.
She told Bernews, "Going to Rio I feel more prepared because I have a better understanding of what to expect at that level of competition for example the crowds and my competition.
"My coach and I have also been gearing my training towards the specific things I need to work on that will help me in the longer races I will be doing in Rio. So we have been working on tempo endurance with sprint to have better conditioning, which will certainly help with the second lap of the 800m where I tend to start fatiguing."
She has been working on her starts which will help her with her best event, the 100m.
Lewis won the gold last year in Toronto in the 100m at the Parapan Games and a bronze at the World Championships. She has set a goal of reaching the finals in all of her events.
Lewis winning the gold medal in record setting style at the Parapan Games in August 2015:
"This will be challenging to do in the 400m and 800m as those aren't my strongest yet, but I am definitely up for that challenge.
"I'm expecting the 100m race to be my best finish and it will come down to that race on that day as there are seven of us all with personal best times of this year under 17 seconds. I'm expecting that to be an incredible race to be a part of."
Lewis admits: "Pretty much the whole race has to go right to end up on the podium. I'm one of the smallest competitors size wise but I have a really good start so I'll need to have that starting speed to help me get ahead of my competitors which will hopefully hold them off through the finish where they are stronger.
Lewis receives her medal at the 2015 World Championships in Qatar
"I definitely do feel pressure to medal because 2015 was a break out year for me by medalling at Parapan Am and World's so I feel there is an expectation to medal in Rio," she said.
"I will race the best that I can to make myself, my coach and my country proud and regardless of the result I can come away from Rio smiling as I can call myself a two-time Paralympian.
She added: "I am extremely proud to represent Bermuda because the amount of support I have been receiving from the people of Bermuda has been amazing – Bermuda Paralympic Association, WindReach Bermuda and my sponsors Tokio Millennium Re.
"My ultimate goal is to advocate for differently abled people and show what we are capable of."

Read More About