Hamilton Princess & Beach Club is launching the Veuve Clicquot Lounge at the Crown & Anchor Terrace. The champagne event takes place every Thursday, Friday and Saturday from 6pm until 10pm through December 30, 2016.
Sponsored by Veuve Cliquot, the drinks menu includes Veuve Cliquot Rose, Rich, Brut Yellow Label and White Label Demi Sec by the glass or bottle.
Featured champagne cocktails include The Cucumber, The Grapefruit, The Ginger, The Pepper, The Lime and The Pineapple. A larger drink menu also is available as is a Cigar Menu that features Cohiba Robusto Slide Lid, Cohibo Siglo II, Montecristo and Partagas Serie D No. 4.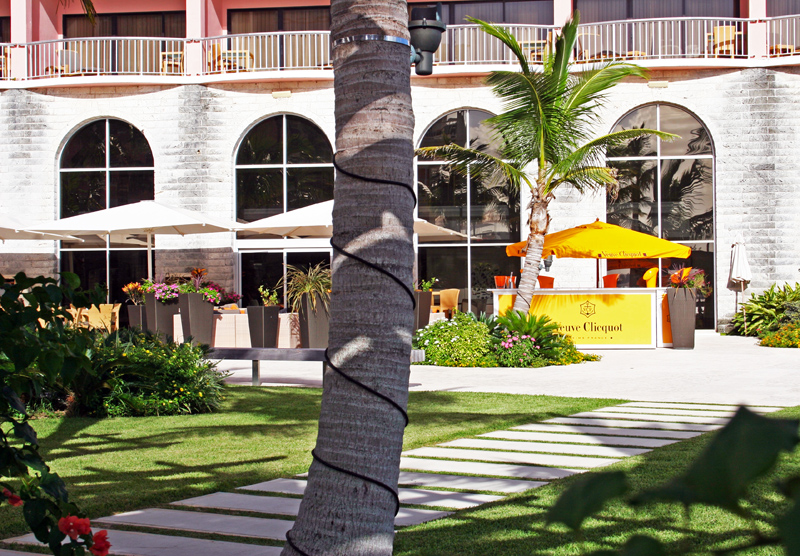 A small food menu is also available that includes specialties from Marcus' such as Fried Chicken & Waffles, The Pitt's Bay Burger, Fish Chowder Bites, Market Green Salad, Mighty Mac & Cheese, Parmesan Fries, Spicy Nuts and Cornbread Madelines.
"Veuve Cliquot is one of our global brand partners and their champagne and brand is popular on the Island," said Allan Federer, general manager, Hamilton Princess & Beach Club.
"In bringing the Veuve Cliquot Lounge to Hamilton Princess, we wanted to create a champagne event in a fun, outdoor location that people could enjoy before or after dinner. Champagne is historically associated with luxury and sophistication.
"Whether or not you are celebrating a special occasion, we encourage everyone in the community to join us for some champagne overlooking the harbour."
No reservations are required.
Read More About
Category: All, Business, Entertainment