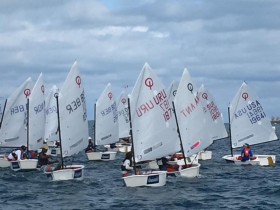 On the final day of racing in the RenaissanceRe Junior Gold Cup, Azhai Smith walked away in 7th place, the top Bermudian sailor in a fleet populated by some of the best in the world.
With two wins over four days of racing, the 13-year-old, who has been sailing for only two years, proved he can not only compete with the best, but can actually beat them as well.
"It feels good. Very good. I think this is the best I've ever done," said Smith. "I didn't think I was going to be able to [hold my own.]"
Flanked by a coterie of very proud family members, Smith was optimistic about his future as an Optimist sailor.
"I'm looking forward to the next regatta. This definitely makes me want to train harder and do even better."
Weather conditions were light and tricky for most of the day, but that did nothing to slow down Mia Nicolosi on her way to victory. The 13-year-old from St. Thomas has become the first girl to ever win the Junior Gold Cup. Second place went to Adrian Surocca, from Switzerland, while German Roko Mohr finished in third.
But despite her record-book win, Nicolosi was unbothered by the genders of the sailors she'd thoroughly beaten over the four-day regatta.
"It doesn't really matter — winning matters. I don't care if it's a girl or boy," she said.
After finishing in second place in the 2015 edition of the Junior Gold Cup, Nicolosi was proud to have put in an even more impressive performance.
"It's good to do even better than I did last year. I'm glad I'm getting better."
For Principle Race Officer Tom Clarke, the distribution of girls throughout the fleet was a positive sign.
"Mia was dominant this year. She was the most consistent by far, but she wasn't the only one," said Clarke. "If you look through the fleet, there's a really good gender balance between the Bermudians and the international kids, which is a great thing."
Also doing it's part was the weather, said Clarke, which varied across the spectrum and balanced the fleet.
"We had terrific winds the first two days, pushing the limits of the kids and tiring them out. But they persevered. And the last couple of days have tested their limits on the other side because it's been light and shifty. It's really impressive, the depth of the fleet."
Responsible for that depth is the Junior Gold Cup's primary sponsor, RenaissanceRe. Leatrice Oatley, Commodore of the Royal Bermuda Yacht Club, couldn't stress enough their importance in providing young Bermudian sailors a chance to compete against the world's best.
"They believed in Bermuda and keeping involved in the Junior Gold Cup even though we couldnt have an official Gold Cup this year," said Oatley. "They've always been a wonderful sponsor. It's great to see so many countries come here. These kids have so much talent."
"This is a unique event that brings sailors from around the world together, allows them to demonstrate their sportsmanship, passion, excellence, and creates an opportunity for our local sailors to race against them and build friendships," said Blythe Walker, Chief Technology Officer of RenaissanceRe.
"All of these things are things we care about as an organization and attributes we want to help foster with our young people."
Perhaps the most poignant part of the regatta, however, was its backdrop. As the future of sailing bobbed around in their bath-tub Optimists, the sport's present and past were also on display.
"Out there today, with the Spirit of Bermuda, the Opti's, the America's Cup boats as well as Bermuda's Red Bull Youth Team, it was just an amazing sight," said Dede Cooper, Regatta Chairperson.
"From the top of the sport to the bottom, from young to old, from the classic sloop to the fastest machines on water, Bermuda now has the opportunity to show the world exactly what kind of sailing mecca we can be."

Read More About