The Bermuda Lupus Association is hosting its first annual 'Lupie Groupie for Life' 5K Fun Run & Walk on October 23, 2016 at Astwood Park, Warwick. The event is organised in association with Swan's Running Club and is sponsored by MS Amlin and Barritts.
Goodie bags will be available for the first 100 registrants. Individuals may register individually or as a team. All participants will be eligible for draw prizes on the day of the event. While wearing costumes is optional, amazing costumes are part of the event and are encouraged.
Prizes will be awarded for most creative costume, with extra points awarded for the best purple &/or butterfly themed costumes. All participants will also be eligible for Swan's end–of-season raffle prize of airline tickets, drawn in 2017.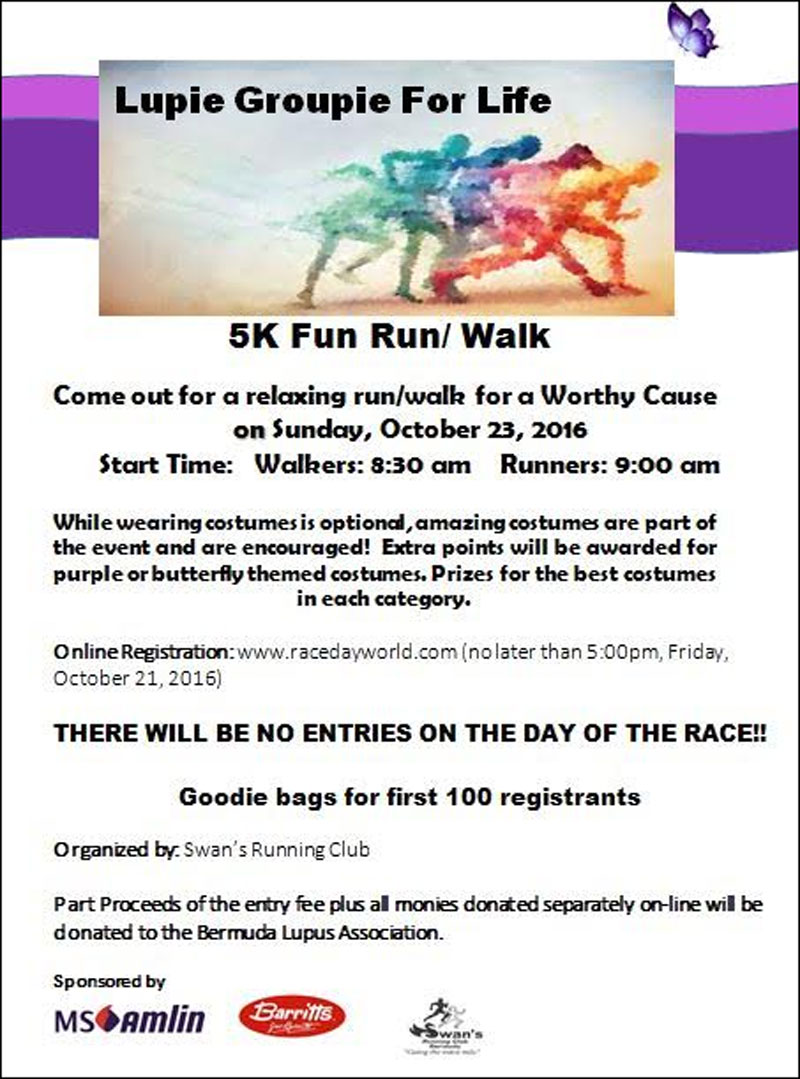 Individuals can also consider raising funds as a team, or within friends, families and co-workers to support this worthy cause.
With many of its members being individuals directly affected by Lupus, the Association does not charge membership fees and therefore relies substantially on fundraising events and the support of local businesses. Therefore, the Association hopes to raise funds from this event to in order to effectively carry out its objectives.
The Association is a registered charity which seeks to provide educational and emotional support to individuals affected by Lupus, and to increase public awareness about Lupus. Lupus is a chronic, autoimmune disease that can damage any part of the body [skin, joints, and/or organs inside the body].
The Association also hosts the "Dragonflies", which is a social youth support group for children between the ages of 5 and 16 years old who are affected by chronic illnesses.
For more information on the Bermuda Lupus Association visit bermudalupusassociation.bm To register for the Lupie Groupie 5k Fun Run & Walk, visit here.

Read More About