Looking at Sabrina Carreon now, it's hard to think that one day her entire body fitted snugly into her father's hand.
Born at just 24 weeks, she weighed just one pound, but is now celebrating her second birthday with no sign of the incredibly difficult start to life that she endured.
Sabrina's mother, Kaye, suffered from Preeclampsia – high blood pressure in pregnant women – and was in the King Edward VII Memorial hospital on medication for the condition.
But a week after being admitted – and every week is important to such a young baby – Sabrina was born, weight just 1lb, on October 22, 2014.
An emergency air ambulance was organised and mother and baby were transferred to Chris Evert Children's Hospital, in Fort Lauderdale, joined by Dad Ronan Carreon who flew out via commercial airline.
It was the start of an agonising time for the parents who, at one stage, both had to come back to Bermuda leaving their tiny daughter alone in hospital.
Left to right, Mom Kaye, Sabrina, brother Rielley and Dad Ronan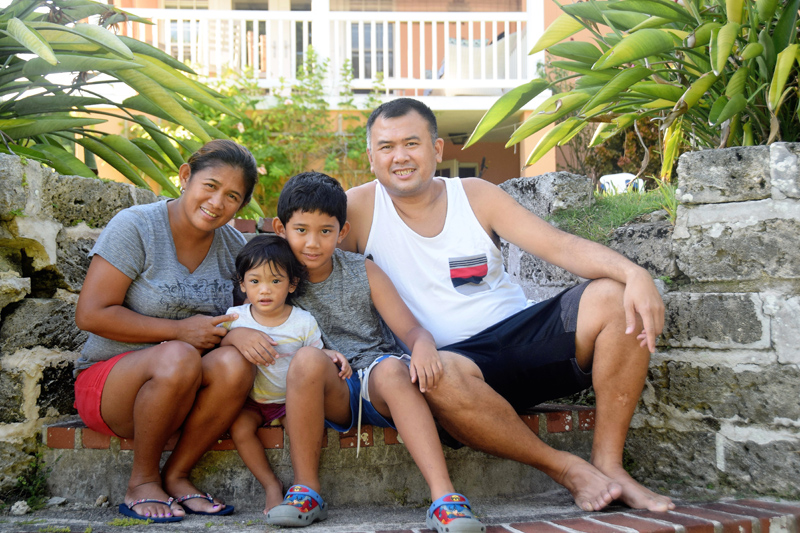 "It was very tough for us," said Mr Carreon. "At first Sabrina was critically ill and in an incubator on the plane from Bermuda. She underwent a series of tests, but everything was OK."
He added: "After about three weeks of Sabrina and Kaye going to Florida I had to return back to Bermuda to work. I had to leave Kaye in the hospital for another two and a half months. That was very hard.
"Then I went back on Christmas Eve to spend the holidays with them. I was surprised to see my baby having no more life support or tubes. It was big progress."
After Mrs Carreon came home because of work commitments, leaving her daughter alone, doctors and nurses would send pictures and would call to give updates on Sabrina's progress.
Then in February 2015, they thought they would be able to bring Sabrina home to Bermuda, but medical staff discovered she had a hernia.
Sabrina needed her first surgery to correct the hernia problem which was done while still at the Chris Evert Children's Hospital. "All the time she was being observed. The doctor said 'we don't know exactly what will happen, we are expecting ups and downs," said Mr Carreon.
Mom Kaye with daughter Sabrina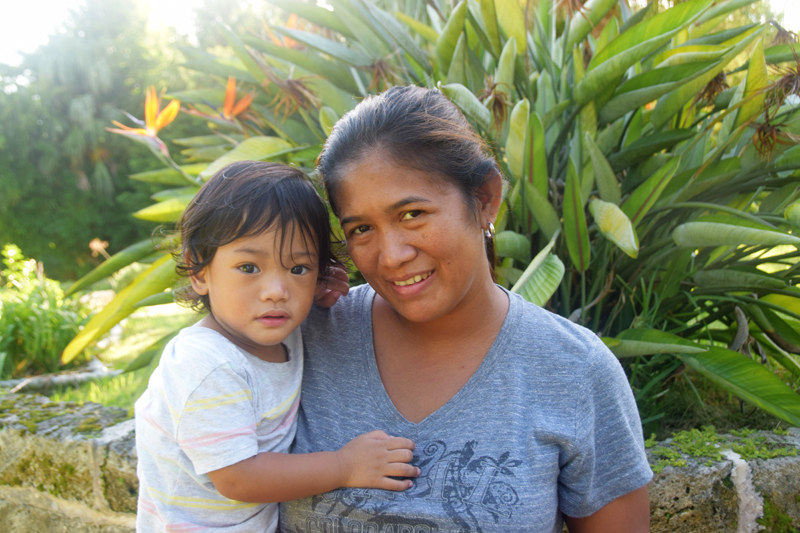 Sabrina had never been off oxygen and after her hernia operation, doctors diagnosed the need for heart surgery for coiling of a PDA, a heart condition that can affect young children, at the nearby Joe DiMaggio Children's Hospital, in early April 2015.
"We went back for surgery but she was not ready so we had to come back to Bermuda again. We were still in Bermuda when the surgery took place and that was very tough for us," said Mr Carreon.
However, the surgery went well and in early April 2015, Sabrina was transferred back to the Chris Evert Children's Hospital, where she made great progress.
She was successfully discharged home to her parents on April 27 last year and has since been having routine follow ups with her paediatricians in Bermuda.
"When she was discharged Sabrina, some nurses and hospital staff were crying because they were going to miss Sabrina. Sabrina became famous in the hospital and everyone knew her. even the parents of the other babies.
"She is 30lbs now. She is still small for her age but she is very active. She is walking at the normal age for a baby and has never been back to hospital apart from normal check-ups. We are so happy and so relieved," said Mrs Carreon.
Sabrina at two days old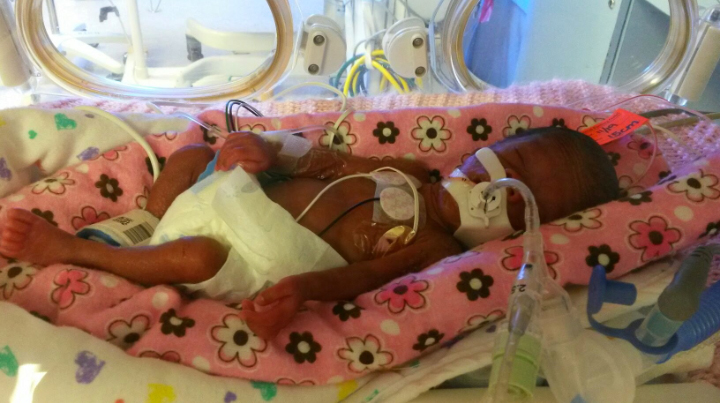 And Mr Carreon added: "I would like to thanks my bosses from Specialty Restaurant who were very supportive and friends and family who always prayed for us, as well as Collen English Medical Snr. A social worker at KEMH.
"My wife and I would also like to thank Mary Ann Hamilton Blair and Elena Misunas, of Chris Evert Children's Hospital who really took care of Sabrina while we are away – they treated Sabrina like their own baby – and the people from Colonial especially, Catherine Kempe – Snr Clinical Administrator."
It is estimated that the medical bill was more than $1m, but Naz Farrow, Colonial Medical Group Chief Operating Officer for Health, said that this was a perfect example of why people need to good medical insurance in place, as a premature birth can be very expensive.
"At Colonial, in a situation like this, our focus is on saving lives and ensuring that our client has access to the best possible care improving their chances of a positive outcome, money was not the issue.
She added: "We really are so happy for the Carreon family. They had to undergo the kind of ordeal that parents dread. To have been away from their child while she underwent surgery must have been awful.
"I am so glad to see that Sabrina is doing well now and I hope she continues to have a lovely, healthy childhood and I hope she has a wonderful birthday today."
Read More About