Bermudian football legend Clyde Best will be at the Bookmart at Brown & Co in Wednesday [Nov 16] at 6.30pm in order to sign copies of his autobiography, titled 'The Acid Test.'
Mr. Best — one of the top athletes that Bermuda has ever produced — traveled to the UK from Bermuda to play for West Ham United in 1968, where he was a stand-out player for the professional team.
He played 218 games and registered 58 goals for West Ham over seven seasons between 1969 and 1976, and remains a well-known figure by football fans around the world.
The book's description says, "On a rainy Sunday in August 1968, Clyde Best, arrived in London for the first time. Not long out of school, he had come for a week long trial with West Ham United, the club with which he had fallen in love while watching the FA Cup final four years previously.
"It was the 17-year-old's first time away from the Caribbean. Alone, lost and depressed had he possessed the return fare he would have flown straight back home again."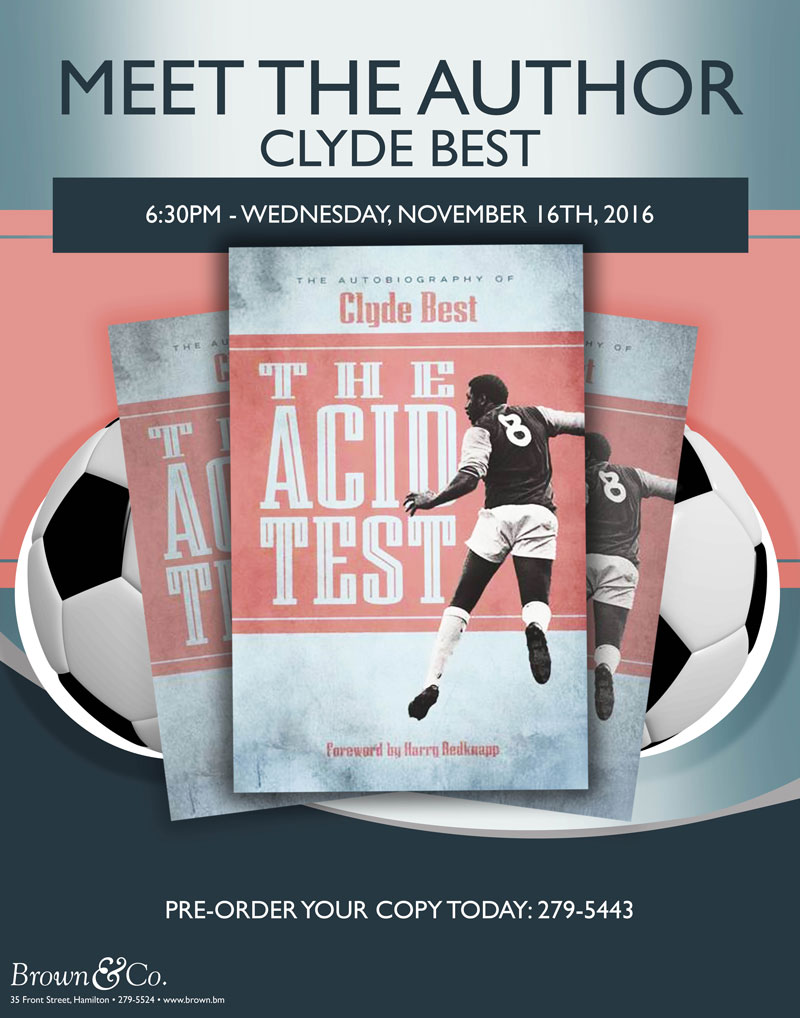 "Had that happened, English football would have missed out on one of its most riveting and unlikely stories: how Clyde Best, one of eight children, went on to become English football's first black striking hero. A groundbreaking figure, he battled for recognition despite being regularly targeted in an era when racism was rife on football's terraces.
"In his autobiography, The Acid Test, Clyde relates how he overcame appalling and violence- tinged discrimination because of the colour of his skin and how that served as an inspiration for dealing with intolerance throughout his career.
"He describes the culture shock of swapping the Caribbean for London; how West Ham and future England manager Ron Greenwood took him under his wing; how, as a willing listener, the teenager from Bermuda ended up playing in the same team with players – including Geoff Hurst and Bobby Moore – who had led England to World Cup glory; and how he developed a special bond with the fans over an eight-year love affair.
"The Acid Test also follows Clyde to the United States where he joined the likes of Pele, Franz Beckenbauer and Rodney Marsh as one of the first pioneers of the professional game across the Atlantic. It concludes, four decades after boarding that BOAC flight to London as a skinny wannabe, back home in Bermuda where he briefly coached his national team.
"Candid and searingly honest, The Acid Test tells of the extraordinary ups and downs of one of English football's groundbreaking figures and is the last word from a player that defied many of the game's boundaries."

Read More About
Category: All, Entertainment, News, Sports