Premier Michael Dunkley concludes his participation in this year's Overseas Territories Joint Ministerial Council [OT JMC] meetings in London today.
"Today's formal Joint Ministerial Council meetings, chaired by Baroness Anelay, Minister for the Overseas Territories, featured sessions focused on economic development, including infrastructure, good governance, anti-corruption, child safeguarding, European Union negotiations and international trade," a spokesperson said.
"A morning session on infrastructure was co-chaired by the Rt Hon Lord Bates, Minister of State for International Development, Department for International Development.
"During the session, the UK Government formally acknowledged its support to the Bermuda Government in its redevelopment of the L.F. Wade International Airport by providing an Entrustment for the Canadian Government to proceed with the project.
Overseas Territories Leaders assembled at the JMC in London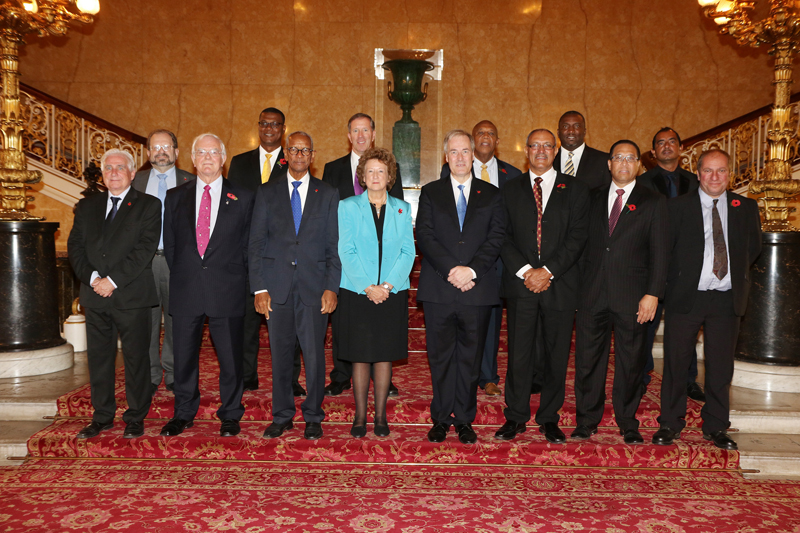 "As it relates to good governance and anti-corruption, recognition was given that Bermuda will table legislation in the upcoming Parliamentary Session enabling Bermuda to have the OECD Anti-Bribery Convention and UN Convention Against Corruption [UNCAC] extended to Bermuda.
"The matter of child protection was also a paramount focus earlier today, with the signing of a Memorandum of Understanding [MOU].
"Formally titled the Memorandum of Understanding: Concerning the Closer Co-Operation Between the Governments of British Overseas Territories and the Government of the United Kingdom of Great Britain and Northern Ireland to Facilitate the Joint Sharing of Information for the Purposes of More Effective Safeguarding of Children – the initiative was led and presented to the JMC by the Falkland Islands Government.
"The MOU demonstrates a partnership among OTs to address a series of issues regarding children, including children travelling and residing between the Territories. While it is acknowledged that some matters may require court or judicial intervention, the MOU allows OTs to share their relevant experience and best practices in solving such issues."
In supporting the MOU, Premier Dunkley applauded the initiative on behalf of Bermuda, and noted that "families in Bermuda are the underlying strength of a community, and supporting and fostering the foundation of the family should be a critical priority for OT Governments."
"The afternoon sessions focused on the European Union negotiations regarding 'Brexit' co-chaired by Mr Robin Walker MP, Parliamentary Under Secretary of State at the Department for Exiting the European Union . The OTs were advised that the UK will play a full and active role in the EU until its departure and will continue post exit. As a current member of the EU, the full range of obligations and benefits afforded to the UK will remain," the spokesperson added.
"The OTs were advised that they will be kept fully abreast of the various stages of 'Brexit' as the negotiations progress. It was agreed to establish a Joint Ministerial Council European Negotiations prior to the evoking of Article 50 by the end of March, which will be chaired by Mr Walker.
"The evening will conclude with a courtesy call on Leaders with the Rt Hon Boris Johnson MP, Secretary of State for Foreign and Commonwealth Affairs."

Read More About