Speaking in the Senate today, Attorney-General Kathy Lynn Simmons provided an overview of the 2017 British Overseas Territories Attorneys-General Conference which was held from Tuesday, February 13th to Thursday, February 15th at the Fairmont Southampton Hotel.
Minister Simmons said, "The Conference was chaired by the UK Attorney-General, Rt. Hon. Jeremy Wright QC, MP. In attendance, were Attorneys-General [and Law Officers] from Anguilla, British Virgin Islands, Cayman Islands, Gibraltar, Montserrat, Pitcairn, Sovereign Base Areas, Turks and Caicos Islands, and the Crown Dependencies of Guernsey and Jersey.
Attorney-General of Bermuda, Sen. Kathy Simmons and UK Attorney-General, Rt. Jeremy Wright, QC, MP, centre front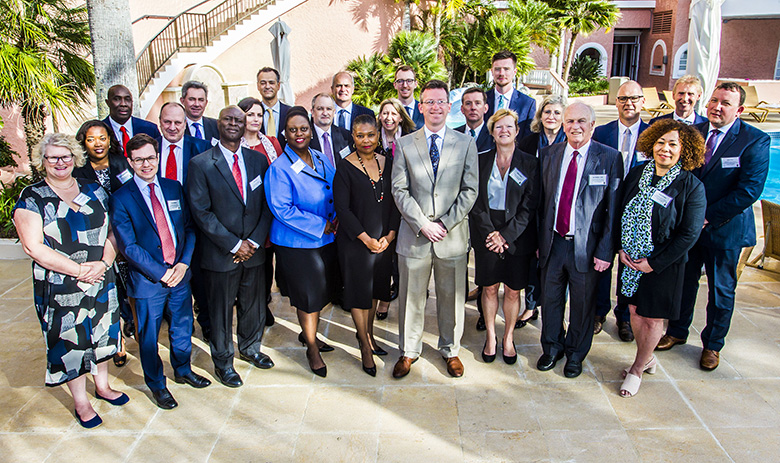 "Madame President, also in attendance were representatives and delegates from the UK Foreign and Commonwealth Office, the World Bank, the United States Department of Justice, the British Red Cross, the Bermuda Red Cross and the UK Maritime and Coastal Agency.
"The Conference celebrated progress and continued dialogue on agreed action points identified during the 2016 Conference, and fortuitously, the modern-day challenges from post-hurricane reconstruction and recovery in Anguilla, British Virgin Islands and the Turks and Caicos Islands.
"Madame President, key themes of the discussions included:―
1. Mutual cooperation between the Overseas Territories during hurricane recovery by the Red Cross;
2. Implications for the Overseas Territories of the UK Exit from the EU;
3. Updates on anti-corruption, tax transparency and beneficial ownership strategies and initiatives;
4. FATF reviews and lessons learned by the Overseas Territories and the UK; and
5. Updates on criminal justice and law enforcement, particularly Mutual Legal Assistance regimes.
Attorney-General and Minister of Legal Affairs Kathy Simmons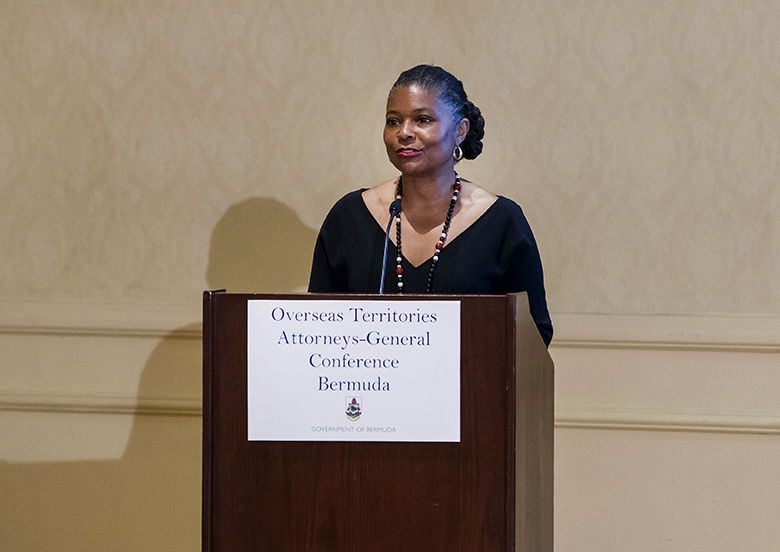 "Other conference topics discussed were:―
1. Development of human rights, and
2. Meeting international obligations and best practice for effective child safeguarding.
"Madame President, as the Attorney-General I provided extensive updates on Bermuda's continued progress towards meeting its international obligations and commitments on all of the key themes. The highpoints being:―
1. The introduction of the Bribery Act;
2. Establishment of a multi-agency child safeguarding committee;
3. Legal Aid reforms to increase the number of in-house counsel to contain costs;
4. Introduction of legislation to allow remote witness participation via audio visual link in court trials; and
5. Extension of the Convention on the Elimination of all Forms of Discrimination Against Women [CEDAW] to Bermuda.
6. Maritime Obligations and IMO IIIC Audit.
"At the request of the UK Attorney-General, I also presented on the legal issues pertaining to Bermuda's new Domestic Partnership Act.
"Madame President, bilateral meetings with Territory Attorneys-General on matters of mutual concern were held. This being the first time the UK Attorney General [Rt. Hon. Jeremy Wright QC, MP] has visited Bermuda, I had the opportunity to discuss with him topics relevant to Bermuda and the United Kingdom Government.
UK Attorney-General, Rt. Jeremy Wright, QC, MP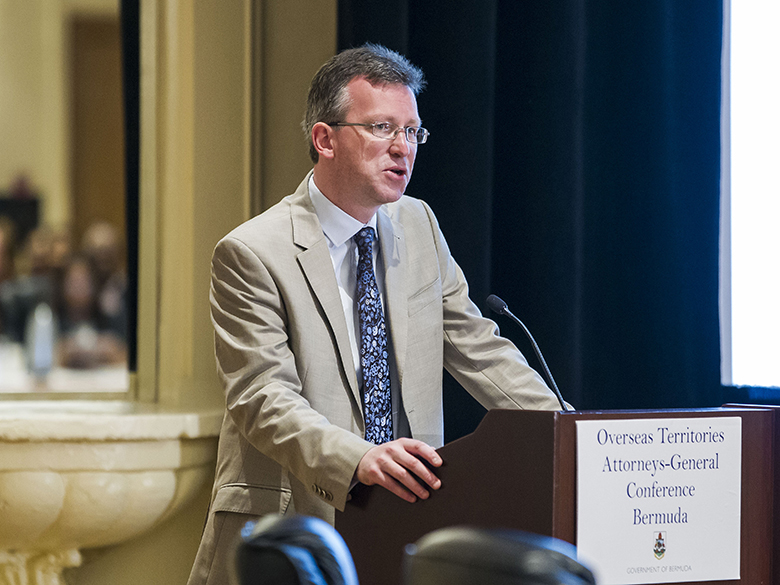 "Madame President, the Attorneys-General agreed on action points that identified priorities, commitments and areas for mutual work in the year ahead. As per the Chair's closing statement, we have committed to:−
1. Continue involving the Overseas Territories in negotiations for leaving the EU, ensuring their interests are taken into account as we move to Phase 2. The UK Government has also committed to supporting the Overseas Territories, Crown Dependencies and Governments in their preparedness planning for EU Exit.
2. Continue to work in partnership with Territory governments to ensure that our financial sectors are hostile to illicit finances, to implement the bilateral arrangements on beneficial ownership, and to support each jurisdiction to adopt and implement international standards, including compliance with FATF standards, where they have not done so.
3. Work with the Overseas Territories Criminal Justice Adviser and Law Enforcement Adviser and with in-Territory stakeholders to build the legislative framework necessary to support reform of the criminal justice system, improve efficiency in the investigation and prosecution of crime, as well as efforts to prevent crime, supported by UK programme funds where necessary.
4. Continue to support efforts by relevant Territory governments on hurricane preparedness and recovery, including continued coordination and support between Territories.
5. Support the Territories to achieve extension of core Human Rights conventions where these have not been extended, and to complete a review of outstanding reservations against core UN human rights treaties.
6. Further enhance cooperation on child safeguarding through progress under the Overseas Territories Memorandum of Understanding and finalisation of National Response Plans and work towards extension of the Lanzarote Convention.
7. Work in partnership with Territories to address gaps in legislation pertaining to maritime obligations.
"In sharing and enriching each other from our collective experiences, we renewed our commitment under the law to transparency and good governance, the strengthening of human rights and democracy, and improvement of security and economic stability.
"Madame President, I am confident that we have also strengthened relationships and forged new areas of cooperation, built upon our similarities as Overseas Territories and our commitment to the success of our countries collectively and individually."

Read More About
Category: All