Chris and Ashley Estwanik are the 2016 BTC Glow Run Male and Female 5K Champions.
Chris Estwanik ran away from the field to lead from start to finish stopping the clock in 15:54.96, Tim Price was second clocking 17:38.26, and Chefton Hall was third in 18:24.25.
Ashley Estwanik finished 5th overall with a time of 18:30.63, Jennifer Alen was the second female finisher and 11th overall with a time of 19:25.27, and Allison Schindel was the third female finisher and 13th overall stopping the clock in 20:33.49.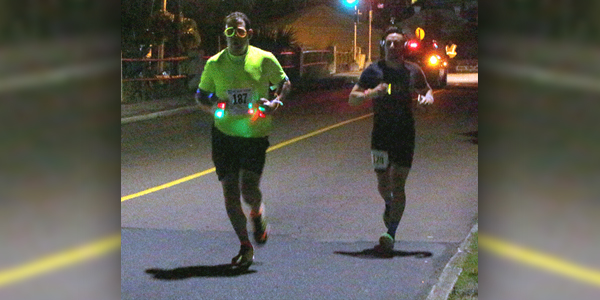 BTC Glow Run Results
15:54.96 Christopher Estwanik
17:38.26 Tim Price
18:24.25 Chefton Hall
18:29.41 Robin Horsfield
18:30.63 Ashley Estwanik
18:35.6 Craig Rothwell
18:45.2 Ronae Burgess
18:59.41 Barry Murphy
19:03.89 Dennis Mbelenzi
19:19.74 Matthew Viney
19:25.27 Jennifer Alen
19:48.26 Jahmai Lottimore
20:33.49 Allison Schindel
20:44.37 Steven McGuinness
21:21.8 Sean Kelly
21:28.72 Jonathan Dodd
22:18.12 Patrick Crosson
23:07.89 Richard Mansfield
23:12.14 Thomas Moroney
23:22.89 Stephen Mayor
23:38.16 Richard Howells
23:49.3 Justin Hunt
24:00.94 David McHugh
24:01.17 Christopher Rodrigues
24:26.72 Martine Brosius-Rothwell
24:27.92 Steven Douglas
25:02.76 Mark Hernandez
25:19.16 Terrence Walker
25:19.16 Jennie Kelly
25:25.23 Shawn Hassell
25:29.27 Mark Brown
25:41.78 Edward Lightbourne
25:51.41 Shane McDonnell
25:58.15 Sean Simmons
26:13.27 Christopher Brough
26:19.47 Nagma Walker
26:23.15 Philip Dyer
26:38.76 Amanda Burns
26:40.18 Sean Simons
26:43.42 Dianna Mitchell
27:25.9 Idris Smith
27:35.23 Ellington Weldon
27:41.52 Hayley Terretta
27:46.77 Betty Doyling
27:52.9 Tamaki Smith
28:00.52 Shane Bend
28:10.27 Chinue Lambert
28:14.77 Natalie Dyrli
28:19.94 Rachel Jenkins
28:28.53 Leigh Ann Bezuidenhout
28:53.24 Laura Burns
29:13.27 Marizanne Rust
29:20.98 Emilie Faulkner-Meek
29:21.18 Anonymous Participant
29:22.19 Jonathan Jervis
29:24.43 Brian McDaniel
29:30.52 Kerry Shasserre
29:38.26 May Huang
29:39.5 John Burcher
29:48.21 Andrew Smith
29:48.52 Delano Thomas
30:06.29 David Haasbroek
30:06.92 Durnferd Davis
30:07.94 Sally Penrose
30:09.28 Jennifer De Los Santos
30:12.78 Tamsin Garside
30:14.86 Theresa Dunlop
30:37.27 Janson Cross
30:39.85 Aisha Cross
30:50.45 Nina Ndebele
30:58.3 Steven Barber
31:34.66 Rowena Cespedes
31:53.37 Conway Bennett
31:59.33 Jacob Muchiri
32:01.29 Kelly Reeves
32:09.5 Tammy Darrell
32:12.54 Valencia Holder
32:18.53 Bobby Degraff
32:33.48 Lyle Douglas
32:42.62 Laura Hill
32:42.78 Natalie Bennett
32:44.53 Jenna Constable
33:02.11 Richelene Woolridge
33:02.72 Antoine Furbert
33:28.78 Sandra Ming
33:41.18 Sophie Grewal
33:55.33 Teche Smith
34:07.64 Lovette Tannock
34:09.49 Inge-Lise Jonker
34:17.63 Christine Jack
34:17.79 Brendan O'Brien
34:27.53 Derrick Golding
34:29.63 Vanessa Philips-Williams
34:33.78 Trishann Ide
34:53.77 Kara Lindo
34:54.55 Shae James
34:55.54 Jessica Mello
35:21.4 Berinda Futter
35:24.53 Trinette Weikl
35:31.97 Larissa Burgess
35:35.64 Anthony Bennett
35:38.29 Angela Reddy
36:06.52 Delayne Bean
36:15.87 Beena Amin
36:32.48 Michelle Pitcher
36:56.85 Jaime Cook
37:37.45 Lefawn Jayathunga
37:38.66 Khalilah Phillips
38:13.29 Melissa Brough
38:13.43 Michele Kleissner
38:29.89 Sarah Watkinson
38:37.59 Cassandra Simmons
38:37.79 Patrice Hill
38:44.48 Hana Alnajjab
39:28.74 Rachelle Frisby
40:01.64 Ceilidh Blood
40:54.28 John Luebkemann
41:01.3 Samantha Waugh
41:08.69 Simone Romaine
41:17.61 Kim McCallan
41:18.22 Dianna Armstrong
41:21.6 Wanneeka Saunders
41:22.39 Dorinda Mayho
41:22.59 Timika Smith

Read More About