The Flying Colours Mountain Bike Race Series was recently held, with cyclists claiming victory in a number of categories, including Dominique Mayho winning the male A division.
A spokesperson said, "When most people think of the National Mesuem of Bermuda they think of Dockyard, Dolphin Quest and the west end. If you ask any participant of the Flying Colours Mountain Bike Race Series presented by Beck's Beer & Furniture Walk what they think of when they hear National Mesuem of Bermuda and they will most likely tell you tight, twisty racing though the corridors of the old prison and wind, lots of wind.
"At every race that has been held at the National Museum of Bermuda there have been high winds and today was no exception. The 25 knot winds made what should be a easy race course into an epic battle. In places it looked like the participants came to a stop, while in others I am pretty sure they were going at the speed of light.
"Dominique Mayho was the winner of the male A division, with Robin Horsfield coming in 2nd and Matthew Oliveira in 3rd. After the first few laps had passed it was obvious that Dominique Mayho had the race in his grasp. This meant that the attention was drawn to 2nd and 3rd place. It was a close battle, but in the end Matthew could not hold off Robin.
"The Veteran class saw Hans Hirschi battle from dead last on the grid to take 3rd place, Padraic Brown was able to hold onto 2nd and Chris Roque took another win of the season, after putting the hammer down on the last lap."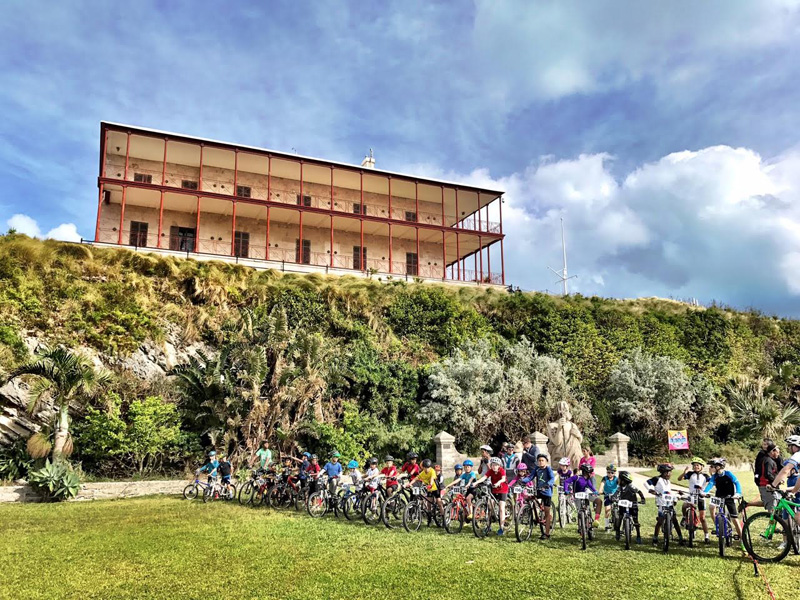 "The male B class once again proved the biggest class of the day with a total of 27 riders all trying to take the win. Conor White took another win of the season, Arthur Pitcher came in 2nd and Jeremy Armstrong rounded out the top 3. Tristan Narraway, the only female B rider, came in 1st.
"The Novice class saw Knut Heinz taking his 1st win of the season, Garth Fleming came in 2nd and Andrew Packwood rounded out the top 3. In the female Novice class, the top three were separated by under 1 minute, with the chequered flag showing Caitlin Conyers in 1st, Wenda Roberts in 2nd and Earlena Ingham in 3rd.
"The male 13-15 class saw Nicholas Narraway taking 1st place, Finn Clarkson in 2nd place and Blake Oliveira in 3rd place. Lea Balestrieri was the only female 13-15 rider, so she took 1st place.
"The male 12 and under class saw Shawn Breamar taking the top step, Keyan Webb came in 2nd and Odin Heinz came in 3rd place. In the female 12 and under class Kayla Redcliffe took 1st place and Cara Bernhard took 2nd place.
"On December 18th the Flying Colours Mountain Bike Race Series presented by Beck's Beer & Furniture Walk will head over to Admiralty House to battle out on the short, but what feels like a never ending climb."
The full Flying Colours Mountain Bike Race Series results follow below [PDF here]:

Read More About