The Royal Bermuda Regiment's latest recruits marched out of the gates of Warwick Camp today [Jan. 28] after taking part in the end of recruit camp passing out parade in front of gathered family and friends.
Minister of National Security, Sen. Jeffrey Baron extended his congratulations to the recruits who completed this year's two week regiment training camp.
Following his attendance at this afternoon's Royal Bermuda Regiment [RBR] Passing-Out-Parade, Minister Baron praised the troops for their "tenacity and perseverance". He also commended the RBR's Commanding Officer, Lt. Col. David Curley and the entire RBR leadership for their efforts to ensure an all volunteer force for a second year.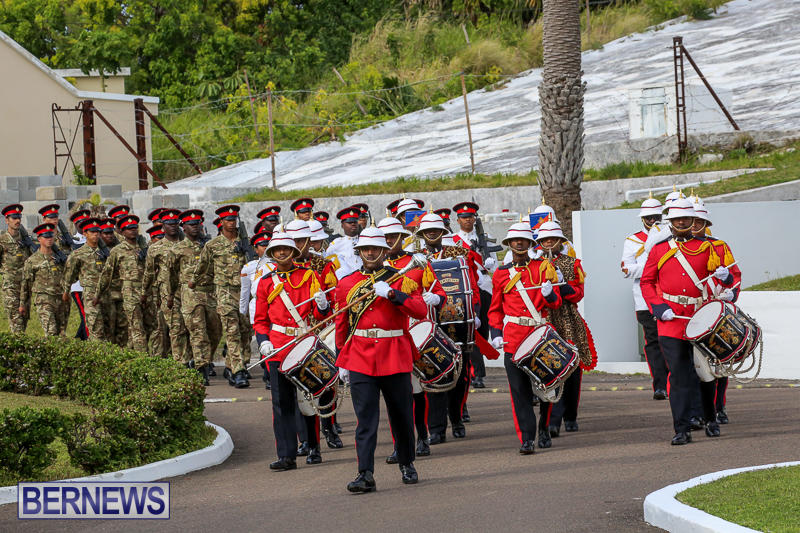 Minister Baron said, "It's extremely encouraging to see such a passion for service and volunteerism from the men and women in our community. And I wish to applaud Lt. Col. Curley, his predecessors and the entire team at the RBR for their commitment and dedication to ensuring the success of this process."
The National Security Minister continued, "The 56 recruits who have completed two grueling weeks of training have demonstrated true courage and determination and they deserve our congratulations. I've had the opportunity to see firsthand both the work and training that the RBR do. I've travelled with them for their training exercises overseas. And I've worked alongside them in the Emergency Measures Organisation during times of critical national events such as Hurricane Nicole.
"Without question, Hurricane Nicole was an incredibly tense and uncertain time for our Island. But I can confidently say that Bermuda was incredibly well served by the RBR.
"Professionalism, integrity and compassion are what they exemplified during this worrisome time for our country, and the Royal Bermuda Regiment continues to be a great source of pride for Bermuda.
"And it's into these ranks that our newest recruits will join – an organization that is prepared and ready, and displays in times of adversity unparalleled resilience, discipline and determination.
"So to our newest recruits – I'm certain that these past two weeks have been an unforgettable experience for you. The Ministry of National Security salutes your service and will continue to support you as you selfelssly serve Bermuda."
Two live video Periscope replays of the Recruit Camp Passing Out Parade:
Royal #Bermuda Regiment Recruit Camp Passing Out Parade https://t.co/Dyae7mytcl

— Bernews (@bernewsdotcom) January 28, 2017
Royal #Bermuda Regiment Recruit Camp Prize Giving 2017 https://t.co/TitdgoFCNs

— Bernews (@bernewsdotcom) January 28, 2017

Read More About