This year's Restaurant Weeks is officially underway today [Jan 12] with largest number of participating restaurants ever – 50 – and the introduction of lunch, which is being offered as two-courses for $22.
Premier Michael Dunkley, Opposition Leader David Burt & BTA staff have lunch during today's opening: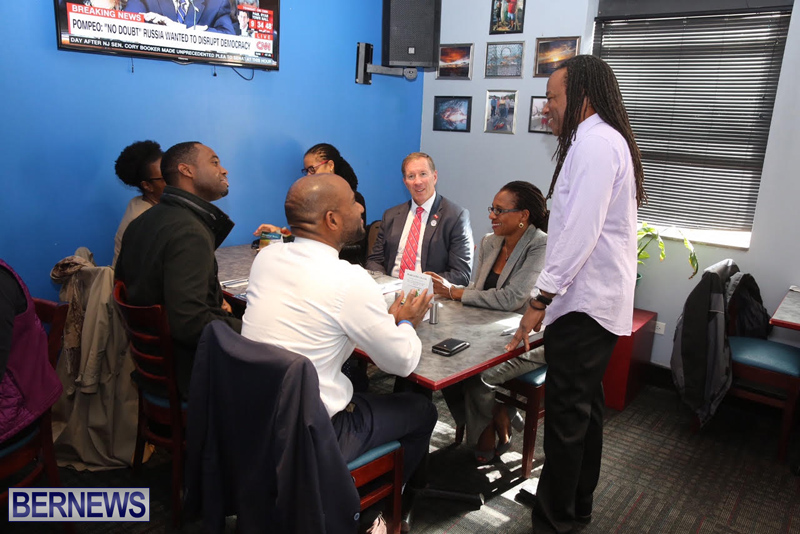 Speaking at today's launch, BTA Chief Product & Experiences Development Officer Pat Phillip-Fairn said, "It's my pleasure to welcome you to Lost in the Triangle for the launch of Bermuda Restaurant Weeks 2017.
"For foodies, this is one of the most enjoyable times of the year. We feel the same way at the Bermuda Tourism Authority because we focus on elevating Bermuda's food culture and this Restaurant Weeks always provides the perfect opportunity to do exactly that.
"To that end, when Restaurant Weeks begins this afternoon it will include not only the largest number of participating restaurants ever – 50 – but also the most ever to offer a Bermuda-inspired menu. Thirty-two have stepped up to accept that challenge.
Video of today's announcement
"If Bermuda's food culture is important to you – and we hope it's important to all of us – we encourage you to look for the onion. In our marketing materials, the Bermudian onion signifies restaurants offering a Bermuda-inspired flare in their menus.
"It also means you can vote for those restaurants in our People's Choice Award. The top online vote-getters for Bermuda-inspired menus will be recognised at the end of the three-week campaign with the People's Choice Award.
"The three levels of pricing for 2017 are $32, $42 and $52. Each category has increased by $3. It's the first price increase in the history of Restaurant Weeks. At the same time we're also introducing a price category at a lower level.
"New this year for Restaurant Weeks is the introduction of lunch. It will be offered as two-courses for $22. This is an important growth area for two reasons. One, it allows us to stimulate greater revenue opportunities for local restaurants. Our goal is always to increase visitor spending for our stakeholders; adding lunch to the mix will help us accomplish that.
Slideshow of today's official opening:
.
"Secondly, it opens the door for more restaurants to participate. Here at Lost in the Triangle – or LITT as its known – this is its first time participating. And although LITT will serve a dinner menu as well, the lunch option gave them an excellent point of entry. The same is true for some of the other first-timers. We're delighted to have them on board.
"In just a little while we'll celebrate the first-ever Restaurant Weeks lunch with a special sitting here at LITT. We've invited some special guests to join us. They'll be treated to a fish lunch, caught yesterday by restaurant owner Delvin Bean. This ocean-to-table experience is just the kind of thing we aim to celebrate and highlight in the visitor experience.
"The addition of LITT for Restaurant Weeks this year is just one example of how we've encouraged entrepreneurs in the culinary field to become a part of the tourism economy – to be on the consideration list for visitors.
The list of participating restaurants is below [PDF here]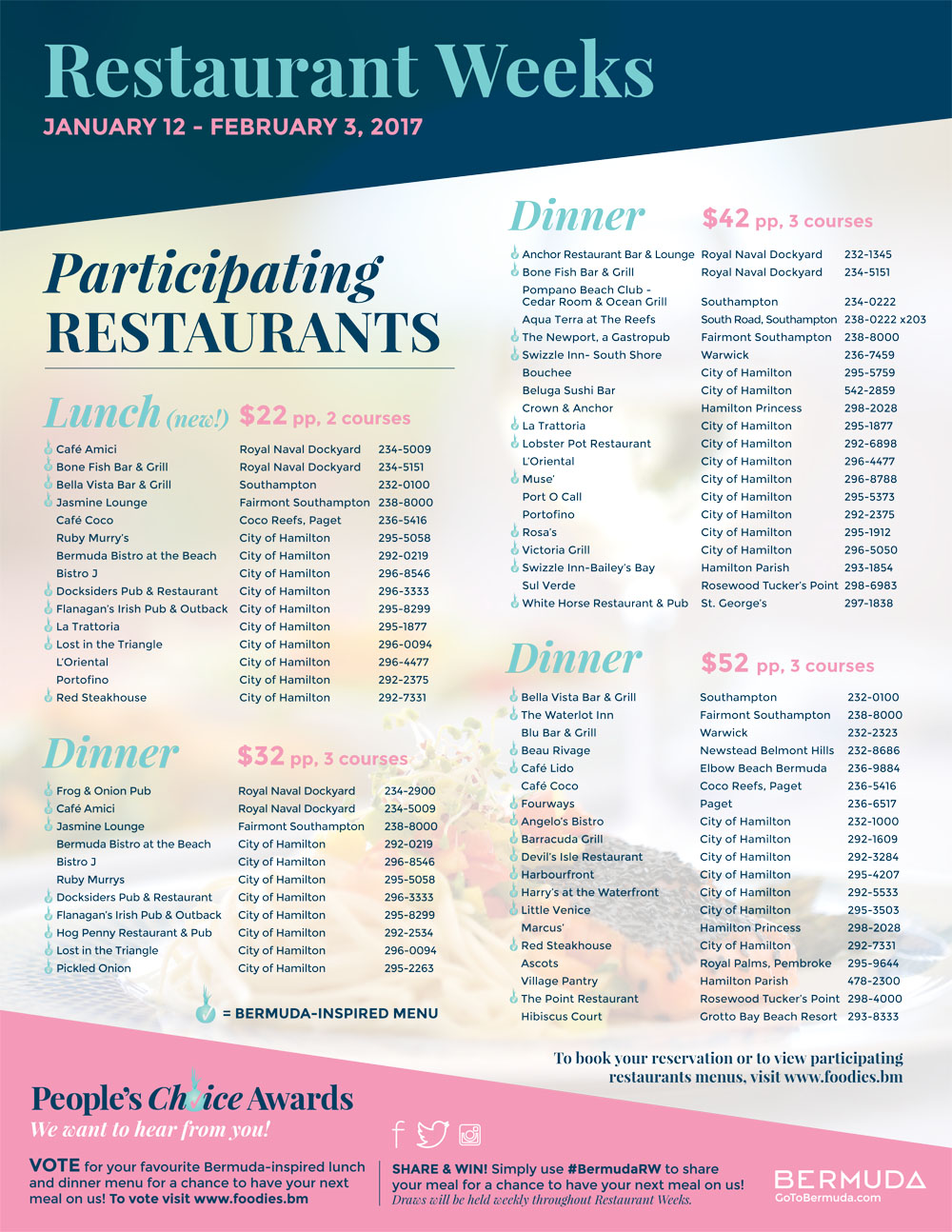 "We prepared a short video to show you what we've done over the last few years to elevate Bermuda's food culture as a business opportunity for the country.
"We encourage everyone to challenge yourself during this Restaurant Weeks: visit a restaurant you've never been to before. Get out there and enjoy a Bermuda-inspired menu to show your commitment to Bermuda's food culture.
"Once you've done that, vote for your favourite Bermuda-inspired menu at foodies.bm and share your experience on social media using #BermudaRW. By doing that you leave a digital guide of recommendations for our visitors. Because the bottom line is this: if locals are giving a restaurant the thumbs up, then it's where visitors want to go to get a true Bermuda culinary experience.
"Thank you, very much. And I'm proud to say: let Restaurant Weeks begin."
The BTA's Restaurant Weeks brochure is below [PDF here]

Read More About
Category: All, Entertainment, News