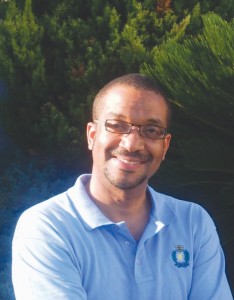 Bermuda College's annual salute to the sciences this year focuses on water engineering and the challenges of water management, with Bermudian scientist Tarik Smith to speak at a public forum.
The week-long event includes three days of community events that are free to the public.
Tuesday, January 24, the Nursing and Technical Education Departments will showcase the career opportunities available in the healthcare industry, including the EMT profession, along with health screenings by nursing students.
The Technical Education Department will be displaying an off-the-grid solar [photovoltaic] energy installation; while the America's Cup Endeavour Team will be providing grinding demonstrations throughout the evening.
The Division of Arts and Science Corange Science public forum, Wednesday, January 25, will feature Bermudian scientist, Mr. Tarik Smith [pictured].
His topic, "Water Engineering: Facing the Challenges of Water Management", examines population growth, environmental pollution and climate change as just some of the factors threatening the long-term availability of clean water to the global population.
In an interdependent world, multi-sectoral approaches in research and international cooperation are essential tools for achieving sustainable water management. Mr. Smith is a water engineering consultant who has been based in Barcelona, Spain since 2002.
He is currently the Director of Koom Consulting, a private professional network offering services of water engineering, research and development, and project management to multiple sectors in Spain, the Caribbean, Africa, and beyond.
The Live, Love, Eat culinary arts interactive instructional and sampling demonstration rounds out the week's events on Thursday, January 26.
All events begin at 6:30 p.m. and are free and open to the public.

Read More About