Bermuda has been highlighted by UK travel association ABTA in a feature about the trends in travel for 2017, with the Association saying that we are "renowned for pink-sand beaches and turquoise waters," and have a "rich cultural mix of British, North American, African, Portuguese and West Indian influences."
The organisation said their Travel Trends report "identifies the key trends in travel highlights 12 destinations to watch that are expected to capture our imagination in 2017."
The ABTA said, "The world's greatest sailor will be leading Great Britain's strongest challenge for years, as the 35th America's Cup takes place in Bermuda in June. Visitors will find a warm welcome on this beautiful Caribbean island renowned for its pink-sand beaches and turquoise waters.
.
"When you're not watching the drama unfold out at sea in Bermuda's Great Sound, Bermuda is truly a slice of how the other half live. This beautiful island is actually a string of 181 islands which are dotted with delicately painted houses and impressive mansions.
"Bermuda's colonial past means that it benefits from a rich cultural mix of British, North American, African, Portuguese and West Indian influences.
"The islands' warm and welcoming climate means that they are full of fragrant frangipani and bougainvillea flowers and the turquoise waters provide a rich variety of sea food.
"The islands are fringed with reefs which make Bermuda one of the leading sites in the world for diving. The reefs have resulted in many dramatic shipwrecks, which attract one of the Sargasso Sea's most regal fish, the barracuda, the tiger of the seas.
In providing 'Did You Know' Facts & FCO Advice, the organisation said:
"Bermuda is a separate legal jurisdiction to the United Kingdom and has its own laws.
"The hurricane season in Bermuda normally runs from June to November. You should monitor progress of storms on the Bermuda weather service and National Hurricane Centre websites and follow the advice of the local authorities.
"Bermuda, while welcoming, is a conservative place and you should dress modestly. Bathing suits, revealing tops and short shorts should only be worn at the beach or pools. There are no nude or topless beaches and it is an offence to appear in public topless or wearing a bathing suit top. Drinking alcohol in public outside of licensed premises is not allowed.
"Homosexuality became legal under Bermuda law in 1994, but there's no official recognition of same sex couples or partnerships. Attitudes to homosexuality are tolerant but conservative and some people may not approve of public displays of affection between same sex couples."
Screenshot of the ABTA article on Bermuda [Full PDF here]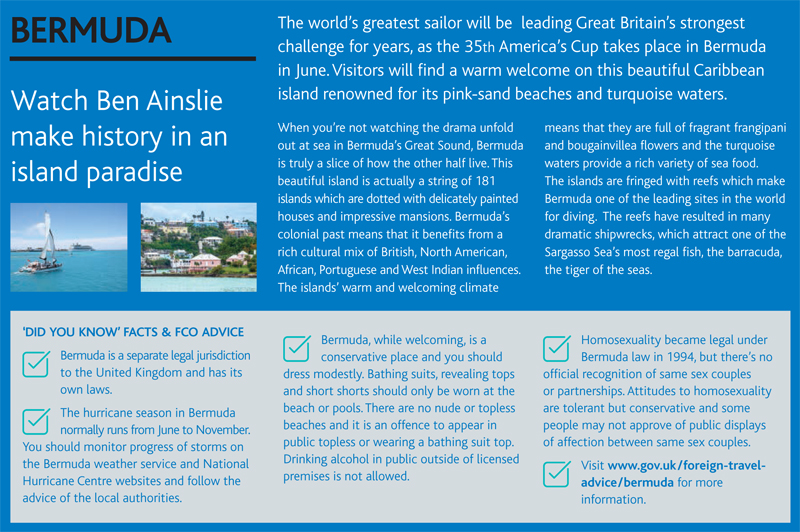 Read More About