The Bermuda Senior Islanders' Centre was chosen by the staff of RUBiS to celebrate their anniversary with a 'Fuelling 4 a Cause Tag Day' on Friday, February 24 at ten of RUBiS' gas stations
A spokesperson said, "The Bermuda Senior Islanders' Centre, Registered Charity Number 663, has coordinated community services to seniors from Admiralty House Park for over forty years."
"Funded partly by government and private donations, the senior centre began advocating for seniors in the 1970s. The Centre has been an innovator of Institutes of Gerontology, Seniors Week & Boat Cruises, Premier's Teas, Senior Radio Programmes, Character Builder Projects, Senior & Character Builder Newsletters, Tourism Ambassadors & Coordinators of the Bermuda UN Committee of Older Persons, 1999."
Fred Hassell's granddaughters Yara [3] and Izabella [6] selling the first tag to Governor Rankin at Government House: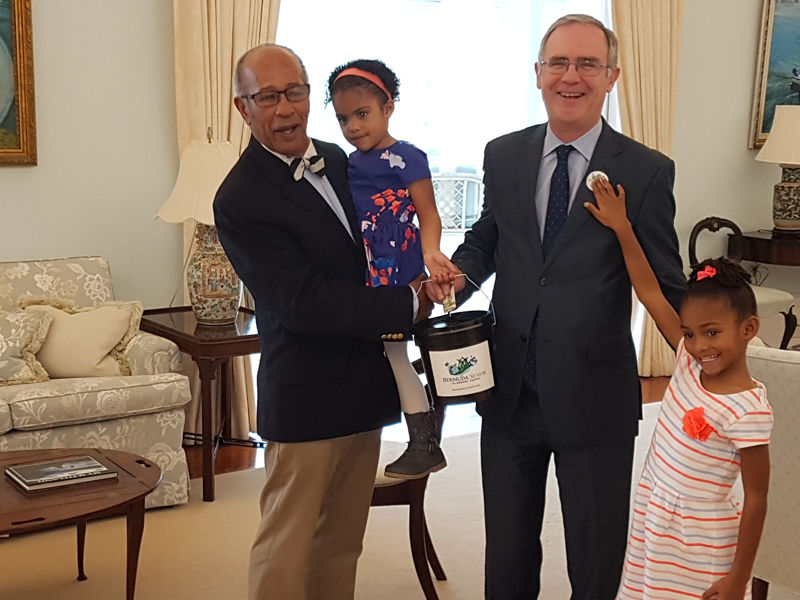 "RUBiS Energy is one of our reliable corporate sponsors.
"Seniors are delighted to have been chosen by the staff of RUBiS to celebrate their tenth anniversary with a 'Fuelling 4 a Cause Tag Day', Friday, February 24, 2017, at ten* RUBiS' Gas Stations.
"Centre volunteers will be out selling charity tags Friday, February 24, and wish to thank RUBIS customers for their contributions."
The gas stations taking part include Boaz Island, Robinson's Marine, Raynor's, Warwick, Paget, East Broadway, St. John's Road, Terceira's, Causeway, and Dowling's Marine.
Read More About