RUBiS Energy Bermuda donated $10,000 to P.A.L.S. with an aim to assist them in their work with helping cancer patients in Bermuda.
Graham Redford, Managing Director of RUBiS Energy Bermuda explains: "The company culture of the Rubis Group is founded upon socially responsible conduct.
"The Group prides itself on undertaking social change in two fields, namely Health and Education, and we regularly partner with not-for-profit organisations carrying out initiatives in these areas that benefit our local community.
"By partnering with P.A.L.S., we can help individuals benefit from the caring expertise and dedication that P.A.L.S provides to cancer patients in Bermuda. More than just offering funding, we strive to establish genuine links with our partner organisations and bring our local team's personalised support."
Graham Redford from RUBiS and Colleen English De Grilla from P.A.L.S.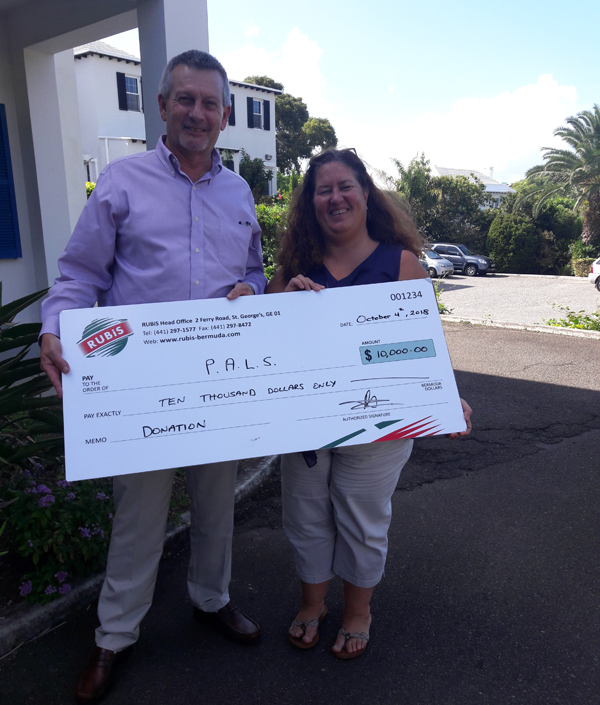 Ms. Lorraine Gobin, Head of Philanthropy at RUBIS, said from the Group's headquarters in Paris: "We are extremely happy to donate to P.A.L.S. and thank them for the work they do to provide medical services for cancer patients so that they are able to stay home.
"This social engagement is extremely important to us and it plays a major role in our responsibility to give back to a cause that the Bermuda company supports".
Colleen English De Grilla, Executive Director at P.A.L.S, said; " P.A.L.S. thanks RUBiS Energy Bermuda for their continuous support of our programmes and services to the community.
"RUBiS has donated over $10,000 to support our programmes; however it is not just the monetary support offered that we appreciate. RUBiS sponsors tag days and other initiatives for P.A.L.S., and other Bermuda charities, to receive donations throughout the year and also to continue to inform the public of available services.
"It is truly an honor and a privilege to be a charitable partner with RUBiS and P.A.L.S. can only wish all businesses on island were as supportive as RUBiS. "
Read More About