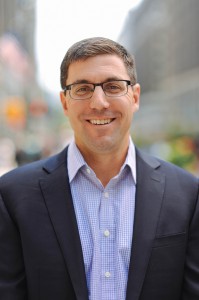 Attune, the data-enabled company established by American International Group, Inc., Hamilton Insurance Group, Ltd., and affiliates of Two Sigma Investments, LP, today announced that James Hobson, Chief Operating Officer of OnDeck, has accepted an offer to assume the position of Chief Executive Officer.
Mr. Hobson, who will step down from his role at OnDeck on March 15, will be responsible for achieving Attune's goal of using data science and advanced technology to streamline the submission and insurance underwriting process to meet the needs of small businesses in the US.
"If it's possible to describe an appointment as a perfect fit, then James and Attune meet that description," said Attune Chairman Brian Duperreault.
"His deep experience with using technology to enable the growth of small businesses aligns with our objective of making it easier for companies in that segment to get the protection they need to succeed. I look forward to working with James to make Attune's significant potential a reality."
"I am honored to join the Attune team," said Mr. Hobson. "When three companies of the caliber of AIG, Hamilton and Two Sigma come together, you pay attention.
"Attune has already transformed how a small business owner's policy is issued, and I am excited to build upon this early success. I am humbled by the faith the Attune Board has in me and am looking forward to working with Attune team, Brian and the other members of the Board, and our partners, to transform the way small businesses access the insurance they need to protect and grow their operations."
Mr. Hobson's career represents an array of experience in building and leading technology-enabled businesses. As COO of OnDeck, he oversaw the Company's development into the industry leader in online small business lending.
His responsibilities included operations, product, analytics, credit, risk management, platform solutions and business development. Mr. Hobson played integral roles in stewarding OnDeck through an IPO in 2014 and launching OnDeck's landmark partnership with JP Morgan Chase in 2015.
Before joining OnDeck, Mr. Hobson served as SVP, Technology Operations for iQor, Inc., a leading private equity-backed global business process outsourcing company. At iQor, he helped to build a platform for commercializing iQor's proprietary suite of business applications and managed a global technology team.
Prior to iQor, Mr. Hobson co-founded BuyYourFriendADrink.com, which was sold to LivingSocial in 2009. Early in his career, he was a consultant at McKinsey & Company.
Mr. Hobson holds a bachelor's degree in economics from Hamilton College, Clinton, New York, and a master's of business administration with high distinction from Harvard Business School, where he was chosen as a Baker Scholar.

Read More About