"The public can be confident that their PLP MPs will highlight the deficiencies in this legislation during the debate to protect the future of Bermuda," Opposition Leader and Shadow Minister of Finance David Burt said this evening.
This comes as the debate on the Airport Development Concession Act 2016 and the Bermuda Airport Authority Act 2016 is scheduled to take place at the House of Assembly tomorrow [Feb 10].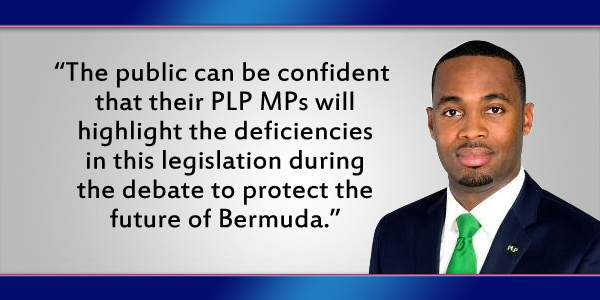 Mr Burt said, "From the start of the OBA's plans to privatise the airport, the PLP has fought for openness, transparency and an airport redevelopment that benefits Bermudians as a whole.
"The PLP has stood up for Bermudians using every vehicle at our disposal to force the OBA to do the right thing and come clean on the full details of this untendered deal.
"At every turn, the OBA government has denied the people's representatives access to this information in a move that betrays the values of the democratic process.
"Despite the Minister of Finance being exposed for "fuzzying" up the numbers, repeated public outcry, seniors being pepper sprayed and hundreds of millions of profits going to a Canadian company the OBA intends to proceed with this deal.
"Now all that remains is for our parliamentary representatives to make the case in Parliament against this deal.
"The public can be confident that their PLP MPs will highlight the deficiencies in this legislation during the debate to protect the future of Bermuda."

Read More About