Premier Michael Dunkley kept a brisk pace of activities today [Feb 6], which included an Overseas Territory Joint Ministerial Council on European Negotiations [OT JMC-EN] prep meeting, a Chinese Embassy courtesy visit, and the formal request for the UK to extend the UN Convention on the Elimination of Discrimination Against Women [CEDAW] to Bermuda.
Bermuda's formal CEDAW request took place this evening when Premier Dunkley had the opportunity to briefly meet with Baroness Anelay and formally request that the Convention be extended to Bermuda.
Tweet sent by Baroness Anelay today: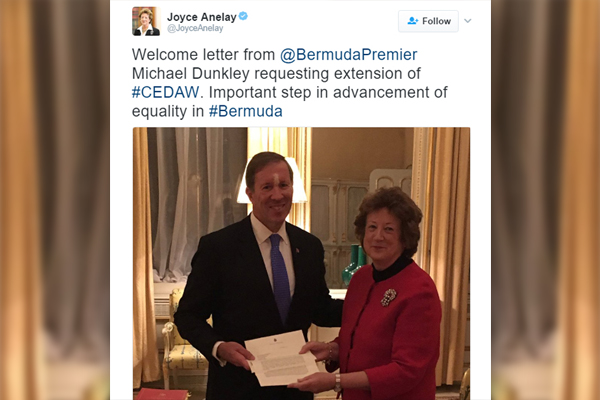 "The Premier advised that the Government of Bermuda was keen to address matters of gender equality to ensure that women enjoy the same access to opportunities and benefits within and beyond the work place," a Government spokesperson said.
"The Premier notes that once CEDAW has been formally extended to Bermuda, work will then begin on identifying areas of policy and/or legislation to enhance Bermuda's compliance with CEDAW.
"The day started with a visit to the Chinese Embassy in London by Premier Dunkley, the Premier of the Cayman Islands, the Hon. Alden McLaughlin and the Premier of the British Virgin Islands, Dr. the Hon. Orlando Smith. Topics of discussion included renewable energy, telecommunications and business.
"The visit was followed by a JMC – EN preparatory meeting, where the Premier and OT leaders discussed the objectives and priorities for tomorrow's [Feb 7] critical meeting. The focus of tomorrow's discussions will centre around trade, European Union Market access and free movement.
"Today's activities concluded with a private dinner with OT leaders and Baroness Anelay.
"The public will be aware that Bermuda, which was recently elected as Chair of the United Kingdom Overseas Territories Association [UKOTA], will take a lead role in tomorrow's OT JMC-EN.
"The high level discussions will be chaired by Baroness Anelay and Parliamentary Under Secretary of State, Robin Walker for the Overseas Territories [within the Department for Exiting the European Union].
"Premier Dunkley is accompanied in the UK by the Deputy Premier and Minister of Finance, the Hon. Bob Richards and the Secretary to the Cabinet, Dr. Derrick Binns. The London visit is facilitated under the direction of Kimberley Durrant, UK Representative and Director of the London Office."
Read More About