Deneo Brangman and Telilah Wears, two S3 CedarBridge Academy students, met the Bermuda Carifta qualifying standard at a February Classis track meet held in Barbados on February 18th.
These student-athletes were part of a 10 member contingent from CedarBridge Academy that travelled to Barbados along with a middle-school team to participate in the track meet. Students were accompanied by teachers, Denise Weekes-Burke and Alfreida Dill.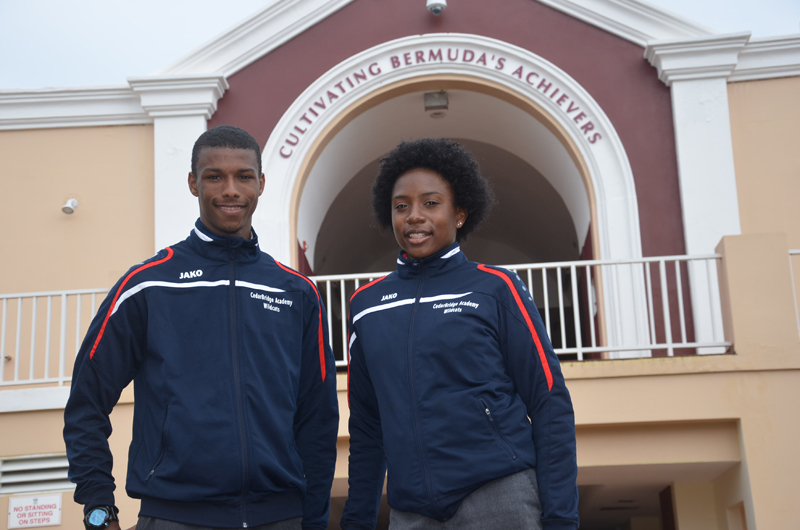 Anticipations ran high throughout the meet as these two student-athletes were bent on meeting the standards to enable them to compete at the Games. Deneo won the 200m clocking a time 22.43 seconds and he finished 2nd in the 400m in a time of 49.77m to qualify for both events.
Deneo said, "I was ecstatic because since September I have been saying that I'm going to CARIFTA this year. I believed that and I worked towards that goal and I achieved it."
Mrs. Denise Weekes-Burke said, "The student-athletes were afforded an amazing opportunity to compete internationally in Barbados to help them to realize their dreams of representing their country at the regional games.
"It was truly exhilarating to witness their victories and their level of excitement having achieved their goals, and I truly wish them all the best at the CARIFTA Games."
Telilah followed suit soon after winning the 200m in a time of 25.42 secs to qualify for the 200m. Both student-athletes, who ran personal best times, will go on to represent Bermuda at the CARIFTA Games, which be held April 15-17th in Curacao.
"I felt relieved because I was working hard and consistently during the pre-season. I felt accomplished that I could represent Bermuda," said Telilah.

Read More About