OUTBermuda is co-hosting a book reading and discussion with the Bermuda National Library and the Friends of the Bermuda Library on Wednesday, April 12th, with the event to feature Nicole Dennis- Benn.
A spokesperson said, "OUTBermuda is proud to partner with the Bermuda National Library and Friends of the Bermuda Library, to welcome author and lecturer, Nicole Dennis- Benn to Bermuda, for a book reading and discussion.
"One of OUTBermuda's main objectives is to advance the education of the general public on issues of diversity, inclusion and awareness as regards LGBTQ issues, as well as to promote and support the well-being and dignity of members of the LGBTQ community in Bermuda, as part of the larger community.
"When Bermuda National Library first launched its book club in May 2014, it was with the goal of building community and with the hopes of partnering with local organizations to help educate the community about their cause and raise awareness.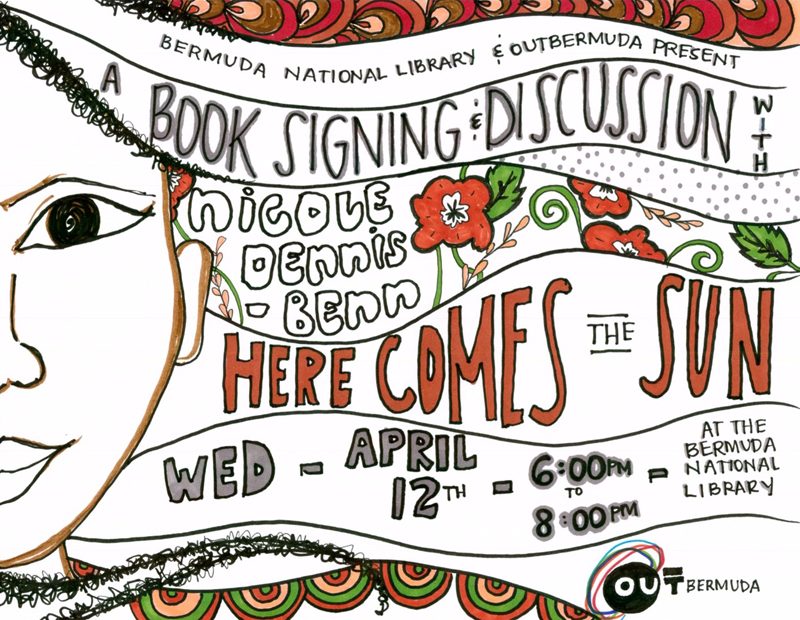 "Nicole Dennis-Benn's debut novel was named a Best Book of 2016 by: New York Times, NPR, Buzzfeed, San Francisco Chronicle, The Root, BookRiot, Kirkus, Amazon, WBUR's "On Point," and Barnes & Noble
"Here Comes The Sun is set against the backdrop of Jamaica's growing tourism industry; concerns that locals have about land development and peels back some of the layers of island life, that exist beyond sandy beaches and frozen cocktails.
"Dennis Benn's book explores themes of gender; sexuality, identity and skin tone while also taking the reader on a walk through the lives of a complex cast of female characters, and family dynamics.
"Bermuda residents and visitors alike, are encouraged to come out and share their insights; ask questions and hear from Dennis-Benn herself, as she shares what it was like to write about her home; what challenges she may have faced as she brought these characters to life, and some of the feedback she has received since publishing the book.
"Dennis-Benn was born and raised in Kingston, Jamaica. She lives with her wife in Brooklyn, New York.
"This event is free to attend and open to the public."

Read More About
Category: All, Entertainment