[Updated] Gombey troupes, dance groups, majorettes, floats and more will take part, as thousands of locals are expected to line the streets for the always-popular Bermuda Day parade.
According to the line-up, the parade will include Bermuda Long Riders Motorcycle Club and ETA Motorcycle Cruises, Roger Francis Classic Car, St. John's Ambulance, The Royal Bermuda Regiment Band and Corps of Drums, Grand Marshall Skipper Ingham, Bermuda Rifle & Drill Team, Swan's Running Club, DanceSations, Grand Marshal Katura Horton-Perinchief, and Somerset Brigade Band.
In addition, the Wheel Builders, Lotus Mind Body Spirit Wellness Centre, The Bermuda Shrine Club, CDC Marching Ligars, America's Cup, Bermuda National Athletics Association, Grand Marshal Cal Simons, Sui Generis Dance Team, and Casa dos Acores Bermuda Ltd. – Natural Heritage Float will also take part.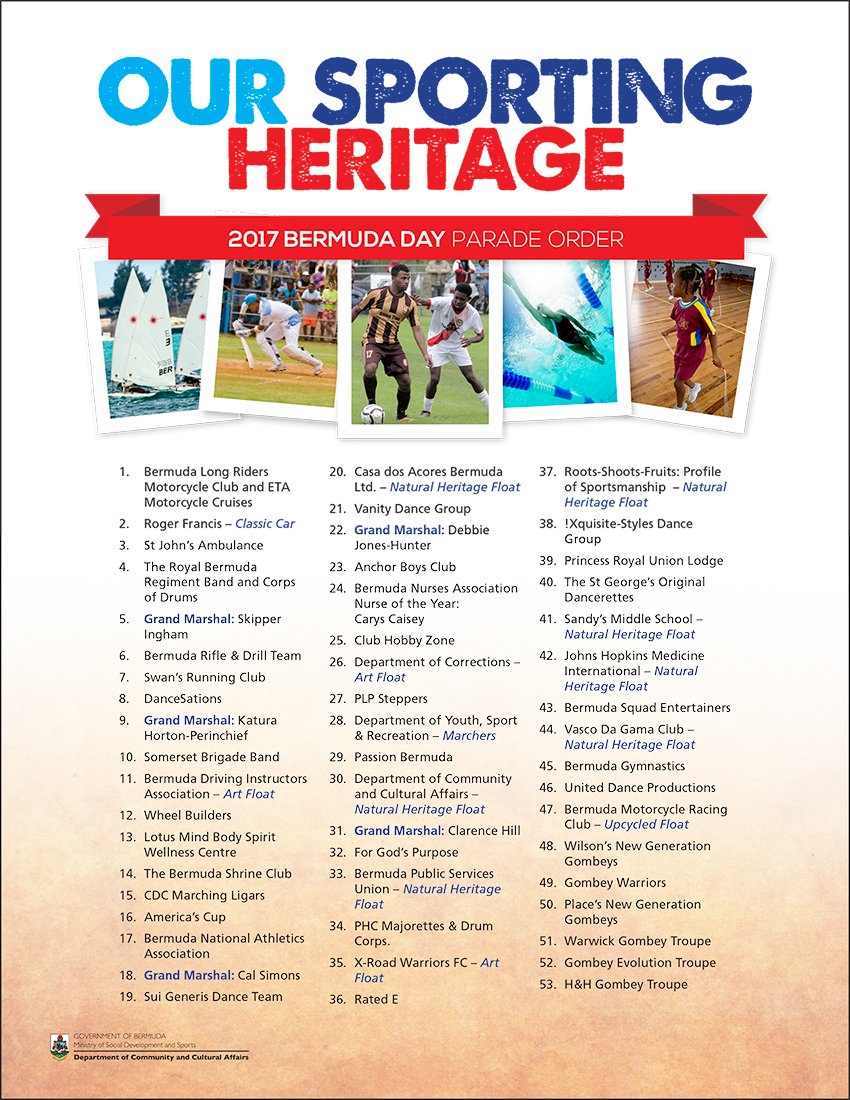 The line-up also includes the Vanity Dance Group, Grand Marshall Debbie Jones-Hunter, Anchor Boys Club, Bermuda Nurses Association Nurse of the Year Carys Caisey, Club Hobby Zone, Department of Corrections Art Float, PLP Steppers, Department of Youth, Sport & Recreation Marchers, Passion Bermuda and Department of Community and Cultural Affairs Natural Heritage Float.
Grand Marshal Clarence Hill, For God's Purpose, Bermuda Public Services Union Natural Heritage Float, PHC Majorettes & Drum Corps., X-Road Warriors FC Art Float, Rated E, Roots-Shoots-Fruits Profile of Sportsmanship Natural Heritage Float, !Xquisite-Styles Dance Group, Princess Royal Union Lodge, and The St. George's Original Dancerettes will also take part.
Also listed are Sandy's Middle School Natural Heritage Float, Johns Hopkins Medicine International Natural Heritage Float, Bermuda Squad Entertainers, Vasco Da Gama Club Natural Heritage Float, Bermuda Gymnastics, United Dance Productions, and the Bermuda Motorcycle Racing Club Upcycled Float.
The Bermuda Day parade will close out with the Gombeys, with Wilson's New Generation Gombeys, Gombey Warriors, Place's New Generation Gombeys, Warwick Gombey Troupe, Gombey Evolution Troupe, and H&H Gombey Troupe set to bring the parade to a close.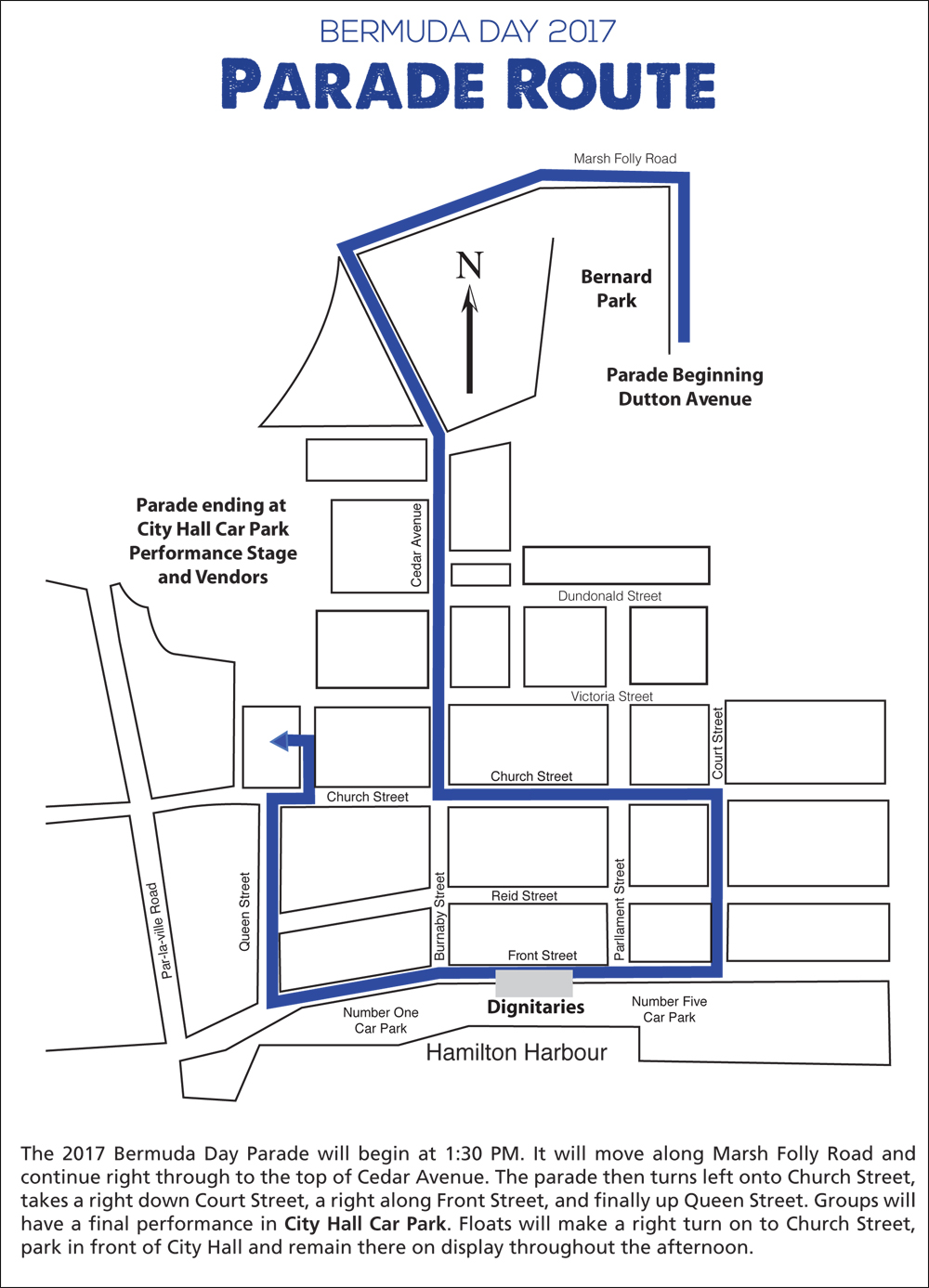 Update May 23, 10:37am: The 2017 Bermuda Day Parade will begin at 1:30 PM. It will move along Marsh Folly Road and continue right through to the top of Cedar Avenue. The parade then turns left onto Church Street, takes a right down Court Street, a right along Front Street, and finally up Queen Street. Groups will have a final performance in City Hall Car Park. Floats will make a right tuen on the Church Street, park in front of City Hall and remain there on display throughout the afternoon.

Read More About
Category: All, Entertainment, News