Allegra, the Nigel Irens-designed 78ft catamaran skippered by Adrian Keller was the second boat to finish the 2017 Antigua Bermuda Race on Tuesday at 21 hours 40 mins and 53 secs ADT, taking Multihull Line Honours.
News from the fleet still racing is that Les Crane's Farr PH 56, Monterey had been abandoned after taking on water; the cause is unknown. The crew are all safe and well having been transferred onto the Volvo 60, Esprit De Corps IV. The schooner Spirit of Bermuda is close by and both boats are making their way to the finish in Bermuda.
Life at sea – Meg Reilly reports from on board Canadian Ocean Racing's Pogo 12.50, Hermes: "Our previous hellish night of lightning was complemented by one of the most gorgeous sunsets we've ever seen." © Meg Reilly/Hermes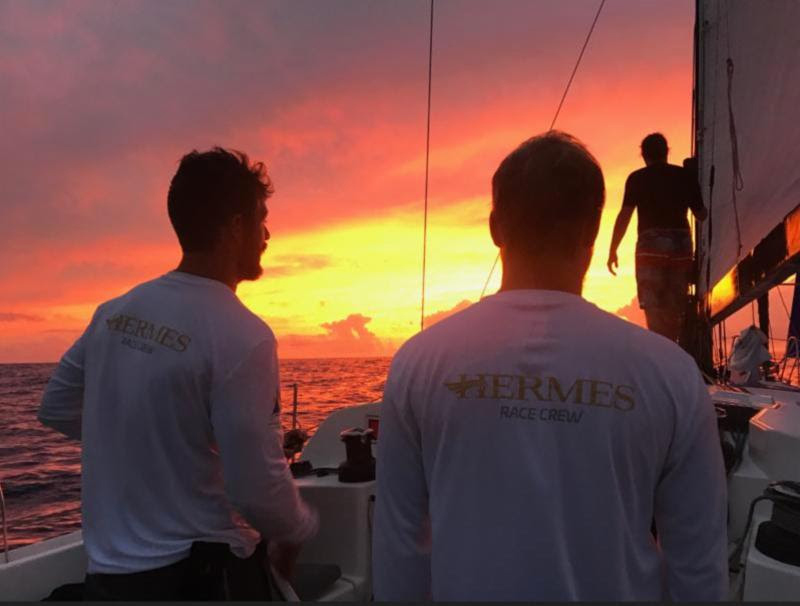 Allegra crew, Paul Larsen commented on their race after the finish: "Allegra is made from carbon fibre and has titanium fittings and hi-tech sails, but also has all the comforts of a cruising catamaran and weighs 34 tons, so we need a lot of breeze to really get her going, and we didn't get that for this race. It is great to have set the record and Allegra will always be the first, but I am sure a MOD 70 given the right conditions could complete the course in about 36 hours, so it is a soft record which is bound to be broken in the future."
Allegra, the Multihull Line Honours winning Nigel Irens APC 78 catamaran, built for speed and comfort © Ted Martin/Antigua Bermuda Race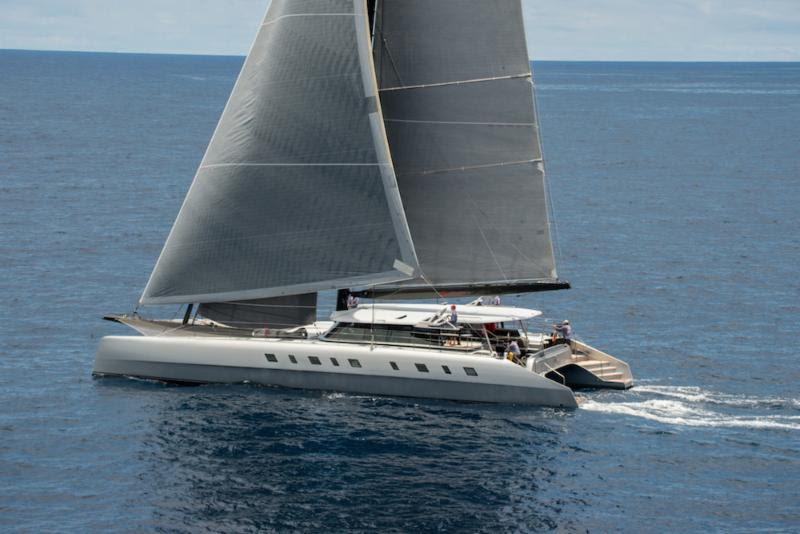 Outright sailing speed world record holder, Paul Larsen was excited to be in Bermuda. "We checked in at Customs last night and had a couple of Gosling's Dark 'n Stormies and it felt like we were having a drink before the World Cup Final, or going to see your favourite band. Bermuda is just stunning and we are about to witness an amazing America's Cup and I can feel the buzz of the place. Walking around town it almost catches you off guard how friendly everyone is, saying hello and eager to help. This is a really great venue and we are so happy to be here; this is sensational!"
Allegra's crew for the Antigua Bermuda Race were: Allegra: Helena Darvelid, Charles Dearlove, Chris Dowling, Scott Gray, Rob Grimm, Adrian Keller, Paul Larsen, Andrew Nickless, Recaldo Thomas, Aris Ziros.
Stay Calm, British Swan 82 – second monohull to finish the race © Tom Clarke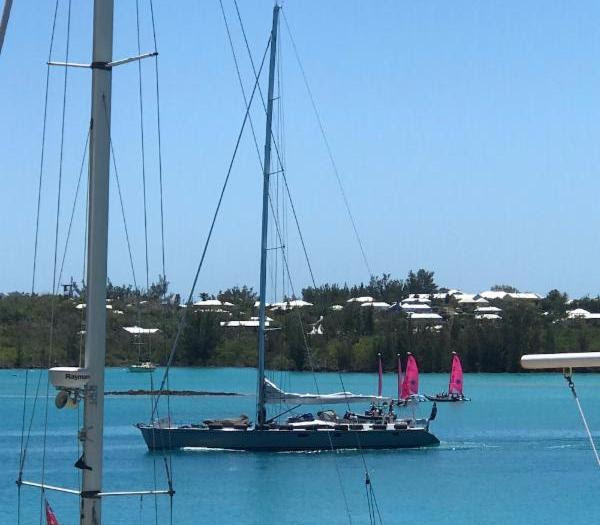 British Swan 82, Stay Calm is the second monohull to finish the race just before midday, local time on 17th May. Stay Calm passed St. David's Light, but their corrected finish time was not enough to topple Volvo 70, Warrior from the top of CSA.
Don Macpherson's Swan 9,0 Freya is 54 miles from Bermuda and is expected to be the next yacht to finish the race. The first classic yacht to arrive in Bermuda is likely to be the magnificent schooner, Eleonora. With 50 miles to go, the 162ft gaff rigged schooner – an exact replica of the 1910 Westward, designed and built by N. G. Herreshoff – is expected to finish the 935 nmile race around sunset tonight.
Further back in the fleet, some 250 miles from the finish, the weather conditions seemed to have improved from the light airs of the last few days, as this blog suggests from Judy Payne-James on British Dufour 45, Heartbeat IV. Who is President of the Royal Burnham YC in Essex:
Majestic schooner, Eleonora. © Tim Wright/photoaction.com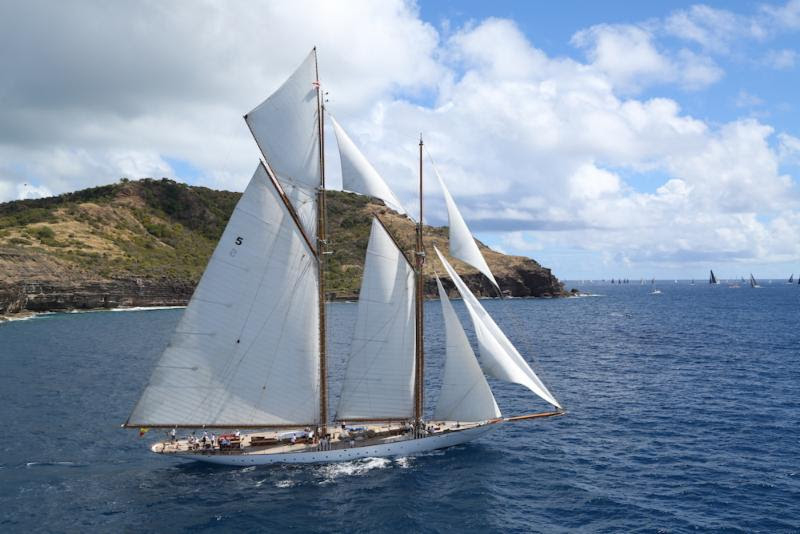 "Heartbeat IV team all in good spirits. Trying to get maximum pace in pleasant, but frustrating conditions. Currently flying our asymmetric spinnaker and up to 7 knots of boat speed. Dolphins to starboard and brie and bacon wraps are being handed to the crew. Last night was not quite as pleasant. A busy night with constant lightning all round, with a couple of major squalls. Wind from the southeast at 25ktns plus. However, now settling down but missing the sun today. All the team are well and looking forward to next couple of days."
Meg Reilly from Canadian Ocean Racing gives a great account of the atmosphere on board Morgen Watson's Pogo 12.50, Hermes, one of the smallest boats in the race at 40ft, which still has 280 miles to go in the Antigua Bermuda Race:
© Ted Martin/Antigua Bermuda Race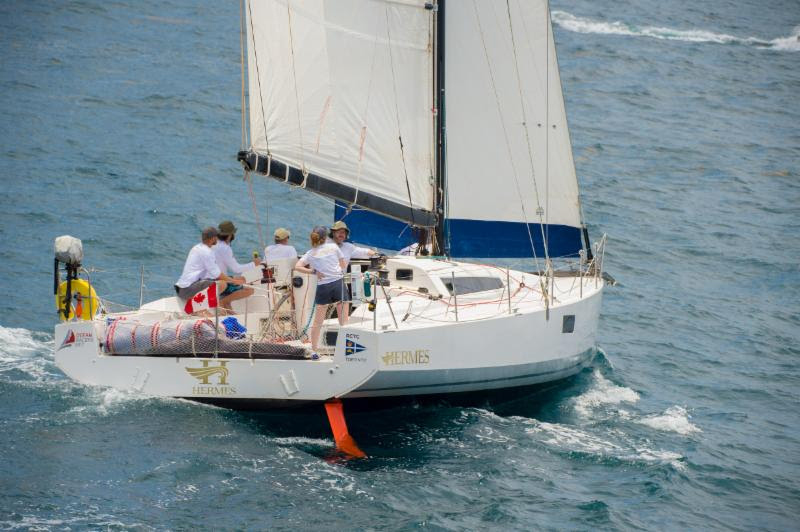 "Things tend to balance out at sea. Our previous hellish night of lightning was complemented by one of the most gorgeous sunsets we've ever seen. The sky glowed beautiful reds, oranges and pinks; colours so vibrant that photos don't do it justice. We shook out our anxiety of storms, wind holes and negative VMG with a sunset dance party to Shakedown Street by the Grateful Dead! Shout out to the Reilly fam who raised me on good music [you'll be happy to know there's also another Tab Benoit fan on board too!].
"It's amazing how complete strangers can become so close after just few days at sea. We've been through a lot together over this short week: Sharing midnight stories, frustrating moments, hairy scenarios and plenty of sleep-deprived laughs and antics. It is also pretty awesome how people from across North America, from all different walks of life, can come together as a team when you're all 'stuck' on a vessel with a shared purpose."
Read More About