The Bermuda Public Services Union [BPSU] will be celebrating their 65th Anniversary with a Banquet on May 27th at the Fairmont Southampton.
The BPSU said, "There are times in the course of History when milestones are reached and celebrated. The Bermuda Public Services Union [BPSU] will be recognizing such an occasion as it celebrates its 65th Anniversary.
"Starting out as the Bermuda Civil Services Association in 1952, the Chairman at that time realized the need for consolidating the position of the Association by obtaining a greater and more representative membership as this would increase recognition. It was then agreed that one of the primary objectives would be the advancement of employment standards and the safeguarding of the interests of civil servants.
"For the past 65 years, the BPSU has grown from a small civil service association, to one of the most influential organizations in Bermuda, and has had an unwavering commitment to promote effective labour and community relations.
"It goes without saying that we would like to extend a very special note of appreciation to all former Presidents, Executives, General Officers, Trustees, and Members who have significantly contributed to the BPSU; as without their efforts, we would not be positioned as the premium organization that we are today.
"The BPSU's ability to adapt and confront the challenges and obstacles over the past decades, whilst upholding the tenets of trade unionism, is a testament to the steadfast resilience that has enabled our members to foster our resolve for a better Bermuda.
"It is imperative we recognize that over the many years of our existence there is an enduring lesson to be learned about the benefits of Union membership and with 65 years behind us, it is equally important that we begin to prepare for the 65 years ahead of us.
"As we look back in solidarity on our past with thanks, and look forward to our future with optimism, The BPSU will continue to harness our collective energy and willpower to move "Onward and Upward Together"
"To that end, we would we would like to extend an invitation to all those who would like to join us to celebrate this momentous occasion at our 65th Anniversary Banquet. This event will be held on May 27, 2017 at the Fairmont Southampton Amphitheatre.
"The event will open with a cocktail hour at 7:00 pm followed by dinner and entertainment at 8:00 pm. Tickets are available for purchase at the Secretariat for $100 per person. For those wishing to purchase a table, please be advised that each table can accommodate 10 persons."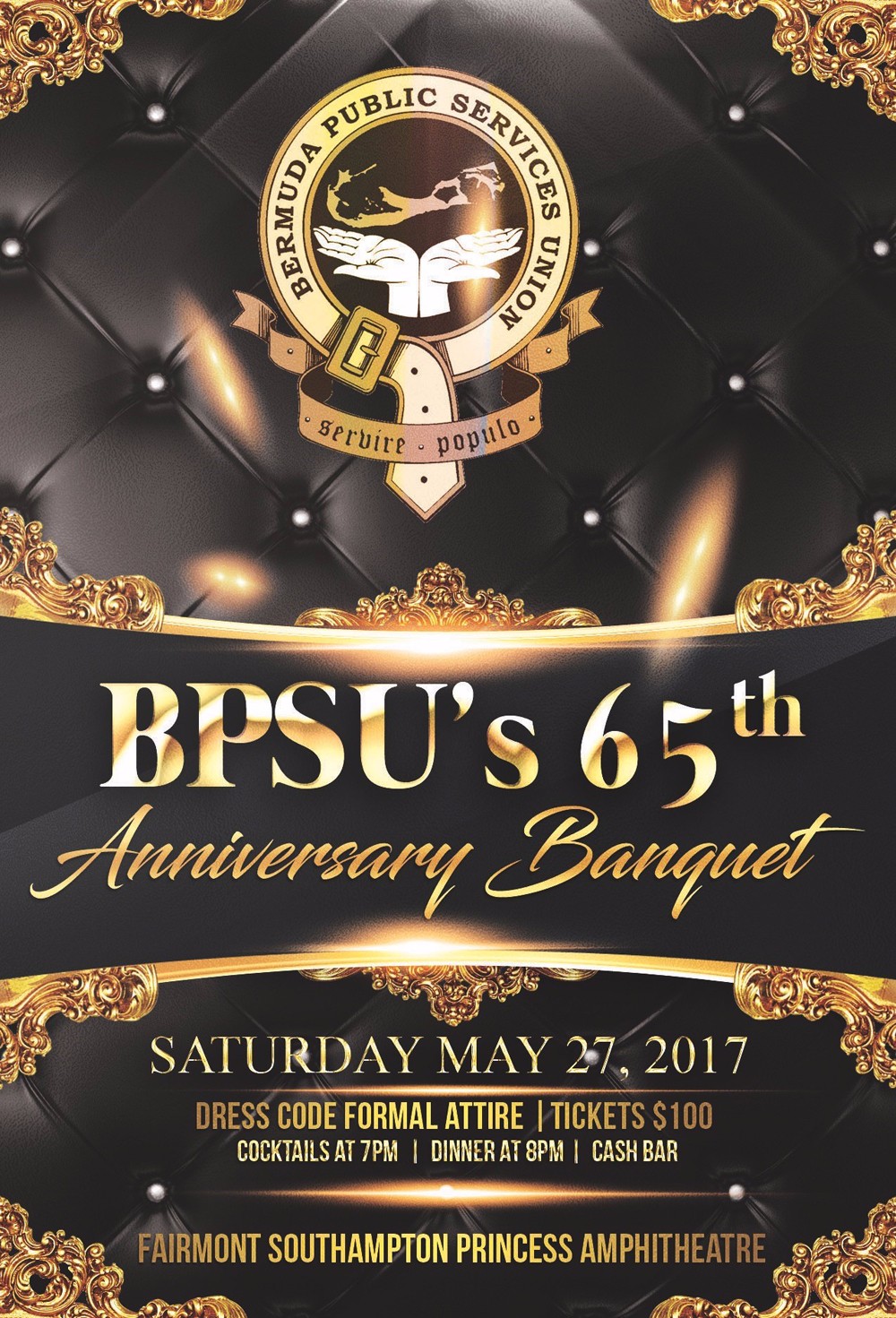 Read More About
Category: All