As an Official Supplier and the Official Bermuda Bank of the 2017 America's Cup, the Bank of Butterfield held a denim day fundraiser in March with proceeds totalling $2,000 going towards supporting the Endeavour Programme.
Several children of Butterfield employees have been a part of the Endeavour Programme, including Brianna Smith, Jadyn Hassell-Belboda, Shayna Patterson, Kristian A. Cherrington, D'Jae Gilbert, Dennajye Paynter, Dennajae Paynter, Jahstice K. V. Grant, Coleridge Fubler Jr, Dionte Dowling, Kiyare' Talbot-Minors, Jae Gibbons, Qualeke Jennings-Caesar, Jahmeeko Richardson and James Dunlop.
Surrounded by the children of Butterfield employees who have participated in the America's Cup Endeavour Programme, Butterfield's Curtis Dickinson presents a cheque for $2,000 to Tom Herbert-Evans, America's Cup Community Sailing Manager, and Melvyn Basset, America's Cup Endeavour board member, in support of the Programme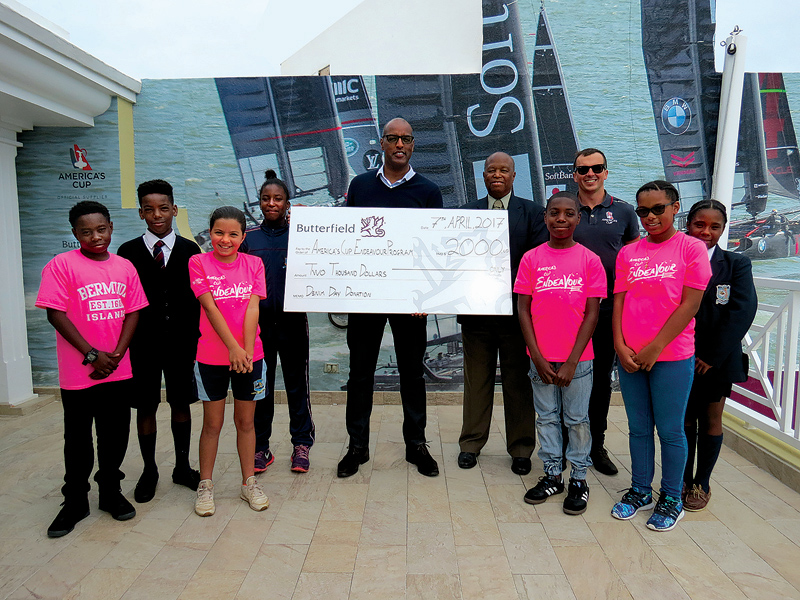 Curtis Dickinson, Executive Vice President and Group Head of Private Banking at Butterfield said, "Many of us at Butterfield have seen first-hand the benefits of Endeavour's STEAM education and sailing instruction with our own children, so we're pleased to support this important programme and help ensure that many more kids in our community are able to benefit from it."
Tom Herbert-Evans said, "We are thrilled to have the support of Butterfield Bank by way of their Denim Day fund raiser, a great initiative that has made a meaningful contribution to a great program!
"The America's Cup Endeavour program is unique to Bermuda and the 35th America's Cup event legacy, thanks to the support of the America's Cup Event Authority and the programs sponsors, partners and donors, the program has created more community impact that any other in the History of the America's Cup. Something that Bermuda can be proud of and will continue to operate post July 2017!"
Read More About