Forecasters at NOAA's Climate Prediction Center say the Atlantic could see "another above-normal hurricane season this year."
For the upcoming Atlantic hurricane season, which runs from June 1 through November 30, forecasters predict a 45 percent chance of an above-normal season, a 35 percent chance of a near-normal season, and only a 20 percent chance of a below-normal season.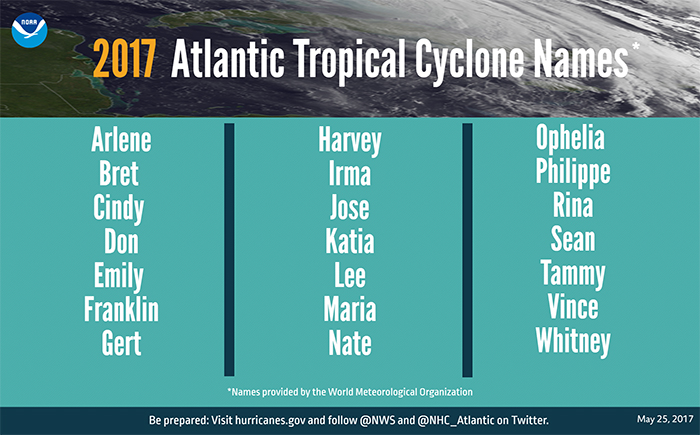 Forecasters predict a 70 percent likelihood of 11 to 17 named storms [winds of 39 mph or higher], of which 5 to 9 could become hurricanes [winds of 74 mph or higher], including 2 to 4 major hurricanes [Category 3, 4 or 5; winds of 111 mph or higher]. An average season produces 12 named storms of which six become hurricanes, including three major hurricanes.
These numbers include Tropical Storm Arlene, a rare pre-season storm that formed over the eastern Atlantic in April.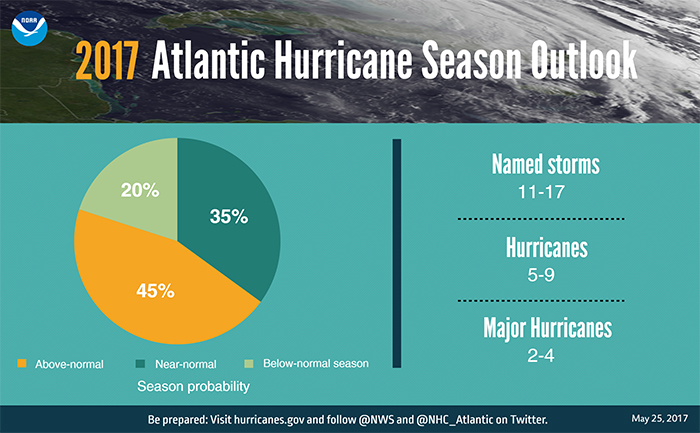 "The outlook reflects our expectation of a weak or non-existent El Nino, near- or above-average sea-surface temperatures across the tropical Atlantic Ocean and Caribbean Sea, and average or weaker-than-average vertical wind shear in that same region," said Gerry Bell, Ph.D., lead seasonal hurricane forecaster with NOAA's Climate Prediction Center.
"NOAA's broad range of expertise and resources support the nation with strong science and service before, during and after each storm to protect lives and property and enhance the national economy as we continue building a Weather-Ready Nation," said Ben Friedman, acting NOAA administrator.
"From our expert modelers to our dedicated forecasters and brave crews of our hurricane hunters, we'll be here to warn the nation every step of the way this hurricane season."
Dr. Gerry Bell discusses the 2017 Atlantic Hurricane Season.
The 2016 season was the most active since 2012, with 15 named storms, including 7 hurricanes and 4 major hurricanes.
Read More About
Category: All, Environment, News