As of their latest update at 6am this morning [Sept 11], the Bermuda Weather Service continues to state that Hurricane Jose is a "potential threat to Bermuda," while the NHC confirmed that Jose has weakened to a Category 2, and said "steady weakening is forecast."
The BWS said Hurricane Jose's closest point of approach within 72 hrs forecast to be 350 nm to the SSW at 3pm on Tuesday [Sept 12], with the BWS noting that "this system may move closer to Bermuda after this time period."
Graphic courtesy of the BWS: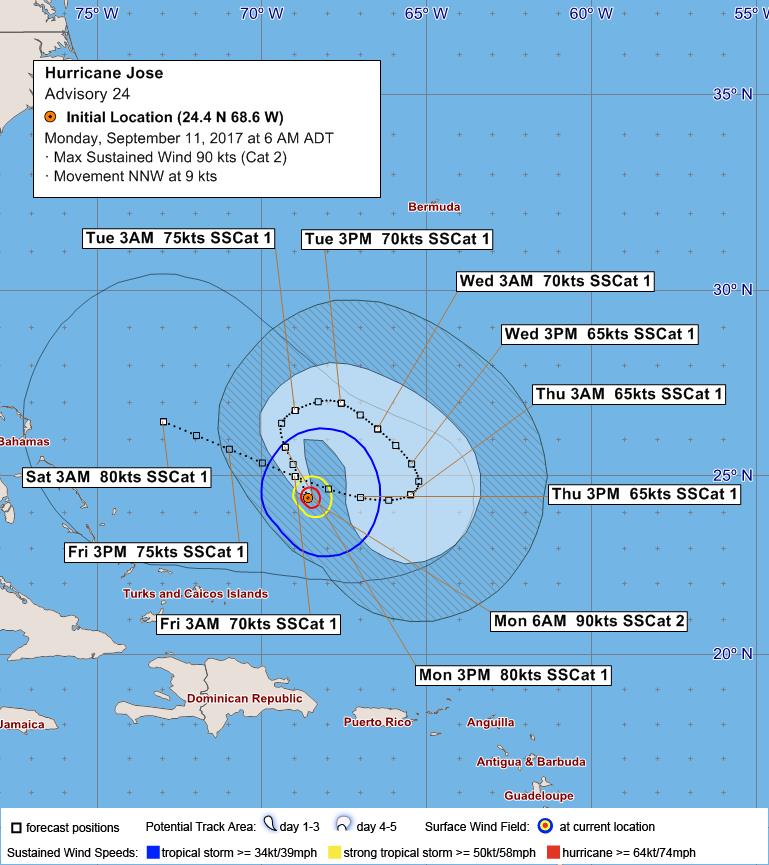 The NHC confirmed that Jose, which was a Category 4, has now weakened to a Category 2, and said "steady weakening is forecast."
The latest forecast from the U.S. National Hurricane Center said, "Jose is moving toward the north-northwest near 10 mph [17 km/h], and a turn toward the northeast is expected by tonight, with a reduction in forward speed.
"Jose is then expected to move slowly toward the east and southeast Tuesday into Wednesday. Maximum sustained winds are near 105 mph [165 km/h] with higher gusts. Steady weakening is forecast during the next 48 hours."
Graphic courtesy of the NHC: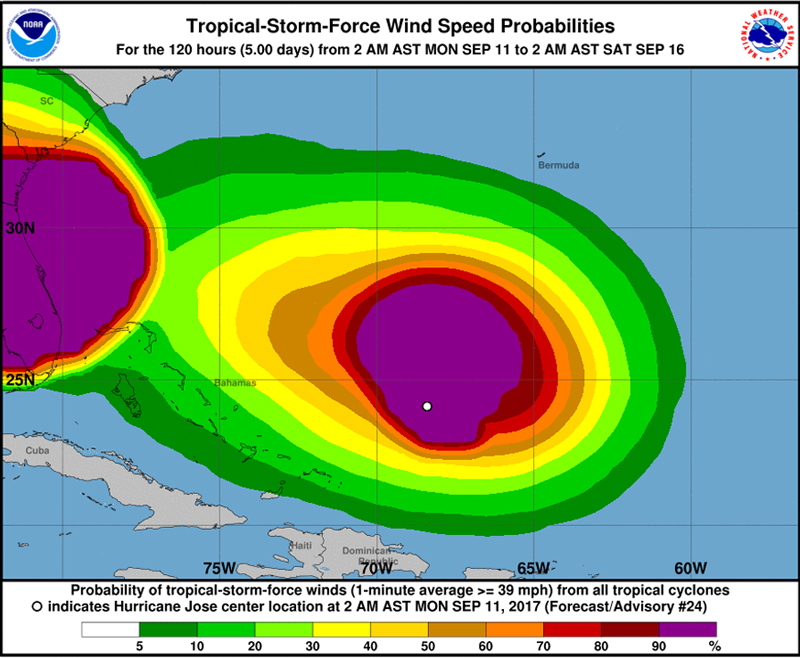 Last night, Minister of National Security Wayne Caines advised that the Emergency Measures Organisation [EMO] "continues to closely monitor Hurricane Jose."
Minister Caines, who is also the Chairman of the EMO said, "The National Hurricane Centre [NHC] and the Bermuda Weather Service [BWS] have indicated that there is a strong possibility of Jose turning south, away from Bermuda."
Minister Caines continued, "I want to assure Bermuda that the EMO is prepared and stands ready to convene should Hurricane Jose's forecasted track change to pose a serious threat to Bermuda.
"However at this stage it is extremely critical to remind residents that we are in the throes of a very active and very unpredictable storm season.
"In fact, this is the season's peak, and we have already seen historically powerful hurricanes cause unprecedented devastation and destruction. So, we cannot stress enough about the importance of residents being prepared in the event of a serious storm."

Read More About