The Bermuda Cricket Board announced that One Communications will be sponsoring the 2017 and 2018 domestic 50 overs competition.
This relationship follows a long-standing successful partnership with Logic Communications for the previous five years. The sponsorship will include prizes for the One Premier and One First Division champions, weekly MVP from each divisions and internet support for clubs. One will also be providing prizes for the BCB Annual awards and supporting the BCB youth raffle.
The 2017 season will feature a six team Premier division and a seven team First Division commencing on June 4th. Matches will be played on Sunday's throughout the summer with an automatic one-up one down promotion/relegation system.
Additionally, the season will conclude with the One Play-off game on September 17th between the team finishing 5th in the One Premier League and the team finishing 2nd in the One First Division.
BCB Executive Director, Neil Speight, Minister for Social Development and Sport Nandi Outerbridge, and Olatunji Tucker, One Communications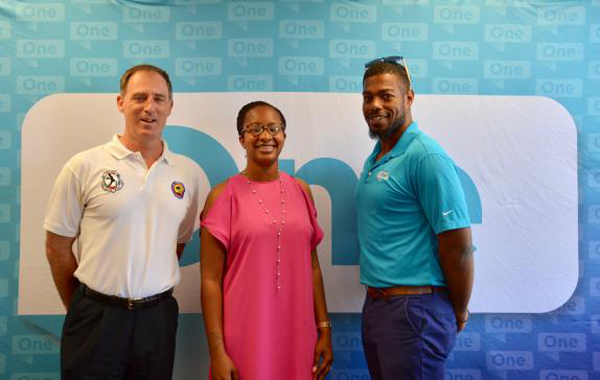 Minister for Social Development and Sport Nandi Outerbridge said: "I am very pleased that One Communications are supporting our national sport and the community enhancing the outstanding job Logic Communications provided for the last five years.
"I look forward to another great season of cricket played with the true values of sportsmanship embraced by the spirit of cricket. I congratulate the BCB on their continued handwork to market and promote cricket to make it fun for all."
President of the Bermuda Cricket Board Lloyd Fray said: "I am very happy that One Communications has taken over the sponsorship of this prestigious and popular league program for the upcoming two seasons.
"Their involvement has given our great sport enhanced visibility and provides excellent motivation and support for our community based teams. I wish all the teams the best of luck this year."
One Communications Marketing Director Brian Lonergan said: "One Communications is proud to continue sponsoring the domestic 50 over cricket program and to work with clubs to enhance their ability to service our community.
"Our organization has deep roots with our national sport and we look forward to building on the outstanding foundation that the BCB and Logic has already developed."

Read More About