One Communications has launched the 'Welcome to the One Business District' campaign along with the expansion of their business solution offerings.
A spokesperson said, "One Communications, Bermuda's Tier 1 business solutions provider, continues to be the leader in innovation with the expansion of solutions to help clients improve business productivity, optimize IT resources, and reduce operating costs.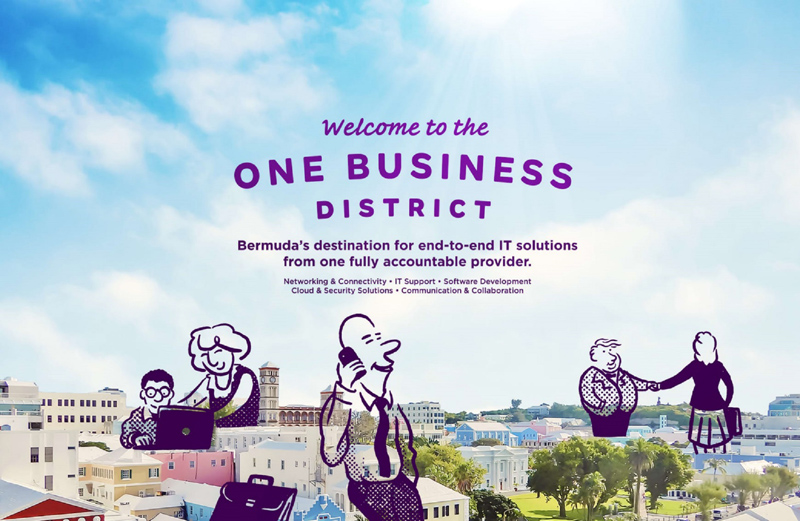 "The company, widely known for providing market-leading internet connectivity and mobile services, is now delivering a full range of end-to-end IT solutions, including:
Networking and Connectivity
IT Support
Software Development
Cloud and Security Solutions
Communications and Collaboration
Ken Gouveia, VP of Business Solutions, said, "We are excited to expand our scope of business offerings and add additional value to new and existing clients.
"We have made further investments to build upon our tier 1 wholly owned network infrastructure and offer fully managed end-to-end solutions that provide businesses with the technical expertise to manage performance, security, and availability across their enterprise."
Frank Amaral, CEO, said, "It is now more important than ever for Organizations to adapt to this continuously changing environment. They need to be able to connect from anywhere with business class performance and service availability. Companies require managed services from a single accountable provider with the expertise and technology to address their complex business needs.
"Our proven partnering approach with clients helps demonstrate the true value that technology-based solutions can bring to their business and removes the complexity around their deployments and continuing operations."
The spokesperson said, "The company has launched a 'Welcome to the One Business District' campaign to support the expansion of their business solution offerings.
"To learn more about our Tier 1 service offerings, please visit here or contact us at 441-700-7300."

Read More About
Category: All, Business, technology