Ahead of the start of the 35th America's Cup, the Helmsman of all six teams competing came face to face in a pre-event press conference  in the Press Conference Room at the America's Cup Village.
Ahead of their battle for the oldest trophy in international sport, Jimmy Spithill of Oracle Team USA, Sir Ben Ainslie of Land Rover BAR, Franck Cammas of Groupama Team France, Peter Burling of Emirates Team New Zealand, Dean Barker of SoftBank Team Japan and Nathan Outteridge of Artemis Racing, were in attendance to give their views and expectations.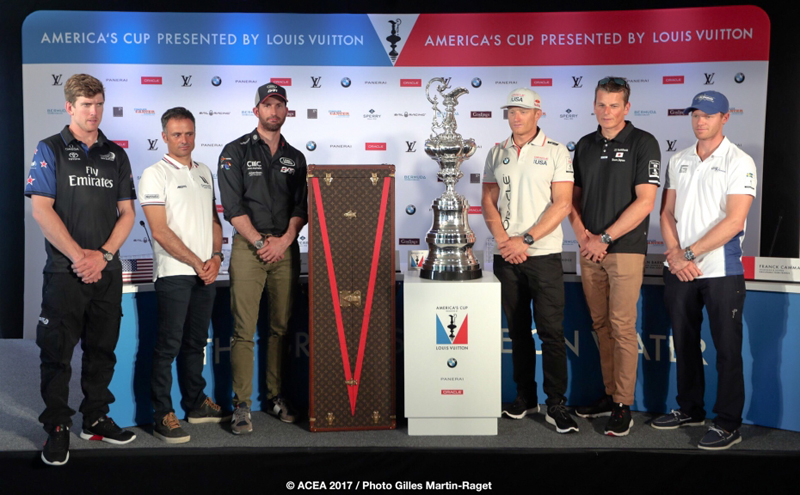 "I think certainly what I've seen, the hunger in us, is stronger, there is more of an obsession and commitment, that attitude builds the motivation and we all feed off that," said Oracle Team USA Helmsman Jimmy Spithill about his team's desire to win a third America's Cup.
"I'm surrounded by great people and when you have that, there is the feeling you don't want to let your mates down, that is all the way through the team. We have a great culture in the team and we will stick together through all times.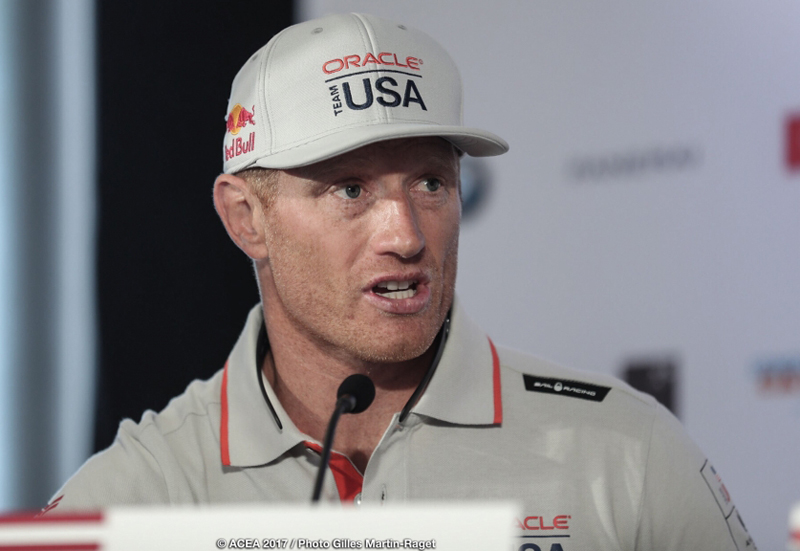 "We are approaching the Louis Vuitton America's Cup Qualifiers to win, there is a bonus point up for grabs and that's clearly worth fighting for. We will approach every race trying to win.
"You can't shortcut the hours spent on the water in the venue. The Bermudians have been incredibly friendly and are very proud. With any competition it is the people who make it and they are top level. It gives us extra motivation as the elected home team and to have them cheering for us is huge, we want to make them proud and I definitely think that home support will make a huge difference."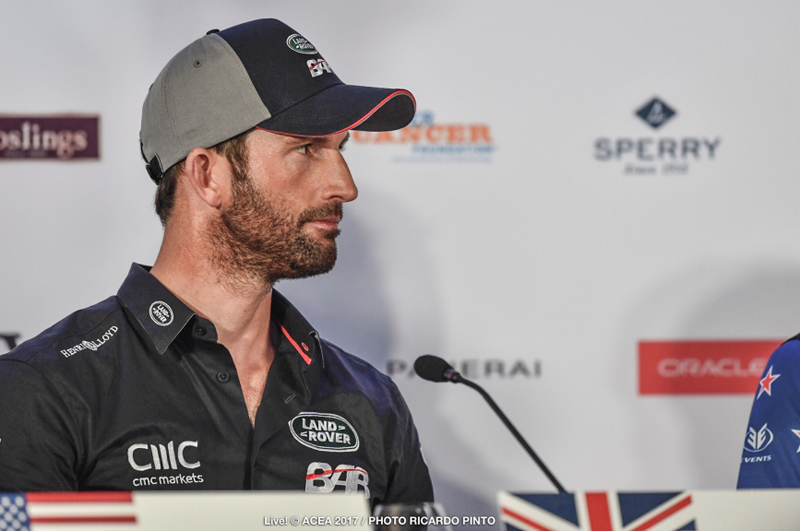 Sir Ben Ainslie, who enjoyed America's Cup glory alongside Spithill last time out, conceded Oracle Team USA will start out as favourites once again, but refused to rule out his Land Rover BAR team.
"I think the Defender is in the hot seat. They're in the final already and as a results are favourites.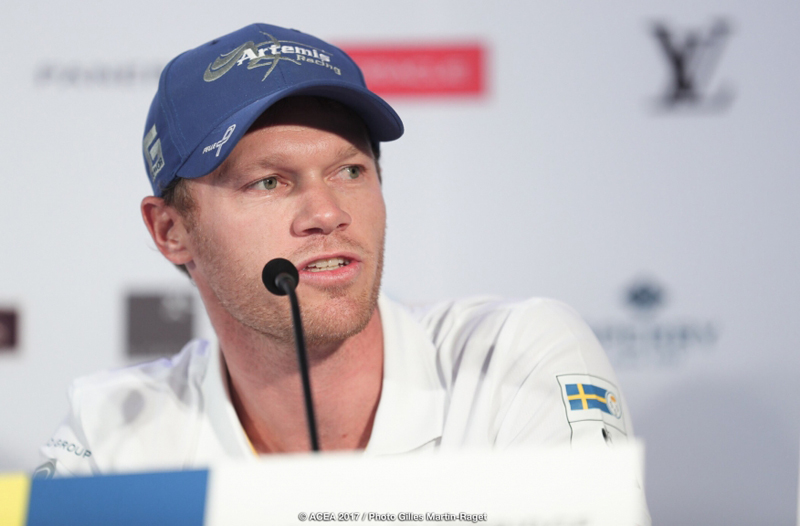 "However, of course we believe we can win. We wouldn't be here today and wouldn't be working as hard as we have been if we didn't believe that. We respect the opposition, and know how hard it is to win this event, but we can do it."
Meanwhile, Nathan Outteridge of Artemis Racing did his best to relieve some of the pressure on his team since their strong displays throughout practice racing.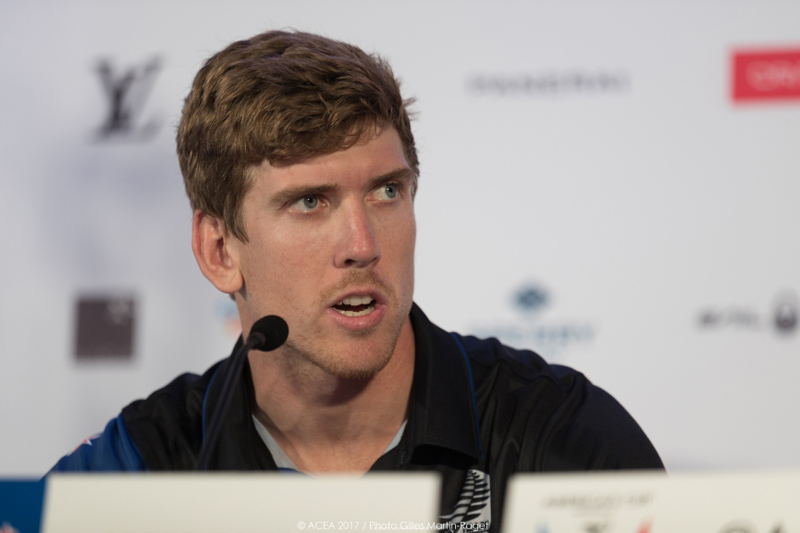 "I don't think we have a target on our back. The races have been super close and we've been amazed about how quick the boats have been, the level of improvement is immense," said Outteridge.
"We have work to do and even though we've won races they have all been very close. One mistake is the difference between winning and losing. Every team has a target on their backs but I look around at the more experienced guys here and I believe the target is on their backs more so than ours."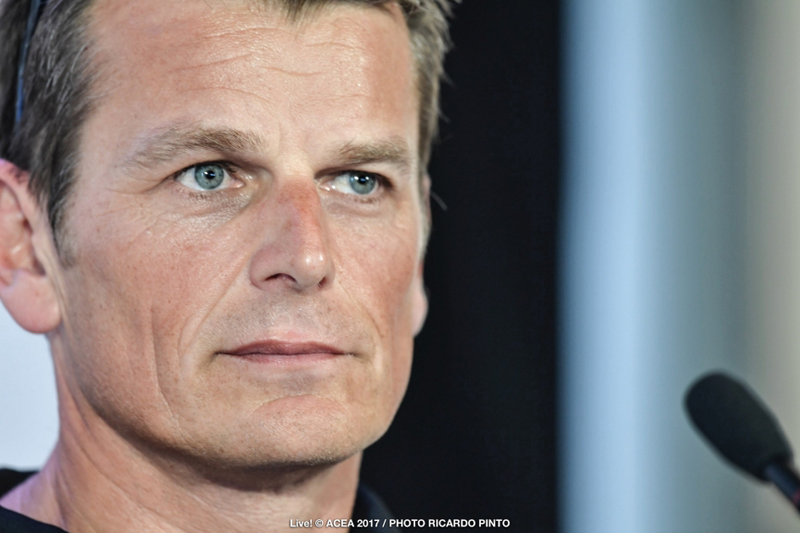 Emirates Team New Zealand Helmsman Peter Burling is confident the support from back home will be the driving force in them winning the America's Cup.
"It makes us proud to be from New Zealand, I love representing the country. That great pride drives us to push forward and make our boat faster and even more determined, when we are in tough times, to pull ahead. I don't think the other teams here have that support from home. It is amazing the support we do get, that's why we're here," he said.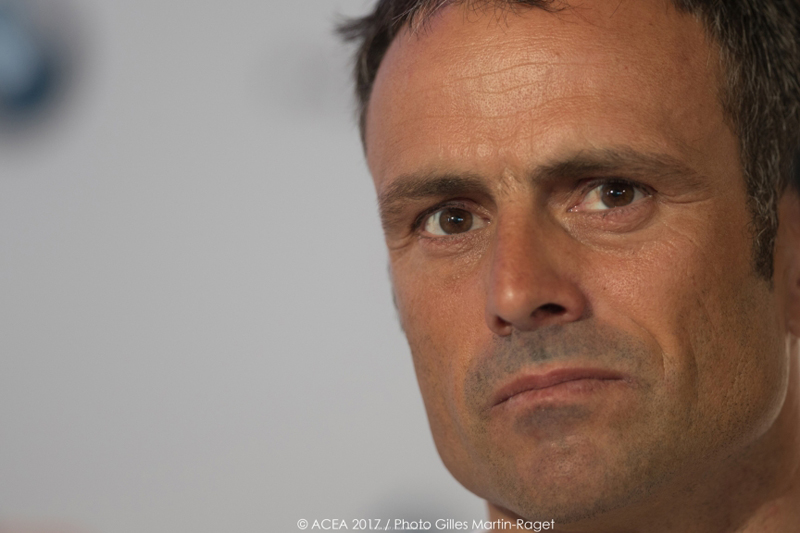 "I'm pretty excited, as is the team, to just get going. We are all young guys and although that learning curve has been steep we are all really enthusiastic and can adapt quickly, especially as the boats evolve every day so we can keep ahead of the game. We are in in good shape to get racing."
Elsewhere, SoftBank Team Japan's Dean Barker is confident of dealing with the overwhelming pressure, despite losing an 8-1 advantage in the last America's Cup when skippering Emirates Team New Zealand.
"I think everyone deals with pressure in different ways, how you deal with it within the team and personally, but for me, I'm just excited to be here and getting stuck into racing," said Barker.
"For SoftBank Team Japan we are here to win. Obviously there is strong competition but it is one step at a time and we are very focused.
"There are going to be some good races for sure, with plenty of good teams and there's some interesting matchups."
Despite a tough time throughout practice racing, Groupama Team France Helmsman Franck Cammas is well aware that anything is possible as he aims to shock the more established and favoured teams.
"Everything is possible. Nothing has started yet," he said.
"We like the fight and all of our energy will be on the fight. We are proud to race against everyone else. Our boat is fast and so I'm very excited to start the races.
"We work a lot on all details and have had good innovations but we will see in the speed of the boat. We have looked fast at times which is good as we've only had two years with this boat.
"It has been a long process to improve but I think we've gained a lot of speed in the last two months and we are already very happy to be where we are."

Read More About