The annual BFIS Bermuda Summer Intern programme, now in its 16th year, commenced this week for six undergraduate students who will spend the next three weeks [May 22 – June 9] learning about the Bermuda insurance industry in depth – from how to form an insurance company to work-shadowing underwriters.
The students will be visiting 30 insurance, reinsurance companies and related organizations in Hamilton over the three week programme.
This year's Bermuda interns are Kyra Dunstan [Human Resources Management / University of Western Ontario], Kenneth Mayne [Business Management / BPP Business School, London], Cara Philip [International Development MSc / London University SOAS], Sophia Schwertl [Accounting / University of Western Ontario] and Morgan Loy and Libby Schrishuhn [Risk Management and Insurance / Illinois State University].
BFIS Bermuda 2017 interns: Kenneth Mayne, Morgan Loy, Libby Schrishuhn, Kyra Dunstan, Sophia Schwertl and Cara Philip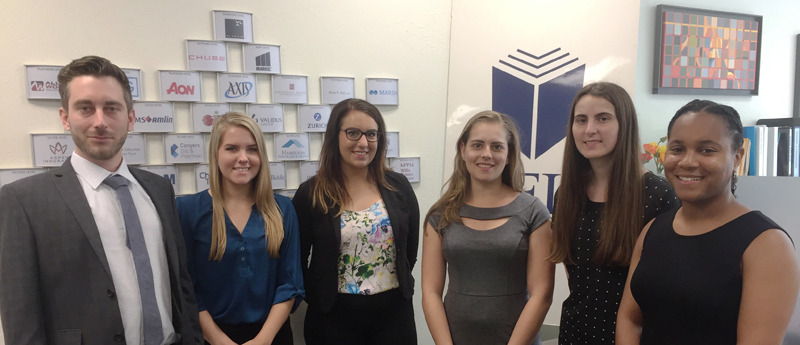 The BFIS Summer Intern Programmes are open to students focused on careers in the insurance sector who are usually in either their Junior or Senior year at university, giving them the opportunity to learn about the insurance markets of either Bermuda, London, Chicago or Atlanta.
Including this year's interns, 145 Bermudian students have now participated in these very intensive programmes, with almost all entering the insurance sector when graduated.
On July 27th all four teams will make presentations to the BFIS Board and hosting company representatives on what they gained from the programme. Students are welcome to attend this and can contact the BFIS office at info@bfis.bm. Applications for the 2018 programmes open on January 1st on bermudascholarships.com.
The Bermuda intern programme is sponsored by Allied World and the London, Chicago and Atlanta programmes are sponsored by XL Catlin.
Read More About