Esprit de Corps IV, skippered by Gilles Barbot finished the Antigua Bermuda Race today [May 18] after seven days at sea, and for the last day and a half of the race, the vessel had six extra passengers; Les Crane and the crew of Monterey who had to abandon their sinking Farr 56 in the early hours of Wednesday some 200 miles off the finish in Bermuda.
After safely arriving in Bermuda, Monterey's skipper and Antigua Bermuda Race Chairman, Les Crane described the rescue in detail.
Esprit De Corp IV effected the rescue, but two other yachts also diverted to assist, Spirit of Bermuda skippered by Michael Moreland and Challenger, skippered by Chris Stanmore-Major. The rescue was also aided by RCC Bermuda Radio who relayed communications.
"I came up on watch at 4 a.m; we were beating into 10-15 knots but the boat was very comfortable with the wind and the sea state," commented Les Crane.
"The active watch told me that all was well apart from hearing a bang from below at about 3:30am. I went to investigate and found that the forward head was full of water. I got the helmsman to stand the boat up and I drained the head through the pump.
26-minute live video replay of Mr Crane discussing the incident
"I thought I better have a look around and found water in the galley and under the floorboards in the saloon. I then realised we were once again bow down and found a lot of water in the saloon.
"I got everyone up and while I was trying to figure out what the problem was, the crew used the YB Tracker player to locate Esprit de Corps IV (EDS), which was about four miles behind us.
"Kit Tatum tried to raise them on the radio, but we had a few problems with it, although we realised it was key to get Esprit de Corps' attention. Jock Macrae started to set off flares and that caught their attention and EDS altered course towards us. We started to get the liferaft ready and deployed it.
"I went back to see if I could identify how to stop the water and by then the bow was filled with about four feet of water and was coming in really quickly. So we got into the liferaft and EDS came up really quickly and took us all on board.
"I then watched Monterey sink! We have had the boat for 14 years and we've sailed 40,000 miles in her, but there was nothing I could do.
"Gilles (Barbot), Maxime (Grimard) and the crew of Esprit de Corps from Montreal are a fabulous bunch of guys. They made us feel so welcome on board and got us all involved in racing the boat. In fact, I was watch leader last night for four hours! I can't thank them enough for what they have done," concluded Crane.
Esprit de Corps IV finished the Antigua Bermuda Race in light airs today, photo by Tom Clarke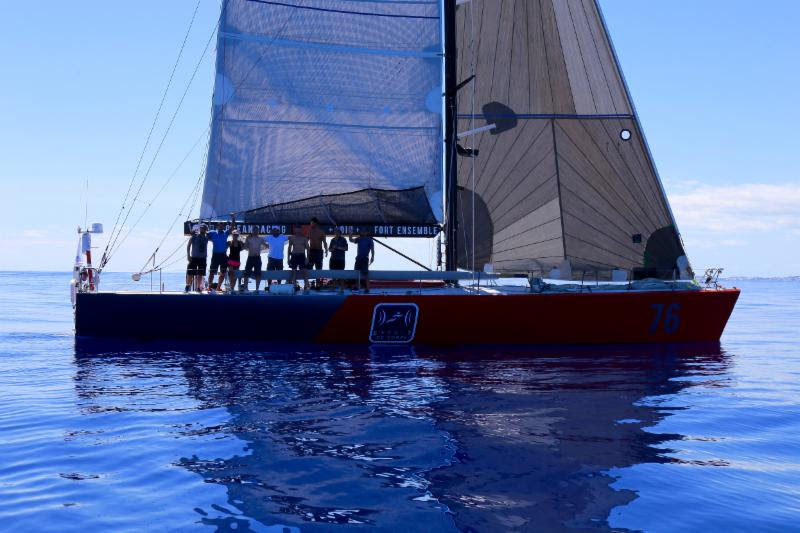 Crew List: L'Esprit de Corps/Atlas Ocean Racing, Volvo 60, CAN: Skipper: Gilles Barbot, Luc DuBois, Simon DuBois, Maxime Grimard, Philippe Lefebvre, Karen Marshall, Tristan Peloquin, Charlotte Rousselot, André Roy, Tiberius Trifu
Crew List: Monterey, Farr PH 56, BER: Skipper: Les Crane, Cam Macrae, Jock Macrae, Bob Medland, Kit Tatum, James Watlington

Read More About
Category: Accidents and fires, All, News, Sports, Videos