NBC's Today show co-hosts Kathie Lee Gifford and Hoda Kotb are broadcasting their U.S. morning show from Bermuda today [May 18] live from the Hamilton Princess, and in an advance video posted online this morning they called Bermuda "spectacular."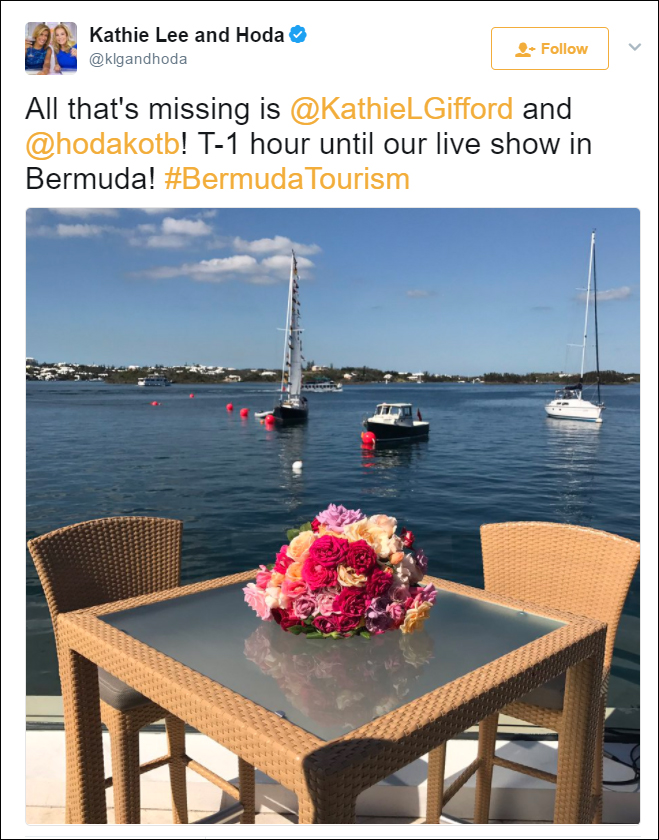 The hosts in the New York start out by saying, "We mention that Hoda and Kathie Lee are on the road this morning; they're in Bermuda. Thanks for investigating whatever you're doing there in Bermuda; tough gig, guys – what's going on?"
"It's a Bermudian beautiful day," Kathie Lee says, with Hoda adding, "You guys, can you believe we're here? This place is spectacular."
"These flowers are from the garden of Mr. Peter Green, who owns this gorgeous resort that we're going to be broadcasting from," they said.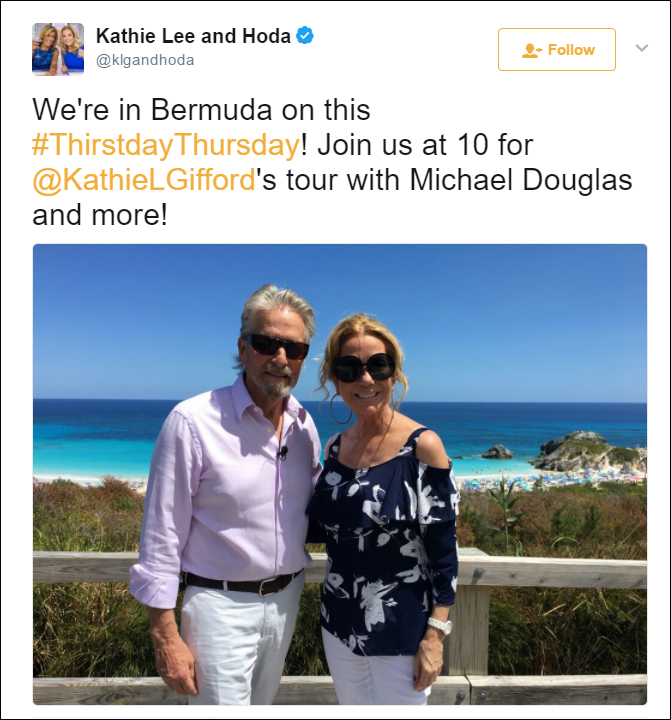 "By the way, guess who we hung out with – or who Kathie Lee hung out with most of the day? Michael Douglas.
"His mother was born here in Bermuda and his family goes back to the 1600s, so he showed me a tour the likes of which I might never recover from."
Kathie Lee and Hoda will shoot two one-hour shows in Bermuda for the 10am EST slot of the Today show; the first is being broadcast live today, while the second will be a taped show shot today to air on Friday, May 19th.
WATCH: We're all jealous of @kathielgifford and @hodakotb today! pic.twitter.com/CuR8wGQ8b8

— TODAY (@TODAYshow) May 18, 2017
The BTA previously said, "The Today show is the top-rated U.S. morning television programme among the valued 25 to 54 year-old demographic; the Bermuda Tourism Authority has been successfully targeting travellers under 45-years-old in its consumer marketing strategy over the past three years. The 10am hour of Today typically attracts approximately 2.5 million daily viewers according to ratings agency Nielsen."
WATCH: What a wonderful tour @KathieLGifford got from Michael Douglas! @Bermuda pic.twitter.com/kYPTbYxA5O

— Kathie Lee and Hoda (@klgandhoda) May 18, 2017
Read More About