Bermuda's team to represent the island at the NatWest Island Games departs for Gotland on Thursday.
Many of Bermuda's top athletes are involved in the Games and the Chef de Mission, Jon Beard, believes that this group of athletes will continue the success and reputation that Bermuda enjoys in the Games.
Mr Beard expressed his praise of the hard work completed by his committee of: Juanita Blee, Georgina Francoeur, and Laura Bolton.
He and the national sports governing bodies involved , wish to express their thanks to companies and organizations who have supported Team Bermuda, saying that without their support many of these athletes would not be able to participate. The team has been outfitted thanks to the continued support of Sun Life Financial International, who has provided the team's uniforms since 2015.
Niall O'Hare, CEO of Sun Life Financial International, shared, "We are pleased to continue our support of the Bermudian delegation for the NatWest Island Games. We are proud to support our local community and look forward to celebrating the athletes and their successes upon their return to Bermuda."
Beard emphasized that, "representing Bermuda is an honour that our athletes do not take lightly, and the uniforms provided by SLF International ensure that they represent us in style".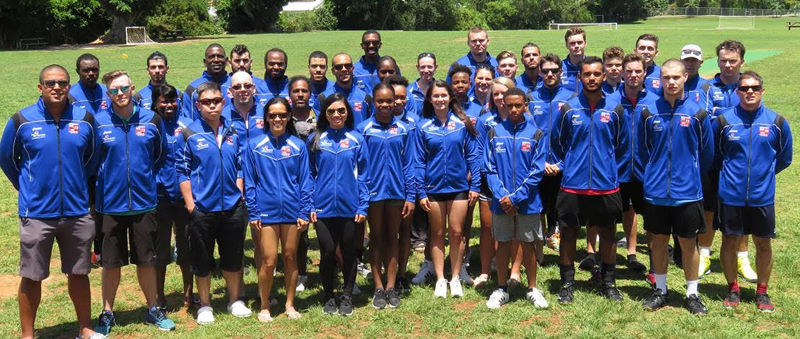 Archery
Robert O'Connor
Tiffany Slaton
Bernard Wade III
Athletics
Ashley Berry
Deon  Breary
Taahira Butterfield
Gayle Lindsay
Badminton
Rowena Cespedes
Mark Haugen
Danial Hughes
Kwun Wa Lam
Darelyn Legaspi
Denzel Simons
David Wellman
Beach Volleyball
Ian Bucci
Kazimierz Orlowski
Cycling
Gabriella Arnold
Kaden  Hopkins
Adam Kirk
Dominique Mayho
Nicole Mitchell
Matthew Oliveira
Che'quan  Richardson
Alyssa  Rowse
Deshi Smith
Zoenique Williams
Golf
Katrin  Burnie
Walker Campbell
Jarryd Dillas
Linda Down
Will Haddrell
Elizabeth Parsons
Mark Phillips
Tariqah Walikraam
Gymnastics
Max Blakeney
Anna  Francoeur
Taj Kiran Lowery
Gianna  Webbe
Chantae Wilson
Tennis
Samuel Butler
Jovan  Jordan-Whitter
Gavin Manders
David Thomas
Triathlon
Volleyball
Brian Amaro
Shannon  Botelho
Perry  D'Ambrosio
Christina Duff
Kathryn Dyck
Daniel Fiddick
Keiran  Hamilton
Kyle  Hamilton
Melisa Judd
Allison Lacoursiere
Leticia Ferreira
Savannah  Loder
Amber Lopes
Katrina McPhee
Bradley Meindersma
Tiago Ferreira
Sy  Olson-McPeek
Khianda Pearman-Watson
Robert  Saraiva
Allison Settle
Brandon Sousa
Eron  Woods
Cyprian Zimecki

Read More About