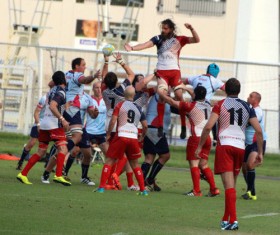 The Bermuda rugby team matched up against Cayman Islands at the National Sports Center, losing 28 – 15.
Cayman got on the board early with a try in the 7th minute when David Acutt went over, Morgan Hayward kicked the conversion to make it 7 – 0.
In the 21st minute it was 12 – 0, with Morgan Shelver going over and when Hayward connected with the conversion the score moved to 14 – 0, Hayward would add a penalty kick to extend the lead to 17 – 0, things could have been worse for Bermuda had Hayward connected on two penalty kicks in the 36th and 39th minutes, but the half came to an end with the visitors in full control.
Cayman started the second half off quickly with a try as Venasio Tokatokavanua scored to make it 22 – 0, but Bermuda responded right away when Dan Cole went over, however the conversion attempt was missed leaving the score 22 – 5.
Brynley Toms would pull Bermuda within 12 points when he scored a try, again the conversion was missed leaving the score 22 – 10. Hayward would kick another penalty to put Cayman Island up 25 – 10, and minutes later he would connect again to extend the visitors lead to 28 – 10, Darren Richardson would go over for Bermuda late in the match and with the conversion missed, it left the score at 28-15.

Read More About