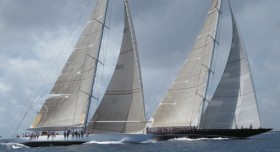 On Tuesday, June 13, The St. George's Foundation is set to host a talk on the J Class yachts and their connection to the America's Cup and Bermuda, in anticipation of the Regatta held in Murray's Anchorage on June 16, 19, and 20.
The J Class fleet competed for the America's Cup in the 1930s and are still considered some of the most famous yachts on the water.
According to the America's Cup website, only ten J Class yachts were ever built. However, by the 1980s only three originals survived: Shamrock V, Endeavor, and Velsheda. While Velsheda never served in the America's Cup, Shamrock V and Endeavour raced in 1930 and 1934 respectively.
Nonetheless, the J Class is experiencing an exciting revival. Not only have these three surviving originals been restored, but five new J Class yachts [estimated to cost around $15 million apiece] have been launched in the past decade with two more under construction. And seven of these are expected in Bermuda to compete in the coming days – the first time in history that seven J Class yachts will have raced against each other.
"The J Class era of the America's Cup is widely recognized as being among the high points in Cup history," says Russell Coutts, CEO of the America's Cup Event Authority (ACEA).
"When racing for the America's Cup in the 1930s, the J Class boats embodied grace and power with cutting-edge design and engineering. Having the J Class join us in Bermuda will create a spectacular blend between the old and new."
Due to the size and draft of the yachts, the Regatta will take place in Murray's Anchorage on the north shore, though an additional exhibition flyby will take place on the Great Sound, in front of the America's Cup Race Village.
The presentation on June 13th, given by J. Hartley Watlington, will discuss the appeal of these yachts and their connection to Bermuda and provide "racing anecdotes from their great days."
The event will be hosted at The World Heritage Centre, 19 Penno's Wharf, St. George's with doors opening at 6.00pm and the presentation starting at 7.00pm. Tickets are $20 for members and $25 for non-members.
Refreshments, including wine and beer, are available on a donation basis.
Reservations are required as seating is limited. Please email: manager@sgf.bm or call The World Heritage Centre at 297-5791.

Read More About
Category: All