Author Patrice Lynch will host a book signing for the book "He Promised He Would Love Me" on Thursday, June 15th at the Kingdom Dynamics Bookstore at First Church of God on North Shore Road from 4:30pm – 7:30pm.
A spokesperson said, "Marriage is a beautiful gift from God that comes with many benefits, but how many of us know that as beautiful as it is, it can sometimes be very challenging? Like anything that God created, marriage takes daily maintenance in order for it to be successful.
"In this book "He Promised He Would Love Me", Author Patrice Lynch shares a bit of her journey as one who was divorced but now have remarried and learned valuable lessons that can be applied and can help make marriage successful.
"This is a book that convinces you to look within and to allow God to right some wrongs that you may have done. In it she shares some very practical and biblical facts and truths that can help anyone, whether single, those considering marriage, those married or even those who may be experiencing trouble in their marriage and are looking for answers.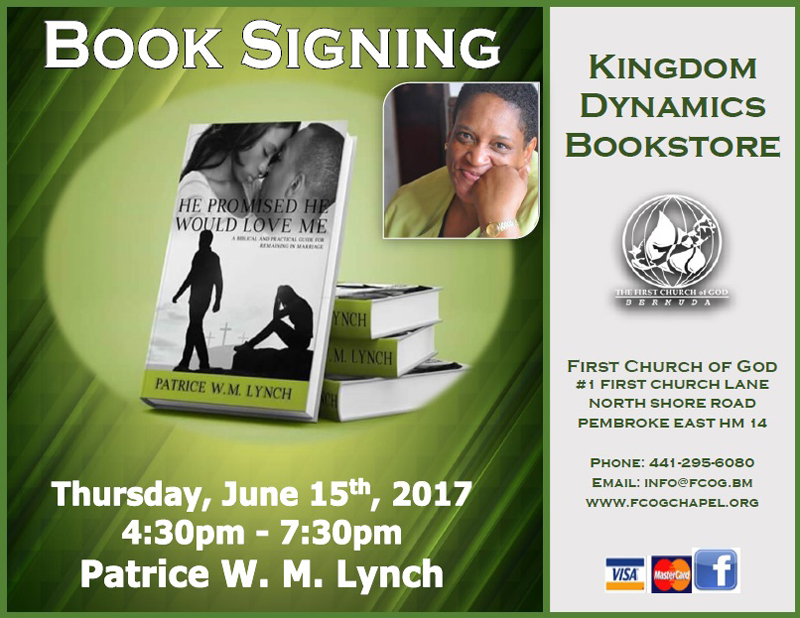 "Patricia's prayer is that this book brings wisdom, understanding and healing to that which God ordained to bring joy."
"Patrice Lynch has a passion for the Word of God and loves to encourage people daily as they navigate through life and its challenges. Patrice has a passion for teaching the word of God and hopes in the near future to complete a degree in Biblical Studies. She is the author of one other book. It's in the word
"Presently she is an Educational Therapist Assistant in the Bermuda Public School System, a job she enjoys as she enjoys encouraging young teens to live up to their potential and be all that God has called them to be.
"Patrice is married to her soul mate Anton Lynch and is the proud mother of three children, Oneka Smith, Rochelle Marshall and Andre Marshall. She also has two beautiful grandchildren, Shammai and Ozara Smith. Patrice believes that the most important thing for her to do is to fulfill her Kingdom assignment on earth and encourage others to do the same."
For more information call 295-6080, email info@fcog.bm or visit the website.

Read More About
Category: All, Entertainment