The teams for the Red Bull Youth America's Cup continue training, with the six teams in Pool B proving that the future of sailing is bright as they mastered their AC45F catamarans on Bermuda's Great Sound.
Despite sometimes wild and windy conditions that were tough even for the senior teams contending in the Louis Vuitton America's Cup Challenger Playoffs, the 18- to 24-year-olds gave their all, knowing that the youth regatta could be the pathway to their own future participation in the America's Cup.
"It was an exciting and often difficult training period, with very little wind and then at times too much wind," described Next Generation USA skipper Carson Crain, 23. "We used Monday's high-wind training to push the team and the boat very hard, ensuring that we are prepared to race in those more extreme conditions.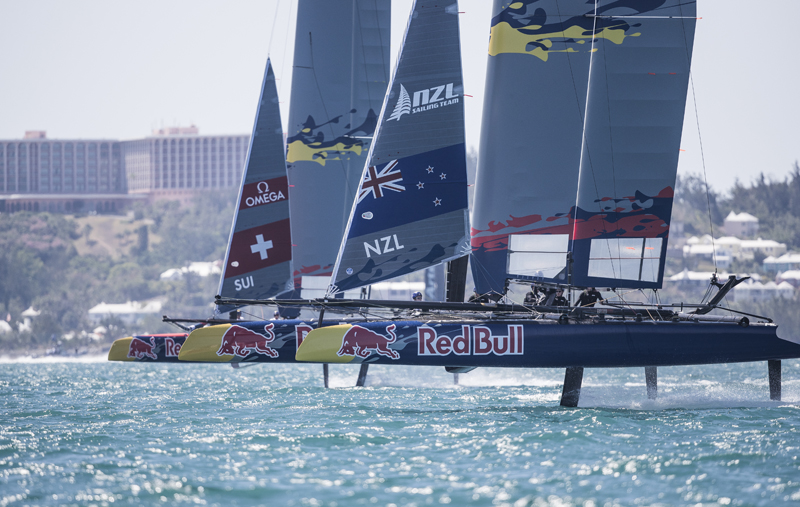 "I am really proud of how the guys have handled some of the struggles we have been having and feel that everyone has found a new level of focus," he added.
The Pool B teams in Official Training 2 were: Candidate Sailing Team [AUT], Team Tilt [SUI], TeamBDA [BER], Land Rover BAR Academy [GBR], NZL Sailing Team [NZL] and Next Generation USA [USA].
The Red Bull Youth America's Cup Sport Directors – double Olympic Gold Medalists Roman Hagara and Hans Peter Steinacher – provided hands-on coaching and were appreciative of the teams' determination.
"The AC45Fs are only five feet shorter than the boats in the 35th America's Cup. Sailing them requires exceptional athletic ability and reaction time from all six team members, even in good conditions," commented Steinacher.
"We hope for more typically ideal weather on the Great Sound moving forward, but now we've seen that these young sailors are ready to take on whatever comes their way."
Lukas Höllwerth, who at 24 is the skipper of Austria's Candidate Sailing team, was feeling upbeat after a week on the water. "As everything is organized and set up perfectly here, we can fully focus on sailing, and we experienced a lot of improvement. We are looking forward to competing against all the other nations," he stated.
The teams of Pool A – Youth Vikings Denmark [DEN], Team France Jeune [FRA], SVB Team Germany [GER], Kaijin Team Japan [JPN], Spanish Impulse Team [ESP] and Artemis Youth Racing [SWE] – completed their training previously, so with Training 2 concluded on June 10, it's time for the field to be pared down in the Qualifiers.
Hagara explained: "The Pool B Qualifiers will take place on June 12 and 13, with Pool A Qualifiers following on June 15 and 16. Only the top four teams from each pool will advance to the Finals, so this will be make-or-break."
NZL Sailing Team skipper Logan Dunning Beck is ready. "It has been a good few days learning the boats and the Great Sound," affirmed the 23-year-old. "We've got plenty left in the tank."

Read More About