All of Bermuda is encouraged to come out and support TeamBDA, who are competing in the Red Bull Youth America's Cup. TeamBDA, ten high-performing young athletes, will make a public appearance at Liberty Theatre on Wednesday April 26th, from 6.00pm – 7.00pm.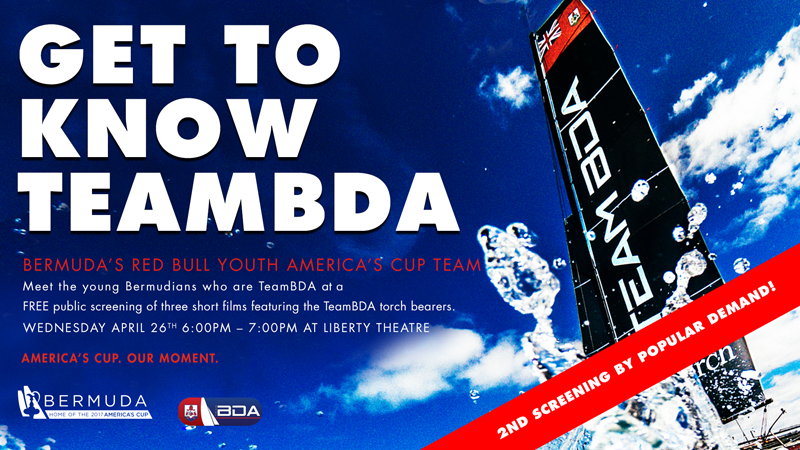 The ACBDA said, "This will be Bermuda's chance to ask about the team's training and to hear of their triumphs and challenges, as these young Bermudians are pioneers in competitive sailing.
"The one female and three black sailors on the team have compelling stories about breaking gender and racial barriers. Everyone on the team has a story to tell that will make Bermuda proud.
"One astounding fact about this team is that before this opportunity, they were not all sailors. High performing athletes, yes, but sailing is new to some of them.
"Come and show your support for the 10 inspiring young Bermudians who will represent Bermuda in this summer's Red Bull Youth America's Cup – right here in Bermuda!
"Hear their stories, ask them questions, learn about their rigorous health and fitness routines, understand the incredible speed and technology of the AC boats, take your picture with the team. There will be a door prize and the opportunity to order TeamBDA gear.
"As well as meeting the team, the public will be treated to three short films about TeamBDA, all in a free public event at Liberty Theatre on Wednesday April 26th, from 6.00pm – 7.00pm. The public is encouraged to arrive early for this free public session. Those attending will also receive TeamBDA giveaways."
"Another great way for Bermuda to support the team is to watch them race in their Qualifier events on June 12th and 13th. Spectators can watch from the America's Cup Village in Dockyard or from the water on either day. The Red Bull Youth America's Cup Finals take place on June 20th and 21st. Tickets are for sale here."
"The first Meet the Team opportunity at Liberty Theatre last week saw a full theatre, where the sentiment of pride and joy in the room was overwhelming. Approximately 230 locals gathered to learn more about their home team sailors.
"TeamBDA coaches are confident that the team will be competitive, and will put on a great show while Bermuda is on the world stage during the 35th America's Cup."

Read More About