The U.S. Coast Guard Cutter Venturous is scheduled to arrive in Bermuda this week, as it continues its Living Marine Resources patrol in the Atlantic Ocean, enforcing fisheries laws and ensuring vessels conform with Safety Of Life At Sea [SOLAS] regulations.
The cutter will be moored at Penno's Wharf in St. George.
Venturous will be open for free public tours on the following dates and times:
Saturday, June 17 12:00 p.m. – 4:00 p.m.
Sunday, June 18 12:00 p.m. – 4:00 p.m.
At 210 feet in length, Venturous is the thirteenth of sixteen Reliance Class Medium Endurance Cutters [MECs] currently in U.S. government service. She has a crew of 76.
Constructed by the American Shipbuilding Company in Lorain, Ohio, her keel was laid in May of 1967 and the cutter was ultimately commissioned into service on September 12th, 1968.
Over the last 48 years of service, Venturous has been home-ported in numerous locations, starting out in San Diego, California, and currently serving out of St. Petersburg, Florida, where she has been since 1996.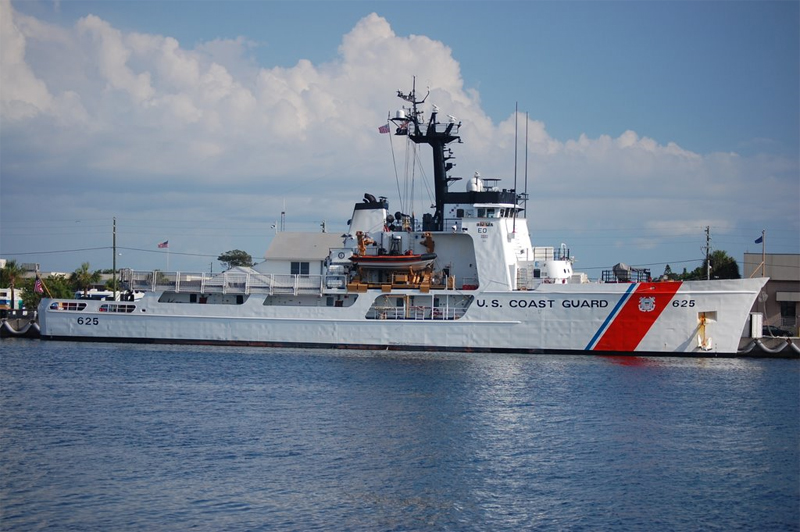 Since commissioning, Venturous has proved to be a valuable asset to the American public, partaking in daring high seas search and rescue missions and assisting with the cleanup and salvage of the Exxon Valdez.
While stationed on the west coast of the U.S., she dutifully enforced fisheries laws off of Alaska's coast, preserving valuable natural resources in an area traversed by Russian, Japanese, Canadian, and U.S. vessels.
Today, Venturous continues her distinguished service primarily in counter-drug enforcement, working with partner Caribbean and Central American nations in pursuit of narcotics traffickers. Often deploying for two months at a time, Venturous has seen service in the Florida Straits, Eastern Pacific Ocean, and Western Caribbean over the last two years.
The crew of Venturous has been involved in a cross-section of Coast Guard missions, including noteworthy law enforcement cases, such as the interdiction of 3,500 kilograms of cocaine, 2,600 pounds of marijuana, the care and repatriation of 670 migrants, and the apprehension of numerous suspected smugglers responsible for illegal ventures.
The decades-old medium endurance cutters are slated for replacement by a new class of cutters – the Offshore Patrol Cutter [OPC]. With the ability to operate more than 50 miles from land, the OPC will be a multi-mission ship, providing pursuit boat and helicopter capabilities, and interoperability with other military and federal partners.
Upon departing St. George, Venturous will resume her patrol in the Atlantic Ocean. She continues to live up to her motto of "Nemo Supra," meaning "None Better" in Latin.
For more information on Venturous, please visit the cutter's website here.
Read More About
Category: All