There have been internal discussions within the PLP over former Premier Paula Cox's bid to be the PLP's candidate for Constituency #14 Devonshire North West, with emails accessed by media indicating that Ms Cox said "if the Party continues to ignore the PLP C14 Branch's stated decision I am prepared to let the voters of C14 decide the outcome."
Past Election Results For C#14
Ms Cox lost her seat in the 2012 General Election, with the OBA's Glen Smith winning with 55.49% of the vote. Prior to 2012, Ms Cox had held the seat since 1996, winning 69.59% of the vote vs the UBP's Alan Marshall [492-215] in the 2007 General Election, and in 2003, Ms Cox won 74.27% of the vote against Christian Dunleavy [UBP] who received 25.73%.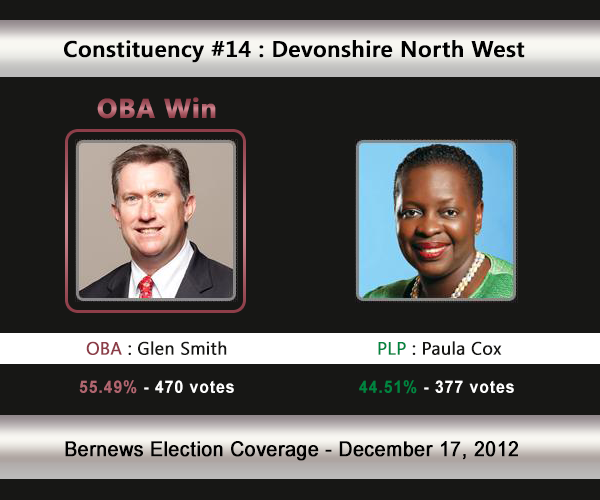 PLP Announce Wayne Caines As C#14 Candidate
Yesterday the PLP announced that former prosecutor, Regiment Captain and Digicel CEO Wayne Caines will be the PLP's candidate for Devonshire North West, with Opposition Leader David Burt saying, "With his military discipline and community activism, Wayne is an ideal candidate for the PLP in Constituency 14."
Internal Emails
An email from Constituency 14 sent to the PLP leadership said, "We take this opportunity to thank the Party Leader, Deputy Leader and Candidate Committee Chairperson for taking out time to meet with us last week. We appreciate the information shared, questions answered and clarity on the party leadership's way forward.
"In the days that followed Constituency 14 met to discuss the presentation and found no doubt once again with an unwavering support for already approved candidate Paula Cox. Therefore, I write to reconfirm that Mrs. Cox is the candidate of choice for Constituency 14."
In an email sent to Opposition Leader and others, Ms Cox said, "This is to follow-up in writing further to the meeting you had with the C-14 Executive yesterday evening at the Devonshire Recreation Club and our discussions.
"The Branch Executive used the occasion to reconfirm to you that they continue to stand resolutely behind me as their selected candidate.
"They stated unequivocally that the process outlined in the Party's constitution for the selection of candidates must be adhered to. You have acknowledged that based on the Party's national polling, it shows that I as the Branch selected candidate was well positioned to win. An extract from the Party's Constitution that governs this entire selection process and supersedes any policy is set out below:
"Clause 3, section V [B] and[C] make it clear that the Branch Executive, in consultation with the Candidates Committee must schedule a constituency meeting for the purpose of candidate selection and that the candidate who receives 50% plus one vote at the meeting is declared the candidate for that constituency. So long as a candidate submits his/her intention in writing to the Branch Executive at any time prior to the candidate selection meeting, the candidate ought to be put forward for selection [sub-section V[A]].
"Policy does not supercede the Party Constitution and policies can speak to procedural- not substantive matters.
"I am the only one so far, as I know, who has submitted a letter to the Branch Chair and to the Party, and up until this point, there has been no primary called between any other candidate. Once again, the Branch Executive has confirmed their support to me as their selected candidate for C14, and more recently re-affirmed such in writing to the Party.
"Polls are no guarantee and hard work is required to serve the people. However recent polling does shed a very favourable light on my chances both when compared with the Government and any unnamed PLP candidates. I listened with interest to the suggestion that I could be a liability nationally to the Party's chances if I ran. I found this an extraordinary assertion.
"This sounds to me like some backroom agenda to tarnish my reputation. It also seems to be at odds with what you shared privately as to options you saw for me if there was a PLP win at the polls. It seems contradictory to say my image is good for the Party to govern but bad for the Party to run.
"Let me state emphatically that if the Party continues to ignore the PLP C14 Branch's stated decision I am prepared to let the voters of C14 decide the outcome.
"The C 14 Constituency is a diverse one and has constituents who while they may be aching for a change, also want to build a relationship and dialogue with their representative. I have enjoyed the time spent canvassing. Much work remains before every single voter is seen but they are special and I will continue to work to earn their trust and confidence. They deserve no less.
"I am a diehard PLP supporter but in my view when you flout procedures and the will of the PLP/C 14 constituency then lessons may have to be learnt. People seem to think I will just roll over for what some claim is for the good of the Party-no.
"Principles and due process are higher goals that we have to also be mindful of. If you truly believe someone needs help, then you support and help- not discard. We are supposed to be a team. Those are the PLP values I uphold and respect and I will die for."
PLP Chairman Scott Simmons is said to have emailed both Ms Cox and Opposition Leader David Burt trying to urge that a resolution be found.
"I note the tenor and urgency of your email and I am not aware if correspondence has been exchanged between the both of you. That notwithstanding, it is my hope that we can resolve this matter with determined haste as an election has been called," Mr Simmons emailed.
"I remind all that Clause 3 Section V under the heading 'Candidates for Public Office' the PLP Constitution supports a candidate selection process inclusive of full disclosure and consultation with the Branch. It also prescribed the methods by which a dispute is to be resolved.
"As Principle Steward of our Party Constitution, I am concerned yet clear that resolution must be found immediately under the guidance and adherence of our Party Constitution and all efforts must be made avoid an internal and external public disagreement. To engage in such a potentially explosive display of public disagreement will be devastating to our Party image and reputation at this critical time.
"I implore all that a resolution must be found for the good of the Party and I am available to meet to facilitate an amicable end."
PLP: Internal Discussions Common, Focus Is On Victory
We asked those involved for comment on these emails, and in response, PLP spokesperson said, "The PLP's priority is bringing an end to the failed OBA government and giving the Bermudian people a voice again.
"Internal party discussions pertaining to the best path forward are common, but at the end of the day, the entire PLP is focused on victory in 34 days. That's where the Party Leader's focus is and that's where our party's focus is."
Election Set For July 18th
The General Election is set to take place on July 18th, and registration for this election will close on Monday, June 19th.

Read More About