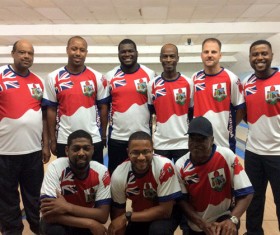 Bermuda Bowlers qualified for the CAC Games after finishing 7th in the Central American and Caribbean Bowling Confederation Championships in Guatemala.
Bermuda finished the prestigious team events with a total score of 5702, Levinc Samuels had a high game of 279 in game 4 of the team events.
The team event was won by Puerto Rico.
In Men's all events Samuels was the high Bermudian finisher, finishing 29th in the 100 Men field with a total score of 4849 pins, David Maycock finished 31st with a score of 4843 pins, Rickai Binns finished 41st with a score of 4690 pins, while Lamar Richardson finished 47th with a score of 4690 pins. Damien Matthews finished 50th with a score of 4588 pins and Akeem Talbot finished 67th with a score of 4312 pins.
Bermuda also finished 7th place overall successfully qualifying for next years CAC games in Barranquilla Colombia where only the top 10 countries qualified.
At the closing ceremonies Bermuda's Steven Riley was presented with a plaque for the team qualifying for the CAC Games.

Read More About