[Part of the Bermuda Tourism Authority's 'Tourism Forward' series]
To commemorate the 4th of July, we're taking a look back at Oracle Team USA's years in Bermuda through the lenses of its media producer, Sam Greenfield. A scan through the team's social media pages and Sam's Instagram account give a glimpse of the thousands of amazing photos and heart-racing videos Sam captured over the past couple of years.
Sam Greenfield on duty with Oracle Team USA [@_samgreenfield_ on Instagram]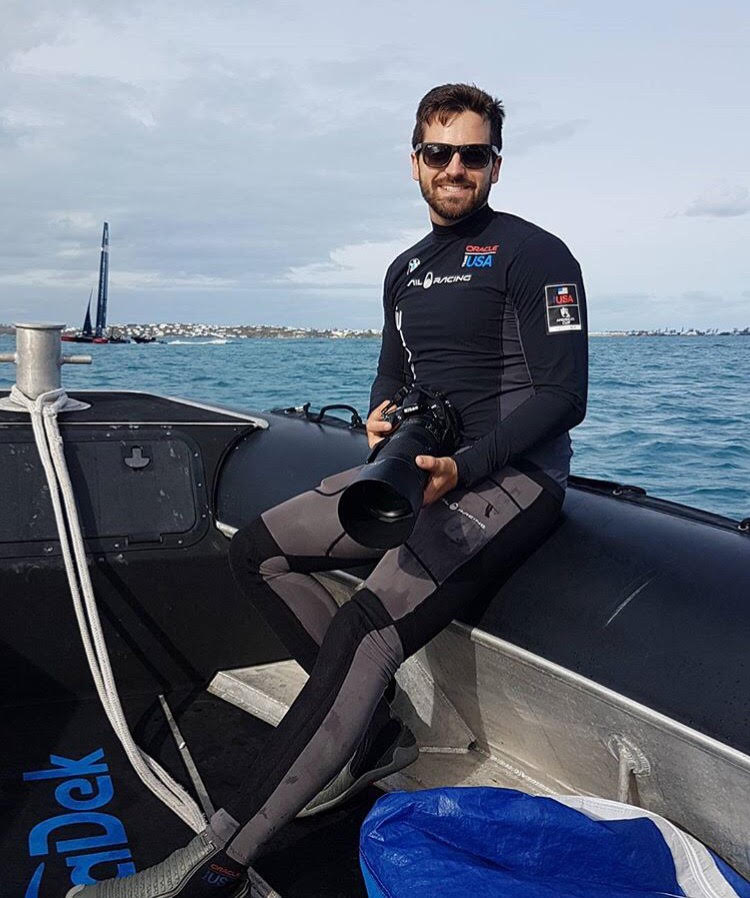 "Working here with the team in Bermuda has been an absolute dream job — the job of a lifetime," Mr Greenfield said.
He moved to Bermuda fulltime in April of 2016. Despite all of the content he gathered since then, Sam is able to pinpoint a handful of images and a few videos that he places at the top of his favourites list.
"With a lot of jobs you can get jaded if you're shooting the same thing over and over. It can get boring, but that's not the case shooting these cats," he said. "Every day is an adventure out there shooting these cats. It just never gets old."
Interestingly some of Sam's highlights are not directly related to sailing at all. He recounts the time Hurricane Nicole blew across the island as one example and the gruelling team beach workouts on the south shore as another.
"It's a treat to get to shoot anything by the ocean so to have the guys running and swimming up and down the shore it looks compelling. The island looks beautiful and the truth is: it's really challenging."
With the team living and training in Bermuda for almost three years, it gave the Bermuda Tourism Authority marketing team many opportunities to show off the island's year-round sports training attributes in photographs and video – everything from beaches to bicycle trails, paddle boarding to pool training.
As Sam leaves Bermuda he says he will be recommending Bermuda to other photographers.
"I would tell anyone to come to this island to explore it," he said. "I've sailed around the world in the Volvo Ocean Race, I've lived in a lot of really cool places in Europe and the US, but I've never seen as beautiful an island as Bermuda — honestly. If you're looking to come out here with a camera to explore the beaches, cliffs, geological formations — they're kind of like nothing you're going to find anywhere. It's a beautiful, beautiful place."
Find more of Sam Greenfield's images on Instagram: @_samgreenfield_
Watch the Tourism Forward video series online at the BTA's Vimeo channel. Tourism Forward also airs on cable on Channel 82.

Read More About