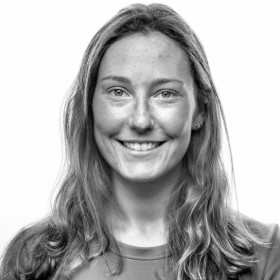 [Updated] Bermudian sailor Emily Nagel has joined team AkzoNobel, set to take part in the Volvo Ocean Race 2017-18.
The 23-year-old Nagel is the third female sailor to be announced as part of Dutch team AkzoNobel.
Inspired by British solo skipper Ellen MacArthur, this will be Nagel's first race around the world.
"Not long after I started sailing, one Christmas I was given a book about MacArthur and her first time sailing around the world," she said.
"From that moment I was hooked and when I first heard about the Volvo Ocean Race I knew that was what I one day wanted to do. This is a dream come true."
Nagel's position as part of team AkzoNobel comes after two months of intense trialling with the team. Taking part in the Volvo Ocean Race Leg Zero qualifying series, she impressed the team and showed she could gel quickly in a professional offshore environment.
"I didn't think this would happen so quickly, but when I got this chance I grabbed it with both hands," she said. "It's been daunting, trialling with a team like this one – so nerve-wracking to be always thinking that one major mess-up could lose me my place.
"Now I'm unbelievably proud I've made it and I'm excited to be full-time with the team, I can't wait for the race to start."
Nagel, who started sailing at the age of 10, holds a Masters degree in engineering from Southampton University. She completed an internship with America's Cup team SoftBank Japan, giving her invaluable experience in the eyes of her new skipper Tienpont.
Meet our newest recruit for the #volvooceanrace – 23-year-old Bermudian university team & match racing champion Emily Nagel #teamakzonobel pic.twitter.com/kTZwqjCs8e

— teamAkzoNobel (@teamAkzoNobel) September 7, 2017
"She knows from her America's Cup background how a professional sailing team runs and that is very important. Although professional sailing is quite new for her, she brings a huge amount of experience with her engineering degree and her technical knowledge," he said.
"We were looking for a strong, powerful woman with a lot of technical capabilities and someone who could really fit in well with the existing group and Emily was a great fit for that."
With less than 50 days to go until the start of the Volvo Ocean Race in Alicante on 22 October, team AkzoNobel are making the most of their final few weeks of training.
All the boats are set to arrive at the Volvo Ocean Race Boatyard in Lisbon by 18 September for final maintenance checks ahead of a non-scoring 'prologue' leg from Lisbon to Alicante ahead of the start of the race.
The 2017-18 edition will take the teams 45,000 nautical miles around the world, across four oceans, touching six continents and 12 landmark Host Cities.
Update Sept 8, 9.03am: A spokesperson said, "Senator Nandi Outerbridge would like to send congratulations to Ms. Emily Nagel on being selected as a representative of Team AkzoNobel for the 2017-18 Volvo Ocean Race.
"This is a great accomplishment for the 23-year-old and our community in Bermuda is very proud of her."
"It is always impressive to see our young athletes progressing," Senator Outerbridge said. "Emily is a role model to young girls and women who aspire to be athletes in male dominated sports, as well as to women in a male dominated world, striving to reach new heights and to break down barriers. We wish her well!"
- Photo courtesy of Ainhoa Sanchez/Volvo Ocean Race Ainhoa Sanchez/Volvo Ocean Race

Read More About