[Written by Don Burgess]
Hurricane Irma has Bermudians in south Florida very concerned about this powerful storm. On Thursday, several had 'fled' north, if you can call bumper-to-bumper traffic on the I-95 fleeing. Others were hunkered down waiting for their call to be allowed to evacuate while others were hoping to ride out Hurricane Irma.
One Bermudian, Beez Evans, was headed north on his boat, already suffering from having his home and business being ravaged by Irma in Tortola, the British Virgin Islands.
Mr. Evans told Bernews he owns a three-bedroom home in BVI and most of the information he has received is being relayed to him from friends and family.
Nobody has been able to access the neighbourhood yet. The reports are the house came down around, and they managed to escape next door."
He added, "The marina where my 57-foot charter catamaran was docked is reported to have been destroyed, but nobody has accessed that area yet. The inner section of the marina I have seen, and it's total destruction."
Mr. Evans is currently headed to New York from Fort Lauderdale where he lives on a 50-foot Sportfish.
"We ran to Charleston, but new updates forced me to decide to run for New York to be done with it."
Athlete Ki-Juan Minors and his wife Courtney live in West Palm Beach. They live in a zone that was not ordered to evacuate.
"We are very concerned about this Hurricane mainly because of what it has done to the islands below us, the strength of it and the size. As far as preparations – it was like being in a movie, from seeing fights at gas stations due to people cutting the lines."
Mr. Minos said he was "pushed around in the grocery store for bread and water" as people's tensions and emotions are flaring.
"People have been driving for hours trying to find supplies.
"I was very fortunate to have a friend who was on his way from Kentucky to pick up horses. He stopped at Lowe's and brought my Plywood from Kentucky. My house is completely boarded.
"We have tons of supplies, bottled water, canned food — luckily we have had a few days to prepare. We have Ziplock bags full of water which we are freezing. If it gets rough after the storm, we have a pool to use water for flushing."
He laughed,  "Our survival skills on point." Also, they have a propane tank for the BBQ and friends who live nearby that have generators.
Kerrie and Mike Thomsen are not evacuating as they have large dogs, which they can't afford to leave behind.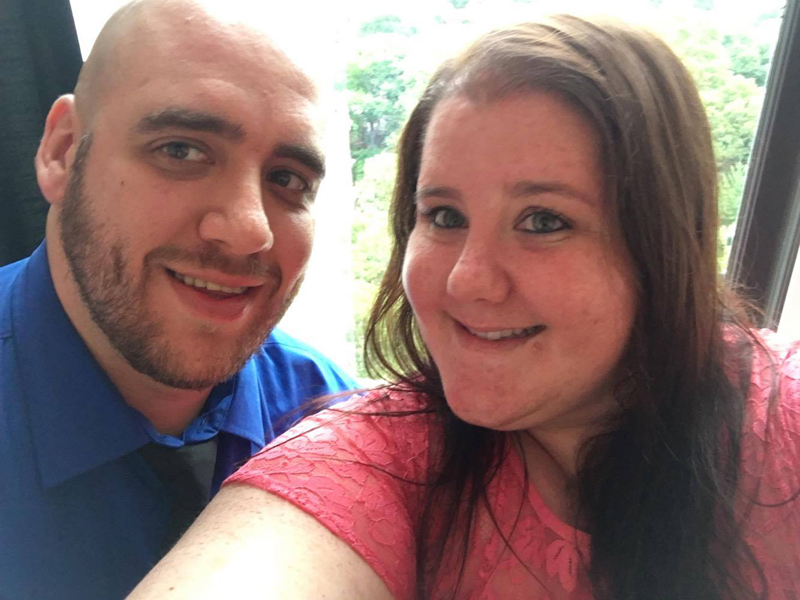 "In true Bermudian style, we are hunkering down and riding it out. We have metal hurricane shutters up on the house. We bought water, food, and supplies last weekend. We have a generator and a BBQ to cook with."
Mrs. Thomsen added, "Everyone seems to be nervous, including myself. I think my Dad is the most anxious as he's in Bermuda and unable to help.
"The atmosphere locally is quite panicked, and people are almost hysterical, but fellow Caribbean people I know are more laid-back. I have heard of people waiting in three-mile lines for gas and waiting for up to two hours, or almost running out in search of more.
She said a co-worker of hers evacuated yesterday and spent six hours in bumper-to-bumper traffic on the turnpike on what should have been a three-hour drive.
Melissa DaPonte was stuck in the traffic fleeing up the I-95 on Thursday night. She and her friends were headed to Orlando from Miami Lakes to hopefully avoid being caught up in Hurricane Irma's destructive path.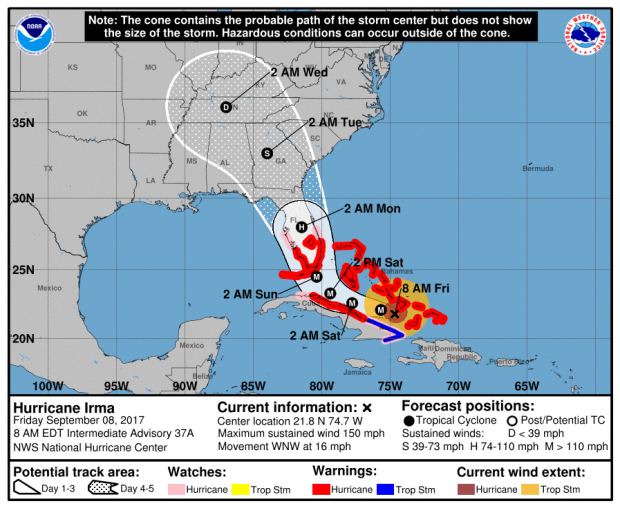 "We spent quite a bit of time boarding up my friend's condo yesterday," she told Bernews. "There were 10-foot windows that are 20-feet up in the air, and there are no roller shutters, so it took quite a bit of time.
"It is a little bit overwhelming knowing it's a category five. Having experienced so many hurricanes in Bermuda and knowing that Bermuda has the infrastructure to handle this better whereas, in many parts of Florida, they don't."
She said they know people who live in Homestead and survived Hurricane Andrew.
"They think they will be fine…But Hurricane Andrew was a category one, and Irma is a five. We packed up and took some clothes and dry goods, and we're heading to Orlando."
She said normally that would be a 3.5-hour drive and they have been on the road for four hours and were expecting it to be at least another two hours.
"It's just bumper-to-bumper traffic. A lot of gas stations don't have gas, and a lot are just topping off cars at only $10 or $40, and it's cash only."
Katie Cornes Vega is on the west coast of Florida. Anticipating the storm, she booked a hotel room four days ago awaiting her turn to be called to evacuate.
"There is more apprehension. Yes. I am nervous. I am appreciative of the support of my family members and friends in Bermuda, which has been constant all day. Even my family in England have been calling. I am just very appreciative."
She expected to be called to evacuate today. Her house is in an area with canals in Cape Coral. But it is 11 feet above the canal, so she doesn't expect to have problems with flooding."
The latest forecast from the U.S. National Hurricane Center said, "On the forecast track, the eye of Irma should move near the north coast of Cuba and the central Bahamas today and Saturday, and be near the Florida Keys and the southern Florida Peninsula Sunday morning.
"Maximum sustained winds are near 150 mph [240 km/h] with higher gusts. Irma is a category 4 hurricane on the Saffir-Simpson Hurricane Wind Scale. Some fluctuations in intensity are likely during the next day or two, but Irma is forecast to remain a powerful category 4 hurricane as it approaches Florida."

Read More About